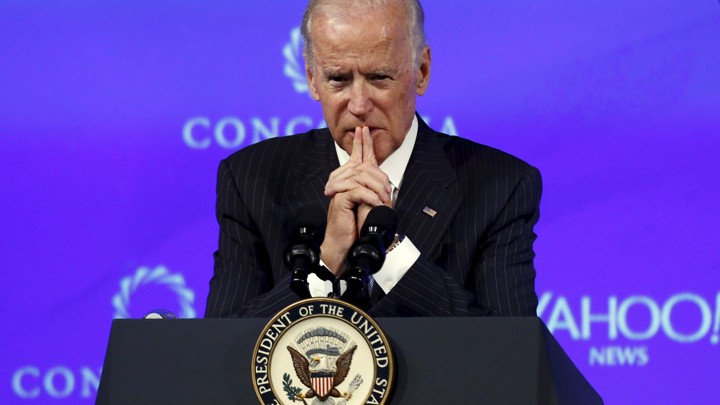 Is someone out to get Joe Biden, and if so, who?
Tuesday morning, Politico published a morning-winning, news-making scoop about Biden's slow process of deciding whether or not to run for president. The Biden trial balloon was launched with a Maureen Dowd column in The New York Times on August 1 that mentioned that the vice president's dying son Beau had urged him to run for president. Where did that moving detail come from?
According to multiple sources, it was Biden himself who talked to her, painting a tragic portrait of a dying son, Beau's face partially paralyzed, sitting his father down and trying to make him promise to run for president because "the White House should not revert to the Clintons and that the country would be better off with Biden values."
There's no doubting the sincerity of Biden's grief, but this makes it look like he deployed it in a deliberately calculated fashion: "Biden had effectively placed an ad in The New York Times, asking them to call." As Andrew Prokop noted, that cuts against Biden's brand of unchained authenticity. While Clinton is criticized as remote and calculating, Biden is often portrayed as spontaneous and genuine. The Politico story dared suggest that a career politician might in fact be a career politician.
Biden's office pushed back against the story Tuesday afternoon—and not with a vague denial, but with an all-out rejection, using unusually strong language:
Biden's office says Politico story on Beau is "categorically false and the characterization is offensive"

— Josh Lederman (@joshledermanAP) October 6, 2015
Either Politico's sources are lying, or else Biden isn't telling the truth. Which is which is the big question here.
A second is cui bono—who would benefit from this story being in the press?
It would make sense for scrutiny to fall on the Hillary Clinton campaign. Last week, The Times reported that her camp was concerned about the potential for a Biden run and "making a sudden and urgent effort to throw roadblocks into his path." In addition, New York reported Tuesday that "a team of opposition researchers working on behalf of Clinton is currently digging through Biden's long record in office to develop attack lines in case the vice-president runs." Could this story have been fed to Politico as a warning salvo? (An additional bit of synergy for Clintonistas: The story has the additional benefit of making longtime Clinton foe Maureen Dowd seem like she allowed herself to be used.)
It would be pretty brazen and risky for Politico to run with the story, though, unless they trusted the sources. Unfortunately, it's hard to assess those sources because none are named. Trusting the story also requires that there be people who are close enough to Biden to pass a reporter's sniff test for credibility, but also either close to Clinton or guileless enough to give away the store. Both candidates have been around national Democratic politics for a long time, though, so that could be the case.
Or could the call be coming from inside the house, from folks in the Biden orbit who are trying to discourage him? Going about it this way seems pretty nuclear, but just Monday, Politico's Mike Allen included in his morning tipsheet the pleas of several unnamed Biden friends who wanted him to decline to run. Could this be the next phase of their effort, getting more desperate as a Biden announcement seems to loom closer?
These are just a few more questions to ponder as everyone waits for an answer to the big question: Will Biden run?
We want to hear what you think about this article. Submit a letter to the editor or write to letters@theatlantic.com.
David A. Graham
is a staff writer at
The Atlantic
, where he covers U.S. politics and global news.