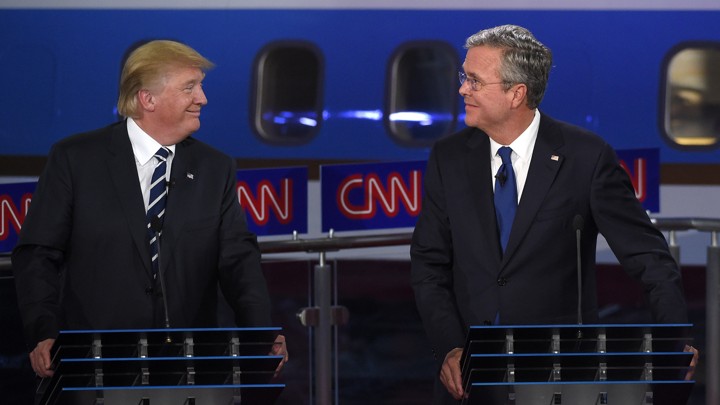 In as­sess­ing the wide-open, volat­ile Re­pub­lic­an pres­id­en­tial field, the most im­port­ant ques­tion isn't wheth­er Don­ald Trump's sup­port col­lapses be­fore the Iowa caucuses. It's wheth­er the GOP es­tab­lish­ment con­sol­id­ates be­hind one elect­able can­did­ate after the New Hamp­shire primar­y. And if Jeb Bush can't turn around his sag­ging poll num­bers be­fore then, the an­swer to that con­sequen­tial ques­tion will be largely un­der his con­trol.
On the trail and in polls, Bush hasn't looked at all like the front-run­ner many ex­pec­ted last Decem­ber when he an­nounced that he would ex­plore run­ning for pres­id­ent. And the void left by Bush's let­down has splintered prag­mat­ic Re­pub­lic­an primary voters in many dif­fer­ent dir­ec­tions. The Pew Re­search Cen­ter found that col­lege-edu­cated Re­pub­lic­an voters—the demo­graph­ic group least sup­port­ive of Trump—haven't co­alesced be­hind any­one.
Ben Car­son, sur­pris­ingly, wins much of their sup­port, as do Sen. Marco Ru­bio of Flor­ida and Carly Fior­ina. Bush him­self polls only at 5 per­cent among his erstwhile sup­posed base, but his cam­paign has the fin­an­cial re­sources to air more ads and or­gan­ize in more states. Mean­while, the end­less Don­ald Trump me­dia cov­er­age has also de­prived prom­ising al­tern­at­ive can­did­ates from get­ting much pub­lic at­ten­tion.
The lack of any true front-run­ner has wide­spread con­sequences. It mag­ni­fies the one-quarter of the vote Don­ald Trump con­sist­ently gets in polls, even though that's close to his ceil­ing of sup­port with­in the Re­pub­lic­an Party. That, in turn, keeps Trump's ef­fect­ive hype ma­chine alive. The splintered field keeps many big donors on the sidelines, wait­ing to make a safer in­vest­ment with their valu­able cash. And it com­plic­ates cam­paigns' strategies, in­centiv­iz­ing the more elect­able ones to at­tack each oth­er in­stead of the front-run­ners in the polls, as cam­paigns tra­di­tion­ally do.
Make no mis­take: The GOP elect­or­ate's dis­dain for polit­ic­al in­siders is real, and it is fuel­ing the de­mand for Trump, Car­son, and, to a less­er ex­tent, Fior­ina and Sen. Ted Cruz of Texas. But it's fool­ish to add up their vote share and as­sume that a ma­jor­ity of Re­pub­lic­an voters are locked in­to vot­ing for a non­politi­cian. The real story is a lot more com­plic­ated than that.
Car­son is polling strongly among the same demo­graph­ic groups that once seemed like nat­ur­al sup­port­ers of Bush, par­tic­u­larly wo­men and af­flu­ent Re­pub­lic­ans. To as­sume that Car­son's back­ers would be nat­ur­al Trump voters is highly mis­lead­ing. Many of his sup­port­ers could eas­ily switch to more es­tab­lish­ment-ori­ented cam­paigns. At sev­er­al ral­lies for Ohio Gov. John Kasich in New Hamp­shire that I reported on in September, nu­mer­ous self-de­scribed mod­er­ate voters said that Car­son was one of their top choices.
Fior­ina, who also gets lumped in­to the "out­sider" brack­et, is as es­tab­lish­ment as it gets. She was a For­tune 50 CEO for one of the coun­try's largest Sil­ic­on Val­ley com­pan­ies, ran for the Sen­ate in Cali­for­nia as a cent­rist against two more-con­ser­vat­ive primary chal­lengers, and ad­vised John Mc­Cain on his 2008 pres­id­en­tial cam­paign. Her pro­file is about as ideo­lo­gic­ally dis­tinct as pos­sible from Trump, which her sparring with him demon­strates.
There's a bet­ter way to di­vide the GOP can­did­ates in­to two groups: Don­ald Trump and every­one else. Trump's sup­port is pre­dom­in­antly from voters who aren't Republican rank-and-file voters. His sup­port­ers have an ideo­lo­gic­ally dis­tinct pro­file, ac­cord­ing to Pew's ana­lys­is: more mod­er­ate, more sec­u­lar, more blue-col­lar. They're also less re­li­able caucus and primary voters. These voters are not new to the Re­pub­lic­an Party. They used to be called Re­agan Demo­crats; they voted for Pat Buchanan in the 1992 and 1996 Re­pub­lic­an primar­ies, and they com­prised much of Mitt Rom­ney's op­pos­i­tion in the 2012 nom­in­a­tion battle. They're grow­ing as a share of the GOP elect­or­ate: Bob Dole and George W. Bush won about 60 percent of the overall GOP primary vote; Rom­ney only won 52 per­cent in 2012.
There's good reas­on why Trump has run on a non­tra­di­tion­al Re­pub­lic­an plat­form, one that's skep­tic­al of mil­it­ary in­ter­ven­tion, hos­tile to il­leg­al im­mig­ra­tion, and op­posed to free trade deals. Last week, he even attacked former President George W. Bush for not an­ti­cip­at­ing the 9/11 at­tacks. Trump has been ad­voc­at­ing hik­ing taxes on wealthy corporations and in­di­vidu­als. His past sup­port of abor­tion rights, and admission that he hasn't sought for­give­ness from God, don't endear him to evangelicals. But these po­s­i­tions match the ideo­lo­gic­al pro­file of his sup­port­ers. Trump is no dummy; he's run­ning a cam­paign geared to­wards voters that many Re­pub­lic­an can­did­ates, with their em­phases on tax cuts, free trade, and im­mig­ra­tion re­form, have per­en­ni­ally ig­nored.
But there's a lim­it to how suc­cess­ful such a pop­u­list cam­paign can be. Trump is still ca­ter­ing to a minor­ity of the GOP elect­or­ate. His main path to suc­cess is a win by de­fault if the rest of the Re­pub­lic­an field con­tin­ues to be so splintered. This is the re­verse of what usu­ally hap­pens in a Re­pub­lic­an primary, when the party es­tab­lish­ment ral­lies be­hind a well-fin­anced front-run­ner and the con­ser­vat­ive grass­roots splinter be­hind dif­fer­ent long-shot can­did­a­cies.
That's why the res­ult of the 2016 Re­pub­lic­an pres­id­en­tial nom­in­a­tion is in Jeb Bush's hands, wheth­er he suc­ceeds or fails. If Bush be­latedly surges, he'd be well-po­si­tioned to dis­patch his es­tab­lish­ment rivals to win the nom­in­a­tion. But if he struggles, his de­cision-mak­ing pro­cess would also be con­sequen­tial to who be­comes the Re­pub­lic­an nom­in­ee.
Bush is as es­tab­lish­ment as Re­pub­lic­ans come, and he cares deeply about the fu­ture of his party. But what hap­pens if he dis­ap­points in New Hamp­shire and Iowa, and is left with lim­ited polit­ic­al op­tions but plenty of leftover cam­paign cash? Does he drop out of the race and try to unite the frac­tured es­tab­lish­ment be­hind the strongest al­tern­at­ive? Or does he fight on, know­ing that his or­gan­iz­a­tion still trumps all the re­main­ing can­did­ates? 
The same would be true for any of the oth­er es­tab­lish­ment al­tern­at­ives if they were to lose to Bush—Ru­bio, Kasich, New Jer­sey Gov. Chris Christie—but em­bar­rass­ing early set­backs would likely leave all of them without the re­sources to con­tin­ue cam­paign­ing.
A strug­gling Bush would still have the lux­ury of fight­ing on, but he would risk hand­ing the nom­in­a­tion to Trump.
With Ru­bio emer­ging as the lead­ing al­tern­at­ive to Bush—and run­ning ahead of his ment­or in many polls—such a de­cision would be all the more wrench­ing. Why not wait un­til the March 15 Flor­ida primary to spark a win­ner-take-all show­down between the two home-state rivals? But if Trump starts win­ning early-state primar­ies and caucuses, time will not be Bush's friend. Trump, iron­ic­ally, could be­come the biggest be­ne­fi­ciary of a go-for-broke Bush cam­paign.
We want to hear what you think about this article. Submit a letter to the editor or write to letters@theatlantic.com.