The Budget Deal Clears the House of Representatives
John Boehner's last act as speaker passed easily on Wednesday with help from Democrats. It now goes to the Senate.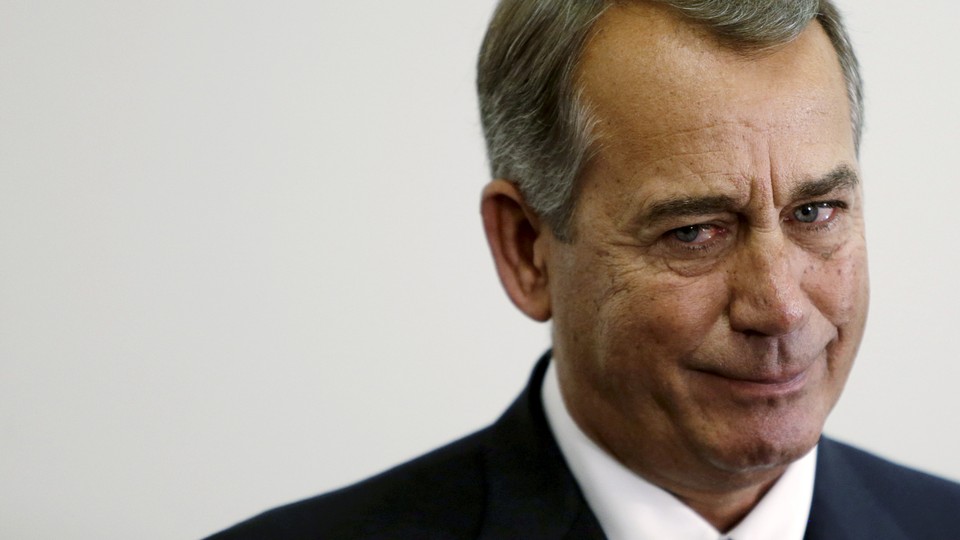 The final major vote of John Boehner's drama-filled tenure as House speaker turned out to have very little drama at all.
A bipartisan majority in the House on Wednesday afternoon easily approved the two-year budget agreement that Boehner negotiated with fellow congressional leaders and the Obama administration. The vote was 266-167. Every Democrat voted in favor of the measure, while two-thirds of Republicans voted no. The deal increases federal spending by $80 billion and raises the debt ceiling through March 2017, all but ensuring that the president is done with the fiscal crises that have marked his last five years in the White House.
The bill now goes to the Republican-controlled Senate, where supporters are expected to overcome opposition from conservatives and in particular, three of the GOP's 2016 presidential candidates. Ted Cruz, Marco Rubio, and Rand Paul have all come out against the deal, and Paul has vowed to "filibuster" the agreement once he returns to Washington from the Republican debate in Colorado. But there appears to be little that Paul can do beyond delivering one of his trademark long speeches, given that well over 60 senators are expected to support the deal, and the nation does not face a potential debt default until November 3.
A final hurdle in the House was cleared in the hours before the vote, when members of the Agriculture Committee said they would support the budget agreement despite cuts to a crop insurance program that were included to offset spending increases for the Pentagon and domestic programs. Those lawmakers said party leaders assured them they would address the cuts in a future spending bill, National Journal reported.
The budget deal won late endorsements from Paul Ryan, the Republican speaker-elect, and from Senator Bernie Sanders, the liberal Democratic presidential candidate. Ryan had earlier complained that the secretive, last-minute process used to complete the agreement "stinks," but he said that on substance, the agreement was good enough. "What has been produced will go a long way toward relieving the uncertainty hanging over us, and that's why I intend to support it," he said. "It's time for us to turn the page on the last few years and get to work on a bold agenda that we can take to the American people."
What Ryan did not mention was that the measure was similar in structure to a budget deal he negotiated with Democrats two years ago and that as speaker, he will be responsible for securing passage of an omnibus spending bill based on the parameters of Boehner's agreement. He must do so by December 11 to avoid a government shutdown.