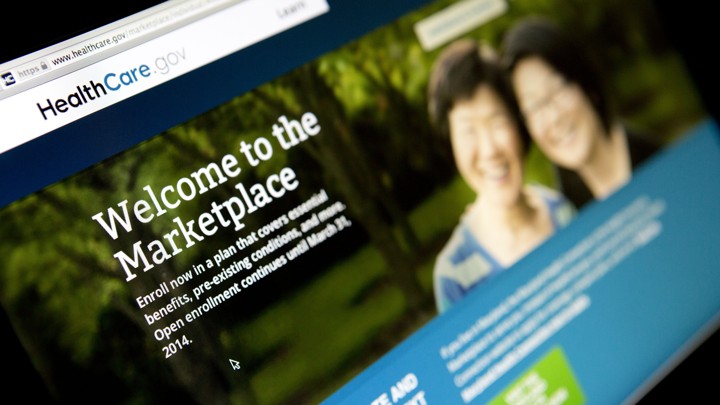 Ten million Americans will likely have coverage through an insurance marketplace and be paying their premiums by the end of 2016, according to the latest prediction from the Health and Human Services Department.
Nearly 10.5 million uninsured Americans are likely to qualify for marketplace plans, and the department estimates that more than 1 in 4 will enroll. As the White House gears up for the third open-enrollment season—a key part of President Obama's signature health care overhaul—the numbers offer insight into whom the administration is targeting to complete this goal. On a call with reporters, HHS officials explained they hope to get there through localized and digital campaigns.
Nearly half of those who could pick health plans on the marketplace are  "young invincibles" between 18 and 34—a critical age group the administration has historically targeted for enrollment because they're known for being healthier and less likely to heavily utilize their plans, so they can essentially subsidize the cost of older and sicker beneficiaries.
The analysis from the department's Office of the Assistant Secretary for Planning and Evaluation comes a little more than two weeks before the third open-enrollment season, the first of which saw a bumbled rollout plagued with technological glitches.
The 10 million Americans HHS anticipates will have insurance by the end of next year come from three main areas: those who will reenroll in coverage on the marketplace (about 7.3 to 8.8 million); those switching from individual markets to the health insurance marketplace (900,000 to 1.5 million); and those who are currently uninsured but eligible for coverage (2.8 to 3.9 million).
"We believe 10 million is a strong and realistic goal," HHS Secretary Sylvia Mathews Burwell said on Thursday's call with reporters. "We've seen high levels of satisfaction with the marketplace and expect the vast majority of our current customers will reenroll. And our target assumes that more than one out of every four of the eligible uninsured will select plans."
HHS has analyzed the demographic information of the uninsured: About 40 percent are living between 139 percent and 250 percent of the poverty level, which comes out to incomes of about $30,000 to $60,000 for a family of four. Nearly 8 in 10 could qualify for financial assistance. About 19 percent are Hispanic, 14 percent are black, and 2 percent are Asian. More are male than female.
Yet the department noted the administration is aware that the uninsured may be harder to reach this time around. The department aims to work with various partners, such as nonprofits, health care providers, businesses, and government agencies. It's planned localized campaigns in both English and Spanish. And the young invincibles will be targeted through digital advertising and email.
As for when the 3 out of 4 uninsured whom the administration expects to remain uninsured at the end of next year will receive health coverage, Richard Frank, assistant secretary for Planning and Evaluation, said: "We're still working on our longer-term projections, and what we do see is a longer path to that equilibrium."
The fee for not buying health insurance if a person can afford it, under what is known as the individual mandate, is rising in 2016. An individual will pay 2.5 percent of his or her annual household income, or $695 per person ($347.50 per child under 18)—whichever is higher.  
We want to hear what you think about this article. Submit a letter to the editor or write to letters@theatlantic.com.
Rachal Roubein is a staff correspondent for National Journal covering Congress