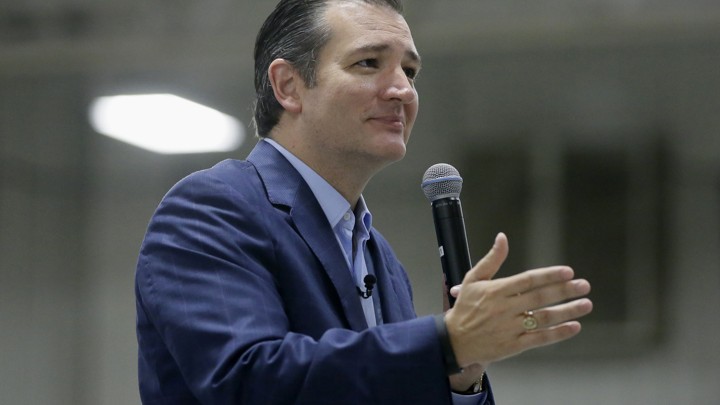 Last weekend was peak fall foliage in many parts of New Hampshire: the exact right time to view riotous bursts of orange, red, and yellow that draw "leaf peepers" to the region every autumn. In Weirs Beach, a community on the southern shore of the state's largest lake, lobster shacks, campgrounds, and antique shops were still open for business, and RVs with out-of-state license plates were prowling the back roads.
It's also primary season, which draws a different crowd of outsiders to the state. So on Saturday afternoon, Texas senator and Republican presidential candidate Ted Cruz was in town, not for the trees, but for a stump speech. He was meeting with supporters in a dark bar in the basement of Funspot, the self-proclaimed largest arcade in America.
Funspot, with its sprawling rooms full of vintage arcade games, was the setting for a dramatic showdown in the 2007 documentary The King of Kong: A Fistful of Quarters, about a striving underdog who ultimately loses a Donkey Kong competition to an absurdly cocky self-promoter. By 2 p.m. on Saturday, several dozen New Hampshire residents had lined up outside the D.A. Long Tavern inside Funspot to hear from, well, an underdog who is trailing an absurdly cocky self-promoter. The bar is across an aisle from the arcade's bowling alley, where families and groups of friends whooped as pins crashed, apparently uninterested in the commotion outside the bar.
More than 30 minutes later, the line hadn't budged: Cruz was still in a meeting inside the bar. One of his New Hampshire field directors tried to get a chant going: "We want Ted! We want Ted!" It quickly petered out. "C'mon, guys, you're killing me," he groaned. Heidi Cruz, the candidate's wife, stood on a chair and gave a brief pep talk, thanking the crowd for their "courage." A Funspot employee asked campaign staff to move a stack of yard signs from a counter: "I need to put a pizza here."
The crowd remained patient despite the wait. New Hampshire residents know how campaign events work; they are hard to impress, but they are also hard to ruffle. Eighteen percent of all New Hampshire adults reported that they had personally shaken hands with a presidential candidate in 2008, according to The First Primary: New Hampshire's Outsize Role in Presidential Nominations. A remarkable 27 percent attended a rally, speech, or other political event.
Patrick Wetmore, a volunteer for Cruz in Grafton County, New Hampshire, was lingering near the back of the line, wearing a Cruz T-shirt and sipping a drink from Burger King. He described himself as a pro-life conservative concerned with religious liberty. He and his wife homeschool their two children, and he said he had seen few Republican candidates who authentically reflect his family's values. "There really are few true conservatives in the fight," he said. "There's a lot of them, like Ted talks about, that are campaign conservatives—Jeb Bush, Chris Christie, these guys just aren't conservatives. We know it; they know it. They're Hillary Clinton-lite."
Tina McBey and her wife, Kelly, had come from nearby Sanbarton to see Cruz speak. "He's standing up to the government—I love that," McBey said. "I do not have a lot of friends supporting him. I happen to be gay and a lot of gay folks are Democrats. I've lost a lot of friends, but that's OK because we're doing the right thing."
Finally the doors to the bar opened, and the crowd filed inside. Bob Smith, a former New Hampshire senator, introduced Cruz by referring to his own record of speaking up for the second amendment in the immediate wake of the Columbine High School massacre. The day before, Cruz had criticized President Obama for "politicizing" the shooting at Umpqua Community College in Oregon. The Texas senator has an A+ rating from the National Rifle Association.
Standing on a short platform wedged behind a pool table, and under a statue of a tipsy red parrot in a Hawaiian shirt, Cruz launched into the stump speech he has been polishing for months. He drew applause by referring to the Reagan revolution, promising to end "the persecution of religious liberty," pledging to defund Planned Parenthood, sharing his plans to "rip to shreds" the Iran nuclear deal, and denouncing the "jackboots at the IRS." When he disparagingly mentioned "candidates Washington embraces," a woman in the audience shouted: "Jeb Bush!" One enthusiastic fan worked her way to the front of the audience while Cruz was still speaking to hand him a framed gift.
Clara Jude, a 17-year-old who will be voting in her first election next year, had come as a representative of New Hampshire Youth for Peace and Justice; she had hoped to ask the candidate a question about ending the influence of money in politics, but didn't get the chance. Her mother, Lauren, is a Republican who said she hasn't decided who to vote for, and said she hasn't heard many people talking about Cruz in New Hampshire. "We're 'live free or die,' but we're very socially liberal," she said. "It would surprise me, actually, if he got a lot of traction here."
Indeed, Cruz is polling near the bottom of the pack of serious contenders in New Hampshire. An NBC/Wall Street Journal poll released Sunday found him behind Donald Trump, Carly Fiorina, Jeb Bush, Ben Carson, Marco Rubio, and Chris Christie. In both Iowa and New Hampshire, he was supported by just 6 percent of Republican voters.
But the New Hampshire primary is still more than four months away, and it's a candidate's job to project optimism until the bitter end. After deftly answering a few curve-balls from the crowd—Was his mother born in the United States? What would he do to advance a cure for AIDS?—Cruz thanked the crowd and worked his way to the exit, shaking hands along the way. At the bar, two young men lingered and observed the hubbub. One was Canadian and one was Welsh, so they can't vote in the next election. They were just hoping for a drink.
We want to hear what you think about this article. Submit a letter to the editor or write to letters@theatlantic.com.
Ruth Graham
is a contributing writer for
The Atlantic
and the
Boston Globe
's Ideas section.