Team Clinton, Benghazi Panel GOP Prepare for Battle
Both sides are angling for the political upper hand ahead of Thursday's high-stakes hearing.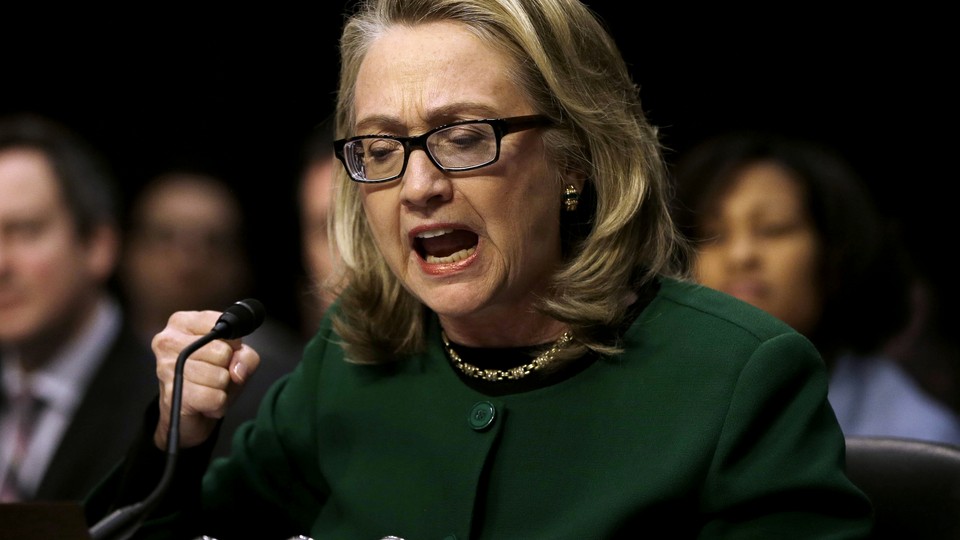 Republican Rep. Mike Pompeo says nothing has changed.
"We are behaving exactly the same way with Secretary Clinton as we have with every other witness," says the Kansas Republican, a member of the House Select Committee on Benghazi.
How is the panel preparing for Hillary Clinton, who will testify Thursday?
"The same way we have prepared for everything we have done all along the way," Pompeo says. "No different, no different."
In fact, it's very different, despite the GOP's insistence, hotly disputed every day by Democrats, that the Clinton hearing and the overall probe are just-the-facts-ma'am affairs.
Pompeo was speaking to reporters in the Capitol on Friday near a closed-door committee interview with longtime Clinton aide and confidante Huma Abedin.
But in contrast to almost all the committee's work to date, the hearing with Clinton will be public. And in contrast to the dozens of other witnesses that the panel has interviewed, Clinton is the front-runner for the Democratic presidential nomination.
It's an event with high stakes for the former secretary of State.
She's coming off good reviews in last week's Democratic debate, but while those affairs are long, they're nothing compared to what's expected to be an all-day grilling before the panel probing the 2012 attacks in Libya that killed four Americans, including Amb. Chris Stevens. The questions will likely veer into her unusual private email arrangement as well.
Clinton's campaign is casting the hearing as a turning point.
"We think once she is through Thursday, we are going to be done with this, and she will have answered questions from all the media, she will have answered questions from the Hill; this will be the eighth time a congressional committee has investigated [Benghazi], and it will be time to move on," Jennifer Palmieri, Clinton's director of communications, said on MSNBC on Monday.
But despite the massive amount of attention that will be focused on Clinton, the Benghazi panel's Republicans are very much in the political hot seat themselves.
The panel has been thrown onto the defensive in recent weeks, in large measure because comments by a pair of Republicans—Reps. Kevin McCarthy and Richard Hanna—fueled long-standing Democratic allegations that the Benghazi panel is a partisan weapon against Clinton.
Committee Chairman Trey Gowdy used an appearance on CBS's Face the Nation Sunday to push back against those claims, and more broadly said that people outside of the committee don't know what they're talking about.
"I have told my own Republican colleagues and friends, 'Shut up talking about things that you don't know anything about.' And unless you're on the committee, you have no idea what we have done, why we have done it, and what new facts we have found," he said.
"We have found new facts ... that have absolutely nothing to do with [Clinton]. I get that people don't want to talk about that, but the seven members of my committee are much more focused on the four dead Americans than we are anyone's presidential aspirations," Gowdy said.
The South Carolina Republican said the probe has unearthed new information, including emails Stevens wrote in June of 2012 asking for more security, and also sought to rebut charges that the panel is all about Clinton, noting that she is just one witness, albeit an important one.
But Democrats are seeking to keep Republicans on the defensive.
The comments by McCarthy and Hanna—and disputed allegations of a politicized probe by a former GOP committee aide who was fired—have emboldened Democrats.
The fight is escalating rapidly ahead of Clinton's appearance.
The New York Times reported Monday afternoon that the pro-Clinton super PAC Priorities USA is buying ads in the states with the first four nominating contests—New Hampshire, Iowa, Nevada, and South Carolina—to run ahead of the hearing.
And a separate pro-Clinton super PAC, Correct The Record, has ramped up its attacks on the Benghazi panel's credibility with a barrage of press releases and other efforts.
Founder David Brock was set to appear Monday night at Georgetown University's Institute of Politics and Public Service to discuss the "overtly political Benghazi Committee," according to Correct the Record. He'll also go after the committee in remarks before the World Affairs Council of Philadelphia on Wednesday night.
And as if the glare wasn't bright enough already, the hearing arrives as two GOP members of the Benghazi committee—Pompeo and Rep. Lynn Westmoreland—say they might jump into the race for House speaker if Rep. Paul Ryan decides against running.
The crosscurrents around the committee were apparent during Abedin's closed-door testimony last week.
Reporters' questions to Pompeo and Westmoreland—the two GOP members who attended—toggled between the Abedin interview, Clinton's upcoming appearance, and the two lawmakers' potential runs for speaker.
Westmoreland signaled that Republicans don't plan to make Clinton's private email server, which the committee's probe uncovered, a major focus.
"We don't care about her private email setup," he said. "All we want is the correspondence that related to Libya and Benghazi. I could care less that she had a private server, a private email account. Just turn over all the emails that relate to Benghazi and Libya."
As the panel prepares to host one of the biggest moments of the 2016 election cycle thus far, Westmoreland said he has "practiced with a lot of different people," including using a stand-in for Clinton. But at the same time, he emphasized that the probe is not about Clinton, noting the dozens of other interviews the committee has conducted.
"She is," he said, "just another witness."