Tea Party Targets Rep. Richard Hanna Again After Near-Miss in 2014
Richard Hanna was already one of hardline conservatives' top targets, even before accusing the GOP of playing politics on Benghazi.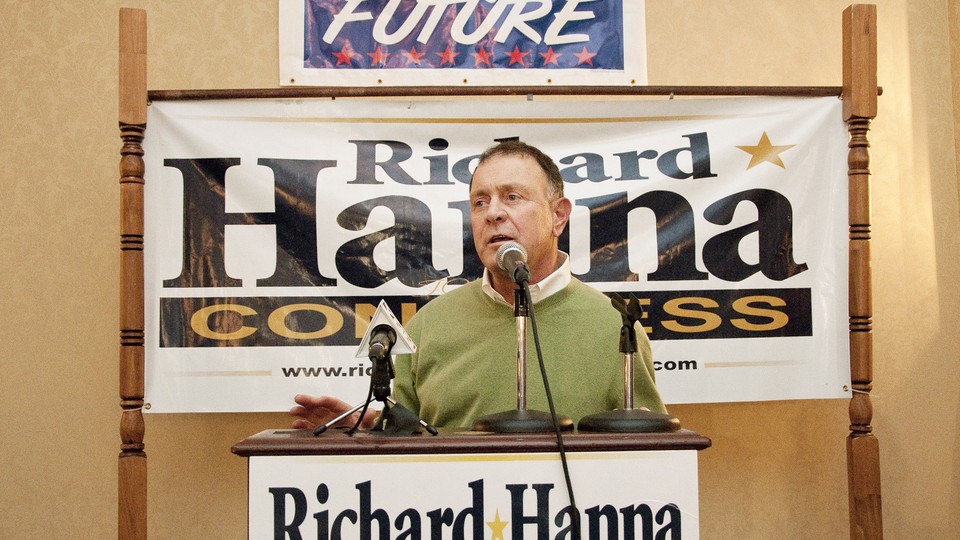 After surviving a close primary in 2014, Rep. Richard Hanna might be the tea party's top congressional target in next year's elections.
The Republican from upstate New York is one of the House's most moderate lawmakers, and he was unopposed in the last general election in his moderate district. But Hanna's outspoken disdain for partisan politics—like when, amidst the "war on women" rhetoric from Democrats in 2012, he said Republicans didn't deserve to have women donate money to them—has made him an enemy to some Republicans, leading to that narrow 7-point victory over a barely known GOP state legislator last year.
Since then, Hanna hasn't toned down what conservatives see as his holier-than-thou centrist rhetoric or voting record. Hanna was one of the few House Republicans to vote against defunding Planned Parenthood this year. And with state Assemblywoman Claudia Tenney considering a repeat bid against Hanna after nearly upsetting him in 2014, Hanna went on the radio this month and breathed life into another of the Democrats' key attacks: that the special committee formed to investigate the Benghazi attacks was in fact an anti-Hillary Clinton witch hunt orchestrated for political purposes.
"There was a big part of this investigation that was designed to go after people and an individual, Hillary Clinton," Hanna said.
The comment made national headlines, but Tenney said it came as no surprise after she spent the 2014 campaign criticizing Hanna for being one of the very last Republicans to support creating the committee in the first place.
"It's pretty consistently Richard Hanna," Tenney said. "I think he's duplicitous, but I think it's consistently Richard Hanna."
Hanna's comments add fuel to hard-line conservatives' hopes of knocking him out of Congress in 2016. Tenney won more than 46 percent of the 2014 GOP primary vote despite running a shoestring campaign—and facing heavier spending from not only Hanna's campaign but a super PAC that backs pro-same-sex marriage Republicans.
Hanna spent $564,000 leading up to last cycle's primary, while Tenney spent $112,000, according to FEC filings. And American Unity PAC, the super PAC, added about $665,000, according to the Center for Responsive Politics.
Because American Unity PAC spent so much—and the National Organization for Marriage, a conservative group that promotes "one man, one woman" marriage laws, made a much smaller $25,000 investment—last year's race was seen as a battle over same-sex marriage. But Tenney said there actually wasn't enough focus on social issues. American Unity PAC's ads didn't address Hanna's support for gay marriage or Tenney's opposition; instead, the PAC ran TV spots attacking Tenney for votes on state-level taxes.
"There wasn't a single word, there wasn't a single printed piece, there wasn't a TV ad, there wasn't a single discussion of same-sex marriage in the entire campaign," she said. "... It was entirely a false flag campaign, it was trying to portray me as a liberal and Richard Hanna as a conservative."
Philip Klinkner, a professor of government at Hamilton College in Hanna's district, agreed that American Unity PAC tried to distract voters last cycle.
"It really was rather disingenuous on their part," said Klinkner, a Democrat.
In 2016, Tenney will continue attacking Hanna's record not only on same-sex marriage but also on his Planned Parenthood vote, she said. But she could face another big-money onslaught: American Unity PAC is "fully in support of Richard Hanna," said spokeswoman Christine Baratta, who did not add anything about their specific plans for 2016.
Hanna can also count on help from the Republican Main Street Partnership, a group that has spent millions of dollars backing moderate Republicans. Main Street COO Sarah Chamberlain said the group will back Hanna if Tenney enters the race.
But the money race isn't likely to be so lopsided if Tenney runs a second time, Klinkner said.
"Given how well Tenney did in the last cycle, some groups like the Club for Growth, some of the more tea-party conservative groups would be more likely to give her money" in 2016, knowing she could launch a viable campaign, Klinkner said.
Club for Growth spokesman Doug Sachtleben would only say that his organization is watching the race. (Hanna's lifetime vote rating from the Club is just 47 percent and has fallen each of the past three years.) NOM, which is far less well-funded, said it will back Tenney if she gets in the race—and that they would consider supporting a Democrat against Hanna if he wins his primary.
First, Tenney has to make a decision on whether she actually wants to run. And she'll have to make that decision soon in order to launch a strong campaign for the June primary. When asked recently by a local college student if she would run again, Tenney tweeted that it was "not likely," but she backtracked in a conversation with National Journal. "I was just responding—it was more of a Twitter debate with someone than it was a serious [suggestion] that I'm not," she said.
"If … I can put together a credible campaign and see a clear path to victory," Tenney continued, "then I'll definitely give it a shot."