A Short History of Mike Bloomberg Supposedly Running for President
Yet again, a small coterie of Wall Street types and New York insiders are calling on the former mayor to run. Don't count on it.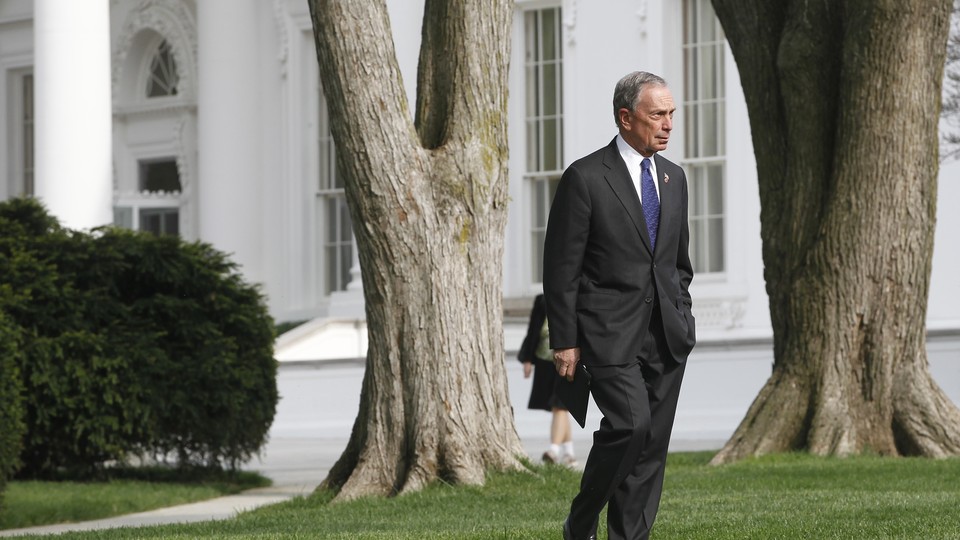 Are you into gambling? You are? Well, here's a tip: Don't put any money on Michael Bloomberg becoming president, no matter what you read in the New York media.
Andrew Ross Sorkin, the New York Times business columnist, says that the former Big Apple mayor has been getting calls from Wall Street friends—notably activist billionaire investor Bill Ackman—eager for him to mount a campaign. "The plutocracy's renewed interest in Mr. Bloomberg pursuing a run for presidency is the confluence of several factors, according to conversations with some of New York's business boldfaced names," Sorkin reports.
The reasons are always the same: Business interests want somebody who's run a big business (not that that correlates with successful presidency); who can self-fund a campaign; and who will be fiscally conservative, unlike most Democrats, but socially moderate, unlike most Republicans. There's never been any sort of genuine, broad-based push from outside the Acela corridor for a Bloomberg candidacy.
As Sorkin notes, Bloomberg always says no. And he's been saying no for a long time. How long? Here's a brief résumé:
December 11, 2006: New York's John Heilemann reports that then-mayor has begun talking to political advisers about a potential run.
June 19, 2007: Bloomberg—a Democrat who became a Republican so he could run for mayor—announces he's now unaffiliated. The Associated Press reports it is "a stunning move certain to be seen as a prelude to an independent presidential bid that would upend the 2008 race."
November 3, 2007: Jon Meacham, Newsweek editor and cheerleader for centrism, writes a cover story praising "Bloomberg's steadiness, self-confidence and apparent sanity" and laying out how he should shake up the 2008 race.
December 31, 2007: "Buoyed by the still unsettled field, Mayor Michael R. Bloomberg is growing increasingly enchanted with the idea of an independent presidential bid, and his aides are aggressively laying the groundwork for him to run," The New York Times reports.
February 27, 2008: Writing in the Times, Bloomberg makes a meticulous case for an outsider, independent candidate, then removes himself from the running: "I believe that an independent approach to these issues is essential to governing our nation—and that an independent can win the presidency. I listened carefully to those who encouraged me to run, but I am not—and will not be—a candidate for president."
March 3, 2010: If not 2008, what about 2012? The Wall Street Journal reports: "New York Mayor Michael Bloomberg's top political strategist, Kevin Sheekey, will exit City Hall and return to the company the mayor founded, fueling speculation that Mr. Bloomberg is laying the groundwork for a potential White House bid." A source says, "The idea of continuing onward is not far from his mind."
November 15, 2010: The New Yorker gently mocks "the maddeningly perennial game of speculating about the next move of New York's mayor." The article notes that while self-funding is always one selling point, the estimated price tag has climbed precipitously over the course of the speculation.
November 17, 2010: "New York Mayor Michael Bloomberg really doesn't mind denying, over and over again, that he harbors national ambitions," The Washington Post reports. "Well, it's very flattering, and in all fairness, if you didn't think it was flattering you should probably see a psychiatrist," he says.
December 8, 2010: "I'm not going to run for president, period," Bloomberg tells Katie Couric. "End of story." Ever, she asks? "I think at my age ever is the easy thing to say."
December 9, 2010: Ralph Nader delivers a 21-point case (really) for how Bloomberg can win, presumably just to troll Democrats worried about Obama's releection prospects.
December 12, 2010: "No way, no how," Bloomberg tells Meet the Press's David Gregory on a Sunday.
December 13, 2010: "But," the Christian Science Monitor can't help noting the next day, "Monday's launch of a new movement called Nolabels.org—an effort to get beyond the hyperpartisanship that infuses Washington—can't help but keep the 'will Bloomberg run' question alive."
December 20, 2011: "I think an independent candidate couldn't win," Bloomberg tells a New York TV station, reversing his position when he ruled out a 2008 run. (At other times, he has phrased this more colorfully when referring to himself, saying a "short, Jewish, divorced billionaire" can't win, either.)
December 21, 2011: A Time story on the quixotic Americans Elect project, which seeks to choose a non-major-party candidate via an internet primary, notes, "Americans Elect will not promote a candidate, but the group is briefing potential contenders about the process. Among the names that have surfaced are Michael Bloomberg, Jon Huntsman and Howard Schultz, the CEO of Starbucks." Bloomberg doesn't run, and Americans Elect will unceremoniously collapse several months later.
March 14, 2012: If not president, maybe the No. 2 job? While there were rumors Obama might appoint Bloomberg to the World Bank or Treasury, Ira Stoll writes in the New York Daily News, "if the President really wants to get the mayor involved, the way to do it would be to go all the way and put Bloomberg on the 2012 ticket as his running mate."
April 17, 2012: Thomas Friedman writes a widely, deservedly mocked column complaining that on a recent trip between D.C. to New York, his phone dropped several calls, the streets were under construction, and an escalator was broken. "And that is why I still hope Michael Bloomberg will reconsider running for president as an independent candidate," he enjoins. Somehow, Bloomberg is unmoved.
June 12, 2012: Fellow abrasive big-city mayor Boris Johnson, of London, backs a Bloomberg bid while on The Daily Show: "I am a great fan of Mayor Bloomberg. I don't see why he has ruled himself of for the presidency. That is my view. I think he would be a great candidate."
November 1, 2012: In a surprise, last-minute move, Bloomberg endorses Barack Obama for reelection, citing his stance on climate change.
March 13, 2013: Piers Morgan for some reason feels compelled to weigh in on American politics.
September 7, 2013: In an exit interview as he leaves the mayoralty, New York asks him if he can really, truly rule out a run. "Yes. It's just impossible," he says. "I am 100 percent convinced that you cannot in this country win an election unless you are the nominee of one of the two major parties. The second thing I am convinced of is that I could not get through the primary process with either party."
April 16, 2014: Just in case anyone wasn't sure, Bloomberg reiterates the point on Today: "No is the answer. Plain and simple. I'm going to spend the rest of my life trying to make a better world for myself, for my kids, for my grandchildren."
June 2, 2014: Ira Stoll (him again!), who apparently doesn't watch Today, wonders in Reason, "Is Michael Bloomberg weighing a 2016 presidential run?" (Nah.)
May 25, 2015: Consistently wrong pundit muses in USA Today, "There is only one person who can win the Democratic nomination for president if Hillary Clinton craters … Yes, of course, Michael Bloomberg."
June 2, 2015: "New York Dems friendly to Bloomberg have approached him to gauge his interest," the New York Post reports. "Their argument is that Clinton's vulnerability with general-election voters, especially independents, could result in a Republican president. They also believed Bloomberg could be interested because, as one of them told me, 'Mike can't stand Hillary.'"
August 8, 2015: The Blaze notes that the NRA is dropping seven-figure ad buys to play defense against Bloomberg getting any ideas. The ads wonder whether he's running, and a spokeswoman says, "If he doesn't run himself for president, he wants to pick the president."
August 23, 2015: Fox News mogul Rupert Murdoch lights up the Bloomberg sign:
How much is that plea really worth? Well ...
Heh.
September 26, 2015: Davos-set author Ian Bremmer tweets:
October 20, 2015: Sorkin's column mentions the ongoing calls for Bloomberg to run. Never mind the many denials—"It's not a zero-chance thing," a friend says.
Perhaps this is all a charade—Bloomberg playing it all off until the moment he launches his campaign. Or you could just take it from Mike, whose bluntness and frankness his friends always cite as an important qualification: "I'm not going to run for president, period … No way, no how …  It's just impossible … No is the answer. Plain and simple."