So Long Bobby Jindal?
The Louisiana governor is running out of money, and his presidential campaign might be running out of time.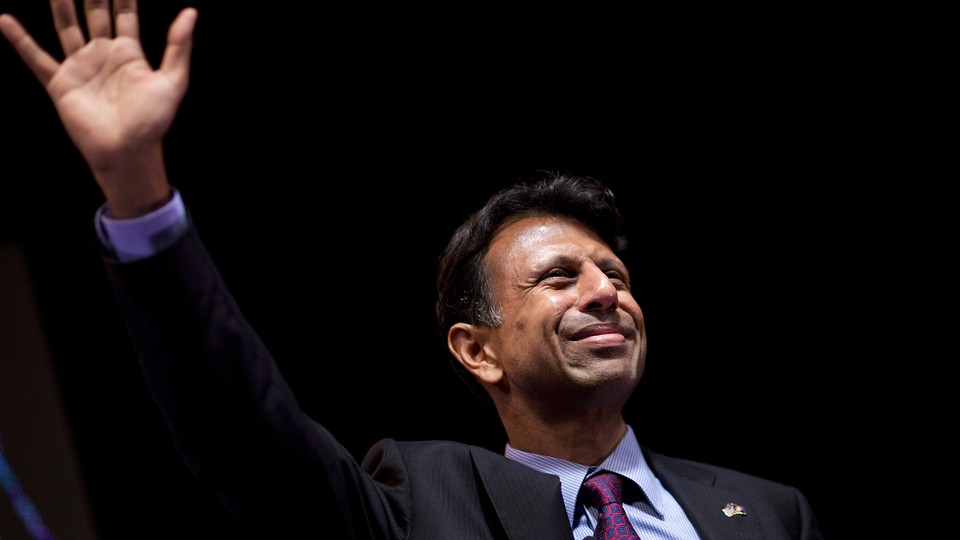 Thursday could mark the beginning of the end for Bobby Jindal's increasingly slim presidential hopes.
The Louisiana governor's campaign reported having just $260,000 to spend at the end of September after raising a little over half a million dollars and spending significantly more than that in the third quarter. It's a paltry sum compared to his rivals, and if Jindal can't jumpstart his White House bid soon, he could be headed the way of Rick Perry and Scott Walker, who ended their campaigns when their coffers ran dry.
Jindal's haul—or lack thereof—was the most ominous signal that came from the quarterly FEC filing deadline on Thursday, which showed that the top two Democrats, Hillary Clinton and Bernie Sanders, each raised more money between June and September than any of the 15 Republicans still in the race. (Donald Trump, of course, has access to more money than any of them through his own personal wealth.) Clinton raised $28 million and Sanders raised $26 million. Ben Carson's rise to a close second in the polls was reflected in his fund-raising, as he led the GOP field by taking in $20 million in the third quarter.
The GOP donor and consultant class is poring over the reports for signs of how each candidate is managing their campaign. Advisers to Jeb Bush, for example, put out word to Politico that they'd be cutting back on spending, a day ahead of a filing that showed his "burn rate" was unsustainably high. Bush raised more than his Florida rival Marco Rubio, but because Rubio has run his campaign more frugally, he has more cash on hand—nearly $11 million to Bush's $10.3 million. Bush's fund-raising slowed over the summer as his poll numbers dipped. In cash reserves, Rubio trails just Carson and Ted Cruz, who leads all Republican contenders with a reported $13.5 million.
Carly Fiorina parlayed her breakout performance in the GOP debates into a solid money quarter, raising $7 million, although she still trails Carson by a wide margin, according to a Wall Street Journal breakdown of the numbers. The fund-raising reports also point to the importance of getting into the prime-time Republican debates as opposed to the undercard. Fiorina was the only candidate to advance from one to the other, while both Perry and Jindal were relegated to the B-team twice and likely struggled to raise funds as a result. Both Chris Christie and Rand Paul, for example, have lagged in the polls but maintained their spot in the main debates, and their money woes are not as pronounced as Jindal's.
With the exception of Sanders and Trump, most of the candidates have millions more behind them through Super PACs that are boosting their candidacies, but as both Perry and Walker found out, they can't totally compensate for a lack of hard money that can fund campaign staff and travel. Perry ended his campaign with barely anything left, while Walker has reportedly amassed $1 million in debt. As Jindal might be learning, bad polls are one thing, but it's when the cash is gone that a campaign's death knell sounds.