Senators Aim to Revamp Federal Rules for Electronic Medical Charts
The measure aims to fix the system's problems—but also make them more transparent.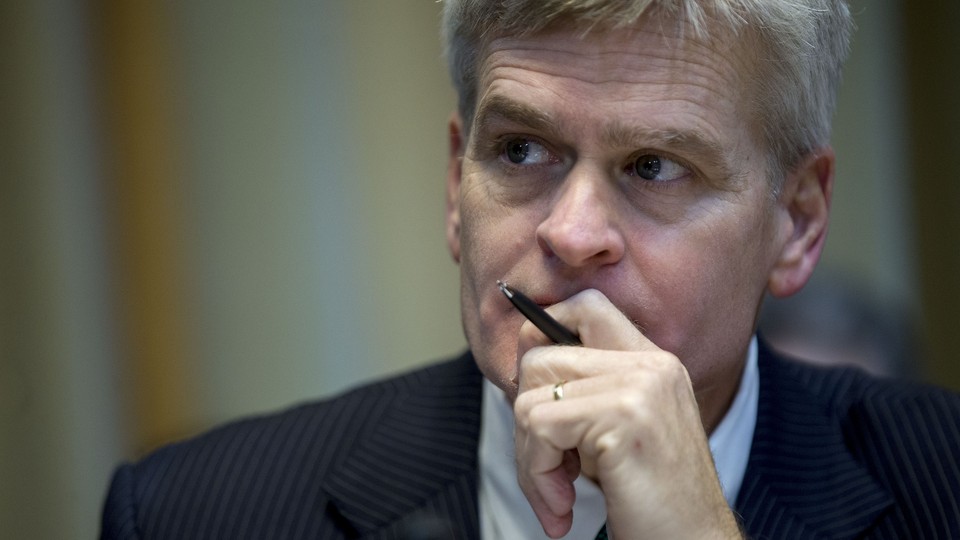 A bipartisan pair of senators Tuesday introduced legislation aimed at improving electronic health records' transparency and accountability.
Since the spring, Senate Health, Education, Labor, and Pensions Committee members have been dissecting electronic health records, unearthing a litany of problems with this information technology. And in the middle of one such hearing, a bipartisan consensus emerged—one that turned into the bill introduced Tuesday.
As Sen. Sheldon Whitehouse recalls, he heard Sen. Bill Cassidy asking tough questions on gag orders barring doctors and hospitals from discussing specific glitches in their purchased systems. "I said right across the hearing room, 'If you're looking for a cosponsor on that, let me know,'" Whitehouse, a Rhode Island Democrat, told National Journal."
So, the two HELP Committee members teamed up and introduced the Trust IT Act of 2015 Tuesday. The measure would establish a health IT rating system that lets consumers compare different products; ban health IT vendors from having nondisclosure clauses in contracts; require products meeting certain security and interoperability requirements for certification; and more.
The bill comes at a time when the HELP Committee has made improving health information technology a priority, and as Obamacare aims to bolster the exchange of health information through electronic health records. Also, the legislation's introduction came on the same afternoon that the Health and Human Services Department released two final rules aimed at increasing interoperability and improving patient outcomes.
The committee has been holding a series of hearings on electronic health records since March as it eyes introducing a bipartisan medical-innovation bill by the end of this year, and according to a Republican HELP aide, Chairman Lamar Alexander expects that much of the newly introduced bill from Whitehouse and Cassidy could be incorporated into the committee's innovation legislation.
In late April, Alexander and the panel's top Democrat, Sen. Patty Murray, announced a bipartisan, full-committee working group aimed at finding ways to improve electronic health records. Staff from both parties began meeting with health professionals, health information technology developers, and other experts in the field.
In the chairman's words at a June hearing, electronic health IT is a "technology that has great promise, but through bad policy and bad incentives, it has run off track."
After those remarks at a hearing titled "Health Information Exchange: A Path Towards Improving the Quality and Value of Health Care for Patients," Murray named several items that needed improving: sharing information between different systems, known as interoperability; increasing the ease of shopping for electronic health record systems; ensuring the security of patients' health information; and more. The new legislation addresses some of these issues, and in a statement to National Journal, Murray said: "I truly appreciate the bipartisan work Senators Whitehouse and Cassidy have done toward improving our health care system through stronger health information technology. I look forward to reviewing the legislation and continuing our efforts together to advance medical innovation for families."
Part of the new bill deals with gag clauses; a September Politico report detailed that some big firms marketing electronic record systems have contracts barring providers from talking about the bugs in the systems.
"If you have a product which just does not work, the provider can't tell anybody about that," Cassidy, a Louisiana Republican, told National Journal last week. "And so you have taxpayer-subsidized products basically—because people are getting such heavy subsidies to purchase them—which don't work, but no one can know it."
The legislation would change this, requiring health vendors to attest that they don't participate in certain information-blocking tactics and allowing the HHS inspector general to investigate such allegations and assess penalties for those engaging in such practices.
Another key component of the bill is letting health care providers compare products based on security, usability, and interoperability. It would establish a health IT rating system that would be available online at the Office of the National Coordinator for Health Information Technology website.
"Right now, after a health IT product is certified for use, there's no way to ensure that it continues to deliver as promised for doctors and patients, and no way to easily compare one product to another," Whitehouse said in a press release announcing the bill. "This bill will establish important safeguards to prevent systems from underperforming and will grade them on their performance—changes that will improve market competition and drive innovation."
Another provision of the bill would require that, in order to be certified, health IT products would have to meet certain security, interoperability, and user-friendly design requirements. The overall goal is better coordination, said Cassidy, who is a practicing physician, in the release. "Doctors will be able to better care for their patients and, in turn, deliver on the promise that their information is being used for their benefit and not for the benefit of others."