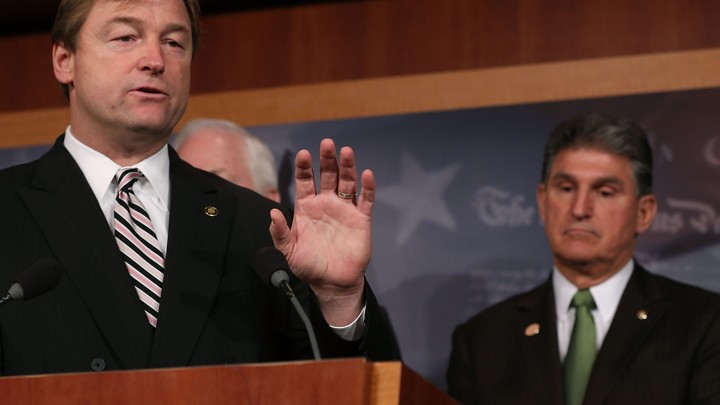 Some Republicans have major concerns that a sanctuary cities bill coming to the Senate floor at the end of this month could have dire consequences for Republicans and their reputation in the Latino community. Sen. Dean Heller, a Republican from Nevada, plans to do something about it.
When Sen. David Vitter's bill comes to the floor for a vote after the upcoming recess, Heller will vote 'yes' under one condition.
"Frankly, I am willing to support it as long as I can offer an amendment for comprehensive immigration reform," Heller told National Journal. "We need to find a venue by which we can have this explanation and have this discussion and unfortunately, since the last vote, which was two years ago, we haven't been allowed to have this discussion."
Heller says he has received no assurances from leadership that his amendment would move forward, but the maneuver could drive the Senate—and the four Republican presidential contenders in it—deep into a debate on the thorny topic of citizenship and border fences just a year ahead of a presidential election.
"Right now, we are kind of in the middle trying to figure out what the process is and how we move forward," Heller said.
The legislation being brought forth by Vitter, who is running for governor in Louisiana, would withhold state and local funding for communities that do not cooperate with federal immigration-enforcement agencies and implements a mandatory five-year sentence for any immigrant who reenters the United States if they have a felony record or have attempted to enter the country illegally twice before.
The idea for legislation gained a groundswell of support this summer after 32-year-old Kate Steinle was fatally shot, allegedly by an immigrant who had entered the country illegally repeatedly. But a handful of more moderate Republicans—especially those from states with high Latino populations—worried that a debate about a stand-alone sanctuary cities bill would damage to the party's reputations with Hispanic voters and serve as an endorsement of volatile language coming from GOP presidential candidates such as Donald Trump.
The legislation is being brought straight to the floor after members on the judiciary committee remained divided on it.
Some on both sides of the aisle have openly speculated that the bill is coming to the floor as a way to boost Vitter's campaign.
"I constantly hear that. I don't know that for a fact, but I constantly hear that," says Democratic Sen. Robert Menendez, an author of the Senate's last comprehensive immigration-reform bill.
"You know we have votes because people are running for president, so I am not surprised we have votes because people are running for governor," Heller said.
We want to hear what you think about this article. Submit a letter to the editor or write to letters@theatlantic.com.
Lauren Fox
is a congressional reporter at
U.S. News.
Her work has appeared in
Salon
,
MSNBC,
and
Columbia Journalism Review
.