Seizing Private Property Is No Problem for Donald Trump
The billionaire real-estate developer defends eminent domain as "wonderful," and conservatives promptly pounce.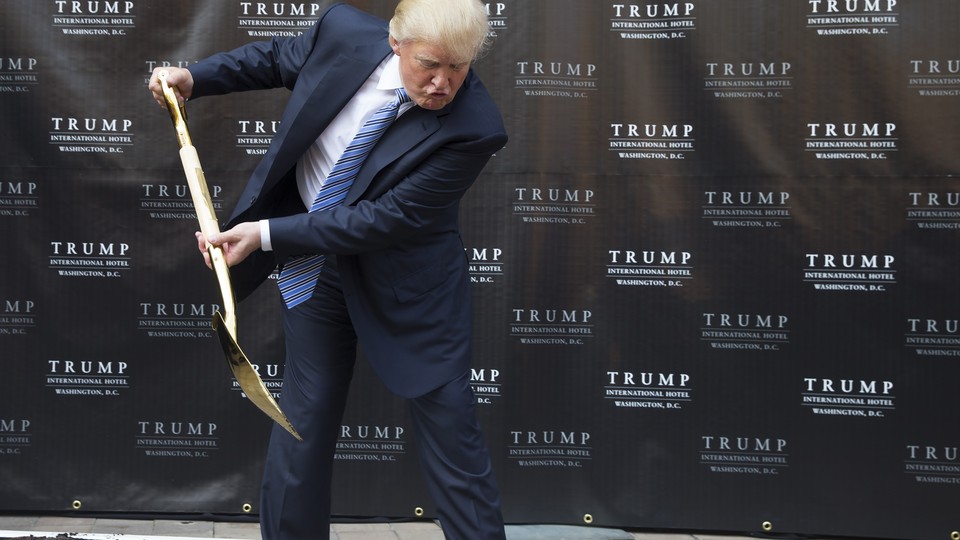 Donald Trump's latest spat with conservatives over eminent domain is surprising only because it took this long for it to erupt.
The billionaire real-estate mogul on Tuesday issued a gushing defense of allowing the government to seize private property to promote the public good, whether that means building a highway or partnering with a developer—such as himself—on projects that would create "thousands of jobs."
"I think eminent domain is wonderful," Trump told Bret Baier on Fox News. And why wouldn't he? Over the course of his career in business, Trump has repeatedly asked the government to invoke eminent domain to clear land for his projects, whether it was a hotel parking lot (for limousines!) in Atlantic City, or an office and entertainment complex in Connecticut. Not to mention that Trump's entire ethos is the political equivalent of a bulldozer. As for the people displaced by property seizing, Trump didn't have much sympathy. It's often just one "hold-out" out of a dozen who decide to sell their homes for much more than they'd otherwise be worth. "Don't forget, they get a lot of money," he said.
"You're not taking that property," Trump added. "You're paying a fortune for that property. Those people can move two blocks away into a much nicer house."
The trouble for Trump is that ever since the Supreme Court ruled in 2005 that the city of New London could turn over private property to another private company in support of economic development, the Republican right has considered eminent domain heretical. And true to form, Trump's conservative critics pounced on his comments.
Appropriate that @realDonaldTrump will have to defend eminent domain comments today at Waterloo. Napoleon also a big fan of eminent domain.

— Bill Kristol (@BillKristol) October 7, 2015
The conflict over eminent domain is yet another challenge to Trump's shaky alliance with the GOP grassroots, which is far more libertarian than the business-friendly wing that has an increasingly tenuous hold on the party's leadership in Washington. Trump has sounded populist notes by railing against "hedge fund guys" and the GOP donor class, but just like the tax plan he released last month, his support for eminent domain is another reminder that he's no enemy of corporate power.
"At least there's a crucial issue that Trump hasn't flip-flopped on," said Doug Sachtleben, spokesman for the Club for Growth, the conservative group Trump has been warring with for months. "Trump hasn't wavered in his support of the terrible Kelo decision, and he still applauds the idea of developers getting rich while private property owners are forced out of their homes and businesses. It's just continued proof that Trump is not a conservative." Marco Rubio joined the pile-on as well, telling The Weekly Standard that Trump was "wrong" about eminent domain. "One of the most important rights Americans have is private property," he said.
Trump said he understood the complaints but that the issue just "hasn't been explained to most conservatives." The Republican frontrunner isn't shy about much of anything, but it's probably a safe bet that his full-throated defense of the government's right to private property won't be added to his Iowa stump speech anytime soon.