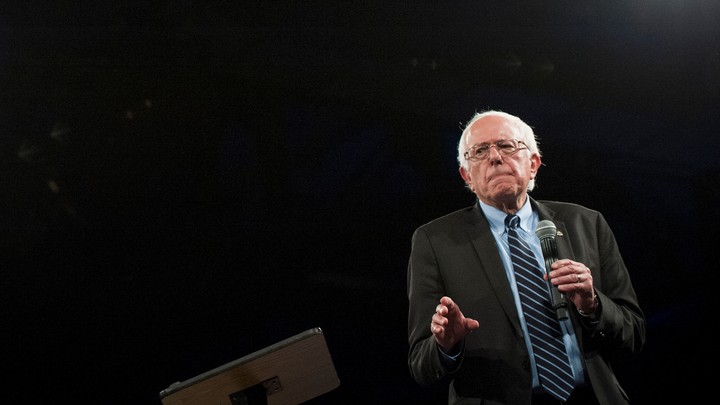 Can there be many things more fun than being an ascendant candidate? It must have been a great few months for Bernie Sanders and Donald Trump. Their poll numbers kept rising. The establishment candidates they were running against—Hillary Clinton for Sanders, Jeb Bush and everyone else for Trump—were proving to be less than the juggernauts promised. Across the country, thousands of enthusiastic fans were showing up for rallies. The press, which had sneered at their chances, was suddenly chastened.
But what happens when the magic appears to wear off? Neither Trump nor Sanders is in free fall, but there are signs of diminishing momentum for both. Over the weekend, both candidates took aggressive stands they'd mostly tried to avoid.
At the Iowa Jefferson-Jackson Dinner, a major Democratic event, Sanders took repeated swipes at Clinton, though without naming her.
"That agreement is not now, nor has it ever been, the 'gold standard' of trade agreements," he said of the Trans-Pacific Partnership, using her own language. "I did not support it yesterday. I do not support it today, and I will not support it tomorrow!"
"Today, some are trying to rewrite history by saying they voted for one anti-gay law to stop something worse. That's not the case," he said. "If you agree with me about the urgent need to address climate change, then you would know immediately what to do about the Keystone pipeline. It was not a complicated issue."
And so on. Sanders has pledged not to run personal attack ads, and in these cases he's assailing Clinton on the issues. Still, these are some of his most direct attacks on her, and they seem to represent a change to a more aggressive strategy. It's also potentially risky, since Sanders has won praise for running a "clean campaign." But he's in a tough spot: After months in which he steadily gained on her, Clinton has the momentum again, with her lead growing nationally as Sanders' support stays mostly flat. She was also generally thought to be the winner of the first Democratic debate this month.
Sanders isn't the only candidate to go negative this weekend. As I noted on Friday, Ben Carson is gaining on Donald Trump nationally and leads him in two recent Iowa polls, putting Trump in a corner. Lo and behold, Trump opened fire on his rival this weekend. Speaking of Carson's Christian denomination, he said, "I mean, Seventh-day Adventist, I don't know about, I just don't know about." He also accused Carson of having "low energy," the same attack he's used on Jeb Bush.
This isn't the first time Trump has attacked Carson. In September, the two traded barbs, but then quickly reconciled. In mid-October, Trump told George Stephanopoulos he wouldn't attack Carson: "He's been so nice to me, I can't do it."
But Trump, it seems, has had a change of heart. His broadsides against Jeb Bush as "low energy" seem to have been genuinely damaging. Carson, however, isn't an establishment figure like Bush, and besides, his brand is his low-key demeanor. As with Sanders, it will be interesting to see whether going negative works for Trump. For now, both Trump and Sanders's days of carefree sailing are over.
We want to hear what you think about this article. Submit a letter to the editor or write to letters@theatlantic.com.