Ryan Willing to Serve as Speaker—if He Gets What He Wants
The Ways and Means chairman told his GOP colleagues what it would take to get him to "yes."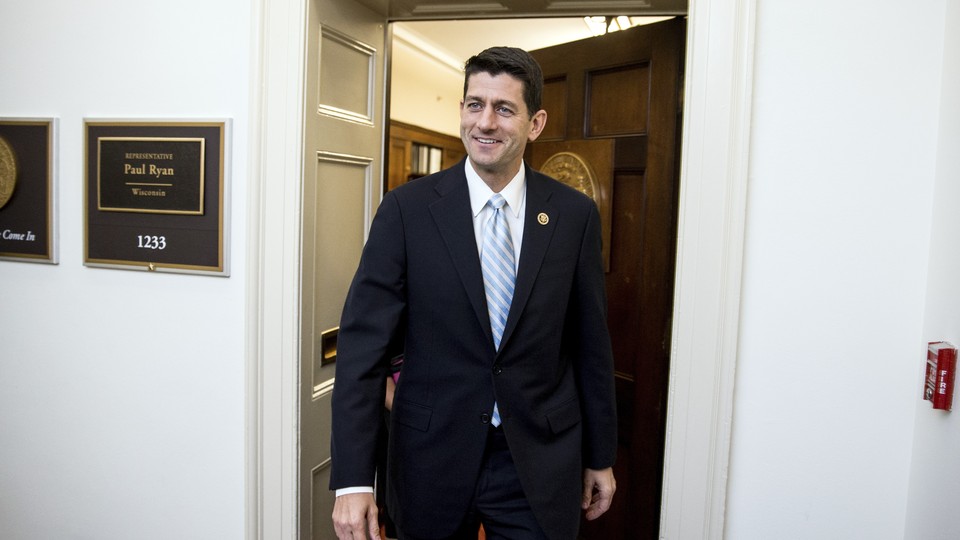 Rep. Paul Ryan still isn't a yes. But he's getting close.
After weeks of anguish within his conference over who could feasibly lead the fragmented Republican conference, Ryan presented his GOP colleagues Tuesday night with a series of conditions under which he would be willing to serve as speaker. Though it's not a done deal, his statement offered Republicans their clearest glimmer of hope since Speaker John Boehner announced his plan to resign and Majority Leader Kevin McCarthy decided not to run for the top job.
"Tonight, Congressman Ryan laid out to his colleagues why he believes we are in this situation and what he thinks is needed for us to move forward as a team," Ryan spokesman Brendan Buck said in an email after Tuesday's meeting. "He did not announce a final decision on the speakership, but he did discuss what's necessary, in his view, for the next speaker to be successful."
Ryan, Buck said, made clear that the next speaker needs to lay out a clearer policy vision, needs to establish a balance that allows time with family, needs party unity, and needs to not face the constant threat that a member can move to vacate the chair—the threat that helped prompt Boehner to quit.
Ryan expanded on those proposals in a press conference after the meeting.
"We need to move from an opposition party to being a proposition party," Ryan said.  "Because we think the nation is on the wrong path, we have a duty to show the right one." He voiced support for updating House rules to ensure that "everyone can be a more effective representative."
The 45-year-old, in discussing rules changes, signaled that he's not interested in serving under the threat of challenges from within the GOP ranks. "We need to do this as a team, and it needs to include fixes that ensure that we do not experience constant leadership challenges and crises," Ryan said.
Finally, he insisted that he would serve in a way that ensured he could spend ample time with his family, which includes school-age children. "I cannot and I will not give up my family time. I may not be on the road as often as previous speakers, but I pledge to try and make up for it with more time communicating our vision, our message," Ryan said.
"What  told members is, if you can agree to these requests, and if I can truly be a unifying figure, than I will gladly serve," he said.
Ryan hopes the conference will decide by the end of this week whether it can support him and his requests, Rep. Darrell Issa said.
Soon after the meeting, another contender for speaker, Rep. Jason Chaffetz, said he would give way. "I am out, and in with Paul," Chaffetz said.
Ryan's entry into the race would help quell concerns coming from many moderate and establishment members in the party that Boehner's exit would leave behind a power vacuum and make the party look splintered just a year before a presidential election.
Yet, even as many in the conference would cheer, Ryan will still face many of the same obstacles that Boehner was up against over the past five years. He will have to contend with the Freedom Caucus, a group of 40 or so House Republicans who represent the most conservative wing of the party. That segment of the party has said it will support Rep. Daniel Webster for speaker and has called on a series of rules changes to make the legislating process more representative.
Rep. Bill Flores, chairman of another conservative faction—the Republican Study Committee—said the RSC would meet Wednesday to discuss whether it could support Ryan.
Rep. Marlin Stutzman said he was open to considering Ryan, and that the Freedom Caucus would take a look.
Rep. Matt Salmon added: "I can't speak for the entire Freedom Caucus. As far as I am concerned, I think he made some very reasonable observations about how anybody would need to have the support of the entire conference if they are going to be successful as speaker."
Asked if he is personally sold on Ryan, Salmon said, "Not yet, but I am certainly open. I have not closed any doors whatsoever."
Rep. Peter King told National Journal that Ryan told the conference that he would "take arrows to the chest, but not in the back" and he would not be willing to be the "third log in the fire," a reference to conservatives' pushback against Boehner and McCarthy.
And conservative Rep. Mark Sanford said: "I think he could well be the unifying figure the conference has been looking for."
While Ryan's style is far different from Boehner's, Ryan remains close to the party's leaders and has unveiled monumental budget blueprints, hashed out budget compromises with Democrats, and ushered in a bipartisan trade deal through Congress with the blessing of the president.
Ryan is also a major fundraiser for Republicans. He has raked in $40 million over the course of his career, according to a report from the Center for Responsive Politics.
This article has been updated.