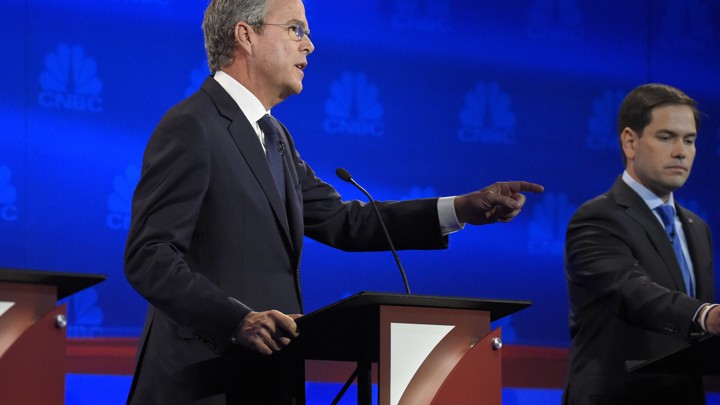 Jeb Bush and Marco Rubio are officially finished playing nice.
Although they were once partners when Bush was Florida's governor and Rubio its House speaker, and friendly even in the early stages of the 2016 presidential race, the tension has ratcheted up in recent weeks, including sparring between the two candidates' supporters. But all vestiges of the former camaraderie were officially banished Wednesday night when the two sparred face-to-face at the Republican primary debate.
Bush took on Rubio after the debate moderators brought up his frequent absence from Senate votes. Florida's Sun Sentinel ran an editorial Tuesday calling on Rubio to resign his Senate seat and forgo his $174,000 annual paycheck if he was not going to bother showing up for votes. According to The New York Times, Rubio has missed roughly a third of his votes this year. And a super PAC backing Bush has also started a Twitter campaign—@IsMarcoWorking—to attack Rubio and track his missed votes, which it now claims is at 176.
"He is the most gifted politician," Bush conceded Wednesday at the CNBC debate, before turning to Rubio and adding, "When you signed up for this, this is a six-year term. You should be showing up."
Bush piled on: "Just resign and let somebody else take the job."
Rubio defended his record in the Senate, pointing out that he is not that different from other Republican presidential candidates before him who balanced life in Washington with life on the campaign trail. Specifically, he noted Sen. John McCain, who ran for the Republican nomination in 2008 and also gained a reputation for skipping votes to run for the White House.
"Jeb, let me tell you, I don't remember you ever complaining about John McCain's vote record. The only reason you're doing it now is because we're running for the same position. Someone convinced you attacking me is going to help you."
The pair's reversal of fortune adds a new dimension to the sparring: Bush has found himself playing catch-up with the junior Florida senator. Once the front-runner, Bush in recent weeks has been forced to cut campaign spending while Rubio has pulled ahead of him in polls.
We want to hear what you think about this article. Submit a letter to the editor or write to letters@theatlantic.com.
Lauren Fox
is a congressional reporter at
U.S. News.
Her work has appeared in
Salon
,
MSNBC,
and
Columbia Journalism Review
.