House Republicans Start Over
The leaderless GOP begins its search for a speaker anew, starting with a campaign to draft Paul Ryan.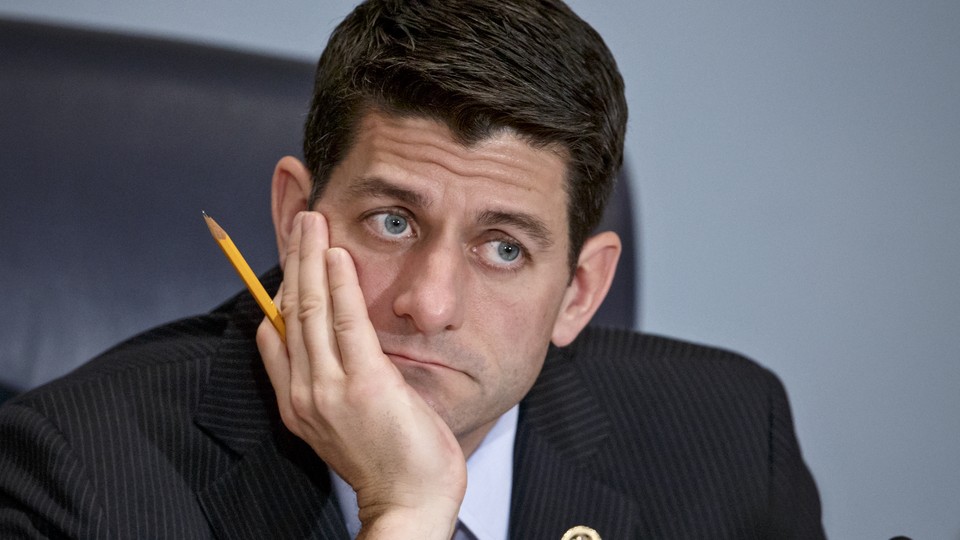 First Eric Cantor. Then John Boehner. Now Kevin McCarthy.
Conservatives in and out of Congress have, within a span of 15 months, tossed aside three of the four men most instrumental in the 2010 victory that gave Republicans their majority in the House. When the leaderless and divided party gathers on Friday to begin anew its search for a speaker, the biggest question will be whether that fourth man, Paul Ryan, will take a job that for the moment, only he can win.
Ryan, the 2012 vice presidential nominee and chairman of the powerful Ways and Means Committee, has for years resisted entreaties to run for speaker, citing the demands of the job on his young family and his desire to run the tax-writing panel, which he has called his "dream job." And he did so again on Thursday, within minutes of McCarthy's abrupt decision to abandon a race he had been favored to win. "I will not be a candidate for speaker," Ryan tweeted. Yet the pressure kept coming. Lawmakers brought up his name throughout the day, and there were reports that Boehner himself had personally implored him to change his mind.
Whether Ryan does might be the most important question facing House Republicans, but it is only one of many in the wake of McCarthy's withdrawal. Lawmakers floated more than a dozen names of members who could seek to replace Boehner in the coming weeks. Some were conservative favorites, like Jeb Hensarling of Texas, the Financial Services Committee chairman, or Jim Jordan of Ohio, head of the House Freedom Caucus. Others suggested the party should turn to a caretaker speaker, who would lead the House only through the 2016 election. Those contenders included two senior members who have already announced their plans to retire after the current term: John Kline of Minnesota, chairman of the Education Committee, and Candice Miller of Michigan, who leads the Administration Committee. The two Republicans who challenged McCarthy, Jason Chaffetz of Utah and Daniel Webster of Florida, continued their candidacies, but there wasn't anything approaching a groundswell of support for them. And Charlie Dent, a Pennsylvania moderate, said Republicans should band together with centrist Democrats to form a bipartisan coalition to govern the House—a possibility that remains exceedingly unlikely.
Some Republicans tried to silence even the quietest whispers about their names. "I'd rather be a vegetarian," quipped Mac Thornberry, chairman of the Armed Services Committee. And then there was the ever-available Newt Gingrich, who said he'd consider returning as speaker—but only if the party begged.
The bottom line was that, aside from Ryan, Republicans had no earthly idea who could lead them. In the short term, the uncertainty means that Boehner could have to stay on the job longer than he planned when he resigned last month under the threat of a conservative revolt. Stunned himself by McCarthy's announced withdrawal, the speaker postponed the GOP elections to give time for the party to regroup. (He also cancelled a planned appearance Thursday on The Tonight Show.) A Boehner spokesman said he still planned to hold the floor election for his replacement on October 29 and then leave Congress the next day, but it was unclear if Republicans could find a candidate by then.
In the meantime, Boehner will face even more pressure to "clean the barn up" for his successor and strike deals with Democrats in the next few weeks to raise the debt limit, agree on a budget, reauthorize the Export-Import Bank, and pass a highway bill. Conservatives would be angered, but knowing that they have no viable alternative, Boehner could be empowered to compromise as never before. Yet if he cannot reach agreements, the chaos in the House could have significant ramifications for the country, as the Treasury Department has said the U.S. could default around November 5 if the debt ceiling is not raised, and funding for the government runs out five weeks later.
Conservatives, meanwhile, declared another victory. "This is a fundamental change in the direction of the party that we're seeing right now, where rhetoric is going to have to meet up with actions," Adam Brandon, president of the conservative FreedomWorks, told me. He said McCarthy's decision would likely prompt a number of conservatives who have declined to run before to rethink their decisions. Yet whether any of them could garner 218 votes in the House remained a big question mark. Hensarling, for example, has become a darling of the Tea Party for his steadfast  refusal to advance through his committee legislation reviving the Export-Import Bank, a lending agency that conservatives consider the epitome of crony capitalism. But that decision has angered not only Democrats but moderate Republicans, who are actively trying to go around Hensarling and would probably oppose his promotion to speaker. Similarly, any member closely tied to the Freedom Caucus could be a non-starter for allies of Boehner and McCarthy.
And that brings it all back to Ryan. In addition to Boehner, McCarthy reportedly pressed him to reconsider on Thursday, and even a former top aide to President Obama offered something of a tepid endorsement. As political decisions go, however, accepting the speakership would represent the ultimate sacrifice for a relatively-young leader with presidential aspirations. What has historically been a thankless job is now close to impossible. Even in endorsing Ryan, McCarthy told the National Review that he didn't know if the House was "governable" and that he determined the job would be no fun even if he won. Given their determination to fight, hard-line conservatives would probably turn on him the moment he struck his first deal with Democrats.
It's a no-win gig, and right now, Republicans have no one else to do it.