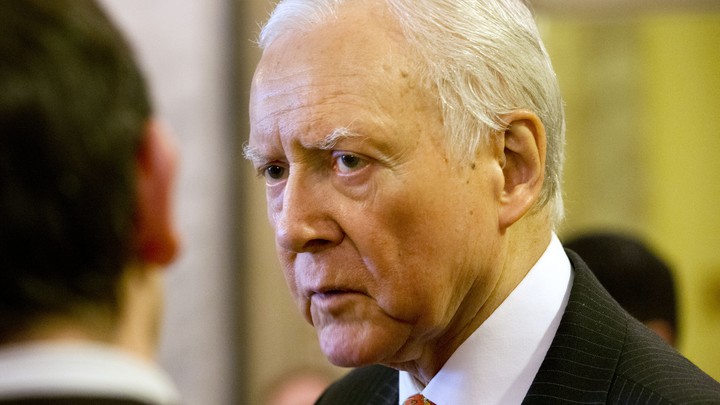 Having secured a landmark trade agreement with 11 Pacific Rim nations, President Obama is now relying on trade-loving Republicans to ratify it in Congress. But as details of the pact emerge, the chances of widespread GOP support are dicier than they once were.
Senior Republicans have long been the loudest cheerleaders for the Trans-Pacific Partnership. In a reversal of the usual political dynamic, it was the GOP that carried the president's request for "fast-track" negotiating authority earlier this year and saved him from an embarrassing defeat at the hands of his own party. Yet on Monday those same Republicans criticized the very deal that they gave Obama the power to strike, raising concerns that negotiators for the administration had sold out major U.S. industries in a final rush to finish the agreement.
"While the details are still emerging, unfortunately I am afraid this deal appears to fall woefully short," complained Senator Orrin Hatch, a pro-trade Republican who, as chairman of the Senate Finance Committee, will be key to passing the agreement. Of particular concern to Hatch and other Republicans is a provision excluding tobacco companies from being able to sue governments over regulations seen as targeting their industry. Another Republican, Senator Thom Tillis of North Carolina, said that change from past trade agreements, which was cheered as a victory for public-health advocates, could lead him to vote against the TPP.
Republicans also are upset about the resolution of the final sticking point in the Atlanta negotiations: a shortened period for top drug companies to keep their data secret on advanced medicines known as biologics. Senate Majority Leader Mitch McConnell, who guided to passage the legislation granting Obama's expedited negotiating authority, said the agreement was "potentially one of the most significant trade deals in history" but would face "intense scrutiny" in Congress. "We are committed to opening trade in a way that benefits American manufacturers, farmers, and innovators," he said in a statement. "But serious concerns have been raised on a number of key issues."
Are the concerns about the final details enough to sink the deal? Administration officials sounded confident that Congress would ultimately ratify it. They pointed out that the lengthy accord hadn't even been printed yet and that the administration would be spending months going over it with lawmakers point by point. And they debuted a talking point designed explicitly for members of Congress to take back home to their constituents: By eliminating tariffs on U.S. exports to the Pacific, the deal contains some "18,000 tax cuts" for American businesses. "It's an agreement that puts American workers first and will help middle-class families get ahead," Obama said in a statement.
Democrats in Congress overwhelmingly opposed Trade Promotion Authority when it passed in June, and the administration has little hope of persuading most of the party on the substance of the deal. Labor unions and progressives are already gearing up for another fight. Yet Obama will try to flip some lawmakers whose chief concern had been that the agreement was kept secret. Now that it is completed, the deal will be public for at least 60 days before Congress votes, and that vote could slip well into the spring of 2016. And under the terms of TPA, the final agreement needs only a simple majority—and not the usual filibuster-proof 60 votes—to clear the Senate as well as the House.
Another complicating factor for Obama is the presidential election. Bernie Sanders is a staunch opponent of TPP, and his surprising strength in the polls could lead Hillary Clinton to come out against it as well. And on the Republican side, Donald Trump has mocked U.S. negotiators as incompetent. More establishment-friendly candidates like Jeb Bush and Marco Rubio are supportive of the deal, and administration officials may be hoping that Trump is out of the race by the time TPP comes up for a vote next year.
Obama and his team are now two-thirds of the way through a process that began early in his presidency and could result in a legacy-defining trade agreement. The first came with the passage of Trade Promotion Authority over Democratic opposition, and the second came on Monday with the agreement announced in Atlanta. Yet with once-friendly Republicans now wavering, the months-long final leg could become the toughest of all.
We want to hear what you think about this article. Submit a letter to the editor or write to letters@theatlantic.com.
Russell Berman
is a staff writer at
The Atlantic
, where he covers politics.