Republicans Nominate Paul Ryan for Speaker
After weeks of unrest, the House GOP has selected its next leader. A floor vote is set for Thursday.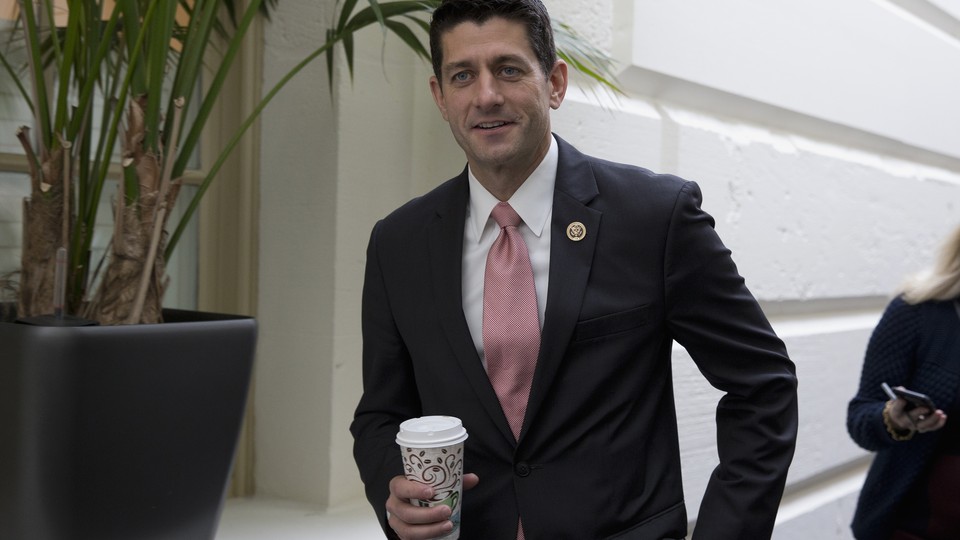 Rep. Paul Ryan was nominated to be a candidate for speaker in a private vote by a wide majority of House Republicans on Wednesday, setting up a public vote on Thursday that remains his last obstacle to claiming the gavel.
The vote caps a chaotic search for a new Republican speaker and a period of unrest since House Speaker John Boehner announced he would resign and his presumed successor, Majority Leader Kevin McCarthy, unexpectedly dropped his speakership bid two weeks ago. Boehner will resign on Friday, he has said.
The frenetic last three weeks were perhaps best summed up by Rep. Kristi Noem, who gave a short speech seconding Ryan's nomination. She said that in the first week she came to Congress, she found herself in the gym between Ryan and Boehner, who were both doing yoga. She said that was the craziest thing she had seen in Congress—until the last few weeks.
Ryan drew 200 votes, losing 43 to Rep. Daniel Webster, the former speaker of the Florida House, who clinched the endorsement of the conservative House Freedom Caucus. Much of the 30- to 40-strong group cast ballots for Webster, following through on their commitment, but a majority of the group has pledged that on Thursday they will support Ryan on the House floor. Still, some Republicans are expected to cast public ballots for Webster or someone other than Ryan. McCarthy and Rep. Marsha Blackburn each took in one vote.