Republican Senator Kelly Ayotte Backs President Obama's Climate-Change Rule
Ayotte, who faces a tough reelection battle, broke with GOP leaders who want to kill the regulations on power plants.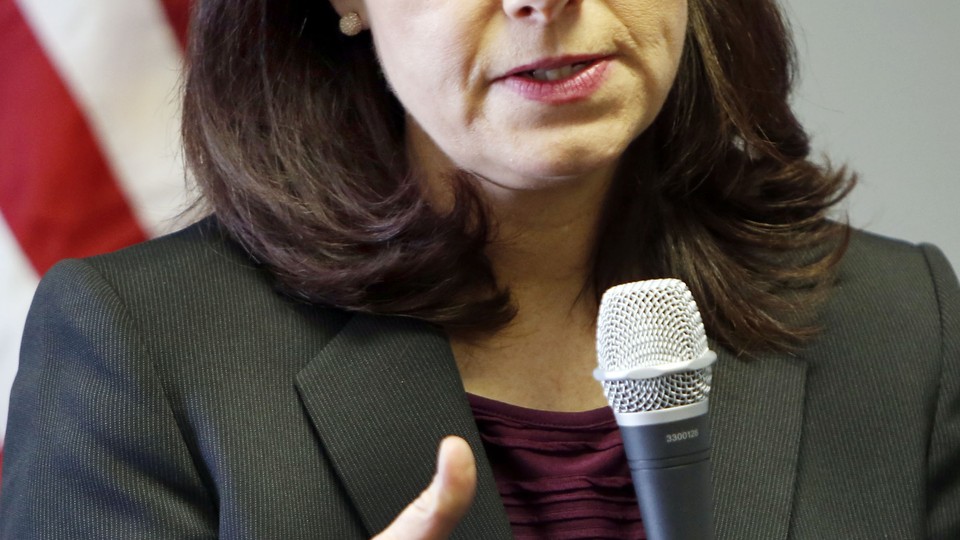 New Hampshire Senator Kelly Ayotte is at odds with GOP leadership and the vast majority of her Republican colleagues over climate-change policy heading into the 2016 elections.
Ayotte, who is girding for a difficult reelection fight, on Sunday became the first GOP senator to support President Obama's sweeping regulation that mandates carbon-emissions cuts from the nation's power plants.
Her announcement arrives as Majority Leader Mitch McConnell and many other Republicans are ramping up their legislative and messaging battle against the EPA rules, which seek to cut nationwide pollution from power plants by 32 percent, relative to 2005 levels, by 2030.
One reason for Ayotte's position: beer brewing. Ayotte cited the support of New Hampshire businesses for the plan, including Smuttynose Brewing Company, but also the apparel company Timberland, and Worthen Industries, which supplies adhesives and coatings to a various industries.
"It's so important that we protect New Hampshire's beautiful environment for our economy and for our future. After carefully reviewing this plan and talking with members of our business community, environmental groups, and other stakeholders, I have decided to support the Clean Power Plan to address climate change through clean-energy solutions that will protect our environment," she said.
While Ayotte is the first GOP senator to flatly endorse the plan, Maine's Susan Collins issued a lengthy statement in August calling the measure "significant" and said it was better than the draft version, but stopped short of outright support.
The Environmental Protection Agency rule, a central pillar of Obama's climate-change agenda, lays out state-by-state targets for cutting emissions, and New Hampshire is tasked with a 23.3 percent reduction.
The rule enables states to use a range of options to meet the requirements, such as increased use of renewable energy, improvements in energy efficiency, and emissions trading with other states.
Environmentalists call it an important way to cut emissions from coal-fired power plants, the nation's largest source of unchecked carbon pollution. But major business groups and Republicans argue that the plan will be economically harmful.
Ayotte, who is in her first term, is facing a challenge from Democratic Gov. Maggie Hassan, and early polling suggests a close race in the offing. New Hampshire will be an important battleground as Democrats seek to regain control of the Senate in next year's elections.
Ayotte laid out her position in a carefully worded statement, which notes that New Hampshire is already "well on its way" to meeting its emissions-cutting target. Ayotte vowed to "carefully monitor" the implementation of the rule to ensure it provides enough flexibility and does not drive up energy costs in the state.
The announcement from Ayotte's office points out that it's not the first time she has broken with GOP leadership on environmental issues.
In 2011 and 2012, she was among a half-dozen Republicans to vote against bills that would have blocked EPA rules to cut smog-forming and toxic pollution from power plants.
But Democrats quickly attacked Ayotte after Sunday's announcement. The New Hampshire Democratic Party issued a press release calling Ayotte's support for the EPA rule "hollow."
Democrats pointed to Ayotte's vote in favor of a failed 2011 amendment authored by McConnell that would have blocked EPA regulation of greenhouse gases and support for a 2015 McConnell amendment that would prevent EPA from withholding highway funds from states that do not take steps to implement EPA's power-plant rule.
"While I'm glad to see that Kelly Ayotte is heeding Maggie Hassan's call for New Hampshire's delegation to support the Clean Power Plan, it's impossible to take Ayotte's hollow support seriously considering that she's voted to undermine the very efforts she now claims to support," said Ray Buckley, chairman of the New Hampshire Democratic Party.
This story has been updated.