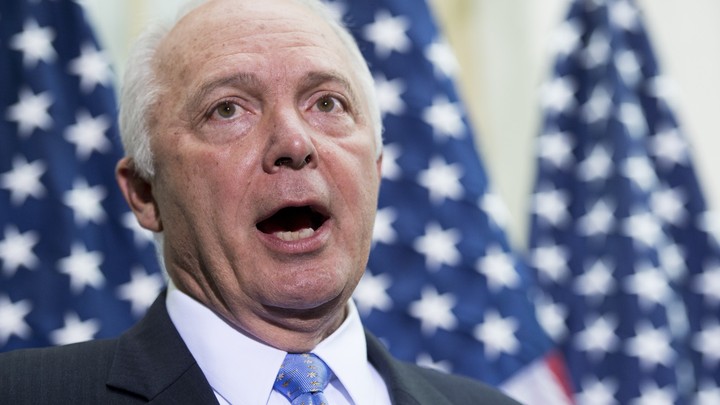 The most eye-popping donations in the race to replace Minnesota GOP Rep. John Kline are coming from one notable group: the candidates themselves.
Four of the candidates looking to succeed the veteran congressman—two Republicans and two Democrats—are showing off their personal wealth by investing a combined $2 million into the race. And all of them may turn to their own wallets for more.
On the Republican side, four candidates are running: former state Sen. John Howe, radio show host Jason Lewis, two-time Kline challenger David Gerson, and former state Rep. Pam Myhra. Two Democrats, businesswoman Angie Craig and physician Mary Lawrence, are in the race.
In this fundraising quarter, Lawrence loaned her campaign $370,000, part of the $1.17 million she has given so far, and collected $38,000 in outside contributions. Craig invested $375,000 in her campaign, on top of $133,000 in other donations.
Meanwhile, Howe gave a $500,000 loan to his campaign, the only contribution on his report, though he said he's collected "several thousand dollars" from donors since. Gerson contributed a roughly $49,000 personal loan, picking up just $3,300 in other donations. Myhra and Lewis, who haven't filed any fundraising reports yet, say they don't plan to self-fund in their bids. 
"This is going to be a very expensive race," said Howe, who loaned himself $220,000 when he ran unsuccessfully last year for secretary of state in Minnesota. "If you want people to donate to your campaign, you're going to have to show you're willing to also invest in your campaign. Realistically, you're going to have to have a significant amount of money in your campaign to compete."
Kline was elected to the seat in 2002, keeping it in the GOP column ever since. But President Obama carried the district in 2008 and 2012, emboldening Democrats' hopes of capturing the seat next year.
Both Minnesota Republicans and Democrats hope the state's quirky endorsement process—which begins in March—will allow both sides to rally around one of the candidates early. But on each side, the willingness of some of them to self-fund threatens to keep intraparty battles alive much longer.
"From our perspective, that's never a good thing," said Ken Martin, chair of the Minnesota Democratic-Farmer-Labor Party. "It is a concern, because instead of focusing our resources on … winning in November, we'd focus our resources on a much smaller universe of Democratic primary voters."
In a GOP field where none of the four candidates are commanding front-runners, Republicans face a similar problem.
"I completely anticipate a primary," Minnesota GOP activist Robert Thibodeaux said. "It wastes a lot of money … and you're not focusing on your opponent and the ground game."
So far, Democrats are reluctant to pick favorites in the race, though Craig notably secured the endorsement Wednesday of the Congressional Progressive Caucus. The Democratic Congressional Campaign Committee has met with both candidates. EMILY's List, which endorses Democratic women who support abortion rights, isn't weighing in either, according to the group's spokeswoman, Rachel Thomas.
On the Republican side, some expect the field to grow. Gerson, who ran to Kline's right in 2012 and 2014, is counting on support from grassroots activists, while Lewis built up a profile in the district from his radio show. Howe is casting himself as the most electable conservative candidate, and Myhra is highlighting her successful run for the Minnesota House in 2012.
Against that backdrop, Minnesota Republicans and Democrats see their party's endorsement as the most effective way to winnow the field. In that process, delegates vote at a convention, selecting a candidate who will then inherit the full weight of the party's apparatus. Still, any Republican or Democrat can choose to compete in a primary election after.
At this point, Howe, Lewis, and Lawrence haven't pledged to abide by the party's endorsement—though all are competing for it.
And before that process begins, Howe, Lawrence, and other self-funders aren't ruling out putting in more cash.
Gerson said he plans to loan himself an additional $50,000 to $100,000, while Howe and Craig also said they might continue to pump in personal cash. Lawrence campaign manager Mark Warren also left open that possibility, in addition to candidate contributions from Lawrence.
"It's a significant investment for me," Gerson said, "but I thought it was an important thing to do with my savings. I've got the additional challenge that many of the existing donors here in Minnesota were not happy that I took on John Kline."
Craig defended her self-funding as a way to show she's committed to the race.
"Not only will we work hard and show up and do the work and raise the money every day, but we will have the resources we need to win," she said.
Candidates who self-funded have had mixed results. Last year, of the top 10 House candidates who poured in the most candidate contributions and personal loans into their campaigns, three won, according to data from the Center for Responsive Politics.
But in a district where the majority of candidates so far are self-funding, the outcome for Kline's seat might be different.
"This is a contentious race," said Matthew Kowalski, chair of the Congressional District 2 Republicans Executive Committee. "Anybody who wants to get in knows it's going to take some money to win."
We want to hear what you think about this article. Submit a letter to the editor or write to letters@theatlantic.com.
Kimberly Railey is an editorial fellow for National Journal Hotline. Prior to joining National Journal, she covered Congress at the Washington bureau of The Dallas Morning News. She has also written for The Boston Globe, USA TODAY, and The Christian Science Monitor. Originally from South Florida, she graduated from the Medill School of Journalism at Northwestern University, where she served as managing editor of The Daily Northwestern.