Democrats Roll the Dice in Vegas
The party's first debate will lack the pizzazz of the Survivor-style GOP contests. But serious doesn't have to be boring.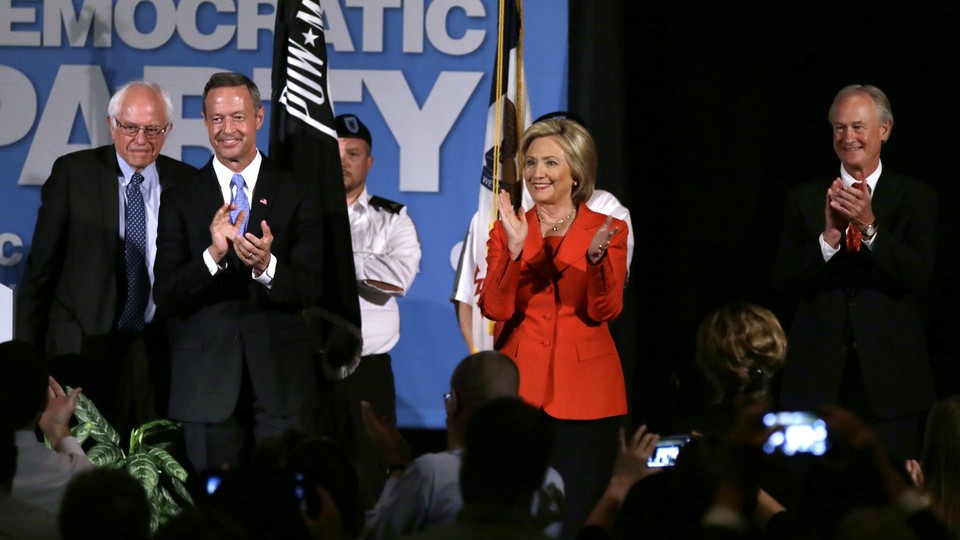 The Democratic candidates gathering in Las Vegas on Tuesday for the party's first presidential debate face a nearly impossible bar when it comes to entertainment.
The Republican debates so far have been nothing if not fun. Enlivened by the performance-art politics of Donald Trump, the occasionally substantive affairs have benefitted from the clash of big personalities and the odd tension created by cramming so many candidates on one stage. The result is simply good television, and ratings gold for Fox News and CNN.
For better or worse, the Democrats are a much soberer bunch. Hillary Clinton is the ultimate play-it-safe front-runner, her efforts at humor and spontaneity cruelly undermined by her campaign's inexplicable decision to telegraph them. Bernie Sanders has energized the party's base, but his pledge to avoid attacking Clinton has made the Democratic primary campaign both more polite than the GOP side, and also more dry. Martin O'Malley just can't seem to get anyone's attention, while Jim Webb and Lincoln Chafee hardly appear to be trying.
Naturally, the most fascinating Democratic hopeful heading into Tuesday's debate is the one who won't be there. Vice President Joe Biden's indecision has officially put Mario Cuomo's Hamlet act in 1992 to shame. Trying to juice interest in the debate, CNN made it known that Biden could claim his spot on the stage by declaring his candidacy at the very last minute—the debate begins at 8:30 p.m. Eastern—and the network even kept a podium on standby in case he did. (Reports are that Biden has no intention of being in Las Vegas.)
Yet what the Democrats lack in pizzazz on Tuesday they could very well make up for in substance. Clinton will undoubtedly be forced to explain her opposition—announced last week—to the Trans-Pacific Partnership, a trade agreement that she called "the gold standard" when she worked on it as secretary of state. Sanders will likely be challenged on his stance on guns, which might be the one issue on which he has been to the right of the party base.
Clinton's strategy will also be interesting to watch. Will she take the traditional frontrunner's route of focusing on Republicans and pretending her Democratic rivals aren't even there? Or will she engage Sanders and try to paint his spending-heavy proposals—and by extension his entire candidacy—as unrealistic? O'Malley, the former Maryland governor who heartily campaigned for Clinton in 2008, has become the Democrat most willing to criticize her directly. Will he stick to policy on Tuesday, or will he make the case that Clinton's email troubles have undermined her electability in 2016? And to what extent will all three of them embrace or distance themselves from President Obama's record domestically and overseas?
Webb and Chafee are the true wild cards. The former Virginia senator has barely registered in the polls, while Chafee is a Republican-turned-Democrat who figures to sharply criticize Clinton on foreign policy. Both have neither past ties or loyalty to the Clinton family nor anything to lose in the campaign, raising the likelihood they could toss rhetorical grenades her way. (No strategy spoilers from Webb, the former Navy secretary: "Eisenhower didn't yap about D-Day in advance," a spokesman told Time.)
Expectations for the debate are fairly low. Playing pundit for a night, Trump has declared that the Democratic face-off will be "boring," but since he can't fathom the idea of missing out on the action, he plans to live-tweet the whole thing. Even CNN has said it expects lower ratings than for its record-setting Republican debate, and those could be further hurt by competition from the high-stakes playoff game between the Mets and the Dodgers.
For Clinton, and the Democratic Party more broadly, the goal of a debate is not entertainment—even if the debate is in Las Vegas. But they do face a related imperative on Tuesday night, and that's to at least begin to generate excitement among Democratic voters who have either been turned off by Clinton's never-ending email drama or by a policy agenda that has been thoroughly blocked by Republicans in Congress. It says something about the dynamics of the race that while Republicans have already begun to winnow their field of contenders, Democrats are still talking about growing theirs. Clinton might be concerned at the moment about holding off Sanders, and keeping out Biden, but she can't afford to alienate their most passionate supporters and leave half of the party demoralized next year. Even if Democratic voters don't need to be entertained, they do need to be enthused.