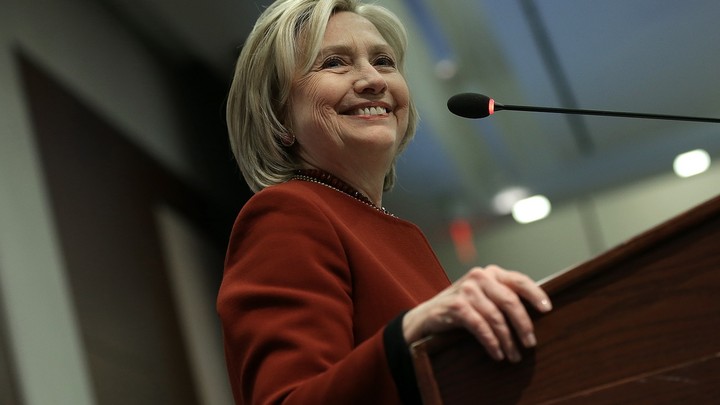 LAS VEGAS—When the 2016 Democratic presidential field convenes here Tuesday night, they'll do so with a clear schism in the field: It's Hillary Clinton, Bernie Sanders, and everybody else.
And so when the five do meet for their first debate, they'll be doing it with very difficult goals in mind. For Clinton (still the front-runner) and Sanders (who has said he won't go negative), it's about articulating an agenda, painting a positive persona, shoring up weak spots—and not making a major mistake. And for everyone else (Martin O'Malley, Jim Webb, and Lincoln Chafee) it's about finding a moment or two of magic that sparks a candidacy that thus far has lived only in the margins.
But no plan survives first contact with the enemy, and when the cameras go on and the candidates go live, there are any number of dicey areas that could land the field's leaders in trouble. Here's National Journal's list of the night's biggest pressure points:
Can Hillary Clinton Turn the Corner on the Email Mess?
Clinton will take the stage as the storms clouds have parted just a bit in the private email scandal that's dogging her campaign. The debate arrives just days after a former GOP staff member on the House Select Committee on Benghazi went public with allegations that the panel is conducting a politically motivated probe focused on Clinton. And two weeks ago, House Majority Leader Kevin McCarthy gave Clinton her first break in a long time when he credited the committee with hurting Clinton's White House bid, a comment that roamed far afield of the GOP's insistence that the investigation isn't political.
"The Republicans in Congress have really given her an opening to get past this story, and she can certainly use this debate to take advantage of that," said Democratic strategist Chris Durlak. But Clinton, whose campaign has seized on the comments, has a fine line to walk: casting the related email and Benghazi probes as partisan attacks without appearing to downplay the significance of the issues.
How Many Hits Does Clinton Take on Authenticity?
Clinton has worked in recent weeks to move left on a handful of issues, from stating her opposition to the Keystone XL pipeline in late September to announcing that she can't support the Trans-Pacific Partnership trade deal last week. While those moves have helped her prep for a debate against some of her progressive rivals, it's also drawn criticism: As secretary of State, Clinton was involved in negotiations for both issues, even going as far as to call the TPP trade deal the "gold standard" in 2012.
"Whatever she does, she has to do it genuinely," Democratic analyst David Axelrod told Slate. "She is on double-secret super probation here when it comes to inauthenticity, and I don't think that the position she took on the Trans-Pacific Partnership the other day has helped," said Axelrod, who was a top strategist on President Obama's campaigns.
Thus far, Sanders and the other Democrats have pointed out Clinton's inconsistent and changing positions on issues like these, using it as a way to question whether she's sufficiently invested in any of them. And for Clinton, who's often been criticized for her ability to present her authentic self to an audience, the debate will be a key moment for her to explain some of those shifts.
Does Sanders Get Tripped Up by Gun Control?
As more mass shootings have shaken the nation and put attention back on the gun-control debate, Sanders has faced a real challenge in explaining his past votes and positions on some gun-control measures supported by Clinton and other Democratic candidates. Sanders voted against the 1993 Brady Bill, which introduced required background checks, and has also supported legislation that protects gun manufacturers from liability for gun deaths.
On Sunday, Sanders told Meet the Press that he'd be willing to reconsider his past support for the liability protections, signaling a potential shift in his position. Meanwhile, in an effort to get out front on the issue, Clinton introduced a full set of policy proposals on gun control last week.
"I think it is a problem for [Sanders] and I think he knows it is a problem for him," said Mo Elleithee, a former Democratic National Committee communications director who now heads the Georgetown Institute of Politics and Public Service. "He is beginning to shift his position a little bit … he is going to have to figure out an answer that is going to satisfy some concerns."
Can Martin O'Malley Get Anywhere?
O'Malley faces the highest stakes Tuesday. "He is running the risk right now of becoming the Democratic Scott Walker," said Elleithee, referring to the Wisconsin governor who got early buzz in the GOP race, but then cratered. Elleithee, who worked on Clinton's 2008 race, said O'Malley badly needs a "breakthrough moment." O'Malley has tried to position himself as the progressive alternative to Clinton, but it hasn't worked out that way. He's polling numbers are languishing under 1 percent despite a vigorous campaign. "I think Martin O'Malley is the wild card," said Democratic analyst Jamal Simmons, who says O'Malley could potentially pick up steam, and has the most to gain and the least to lose.
While O'Malley has signaled that he'll focus on his own record, fisticuffs may be in the offing. Let's turn back to Axelrod: "I think that there will be fireworks in this debate. I think they are likely to come from Martin O'Malley, who started off as a serious candidate and is now down in asterisk land, and is desperately trying to breathe some life into his candidacy. I wouldn't be shocked if he goes hard after Hillary in this debate, to try and seize back some of the initiative, particularly on the left that Bernie Sanders has really stolen from him."
Will Clinton and Sanders Fight in Close Quarters?
Clinton and Sanders themselves have largely played nice so far, beyond some tame stuff such as Sanders noting that Clinton is a late arrival in the Keystone pipeline fight. Some strategists warn that anyone looking for Trump-worthy barbs between the rivals in Las Vegas will be disappointed.
"Why would Bernie Sanders attack Hillary Clinton?" Simmons asked. He notes that Sanders is already gaining on her, and his whole campaign is focused heavily on returning economic power to the middle and working class. "He has got the best message-oriented campaign of any Democrat," Simmons said. He also noted that the first debate of a nominating contest is often more tame. "You have more debates ahead, and you don't want to make a mistake, and it's about getting a feel for the stage and making sure you are comfortable and really ready to do battle when people are paying more attention," he said.
Democratic strategist Maria Cardona had a similar prediction, arguing that it doesn't suit the interest of Clinton or Sanders, who is still introducing himself to a wider national audience, to go on the attack right now. "I don't know that it will behoove either one of them to attack each other," said Cardona. "They both need and or want the other's supporters. The last thing they want to do is alienate the folks that the other one brings to the table."
How Does President Obama Factor Into the Debate?
Clinton's move left on TPP and the Keystone pipeline do more than help her deflect criticism from her Democratic rivals—they also represent a big break with the Obama administration, of which Clinton was a part for four years.
How much distance that Clinton ultimately puts between herself and the White House is a major question beyond just Debate Night. And what's more, her Democratic opponents have also worked to contrast themselves with the sitting president. The ways in which they do that—and how overtly they do it—is a big indicator of how the primary will progress going forward.
We want to hear what you think about this article. Submit a letter to the editor or write to letters@theatlantic.com.
Emily Schultheis
is a writer based in Berlin with a fellowship from the Institute of Current World Affairs. Her writing has appeared in
Foreign Policy, The Guardian,
and
Politico
, among other publications.
Ben Geman
is an energy and environment correspondent at
National Journal