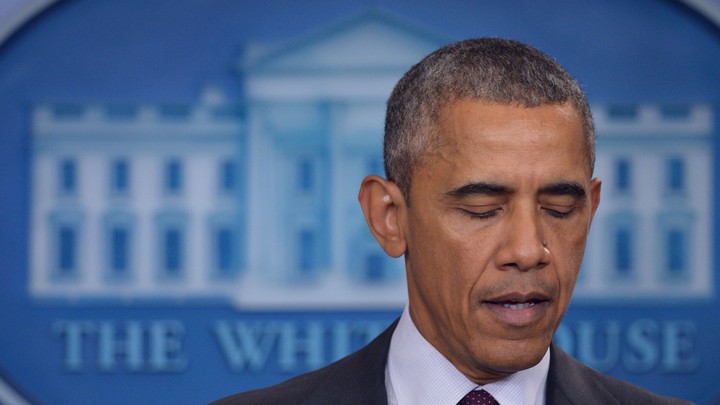 President Obama is sick of the routine. He's sick of the routine of mass shootings in America, the routine of the subsequent reporting, and the routine of his own resigned remarks.
"As I said just a few months ago, and I said a few months before that, and I said each time we see one of these mass shootings: Our thoughts and prayers are not enough," Obama said from the White House briefing room. "It's not enough. It does not capture the heartache and grief and anger that we should feel. And it does nothing to prevent this carnage from being inflicted someplace else in America."
Obama's remarks came roughly five hours after the first emergency call reporting a shooting in Roseburg, Oregon, was put through. A gunman, later identified as a 20-year-old male, opened fire at Umpqua Community College a little after 10:30 a.m. PDT. He died in an encounter with police, and in the hours since the shooting some basic details remain hazy, including who the shooter was and what his motivation was, if any.
Preliminary fatality reports varied. CNN reported that 10 people were killed with more than 20 injured during the shooting, citing the Oregon State Police. Other outlets, including the Associated Press and the Los Angeles Times, reported that 13 people had been left dead with 20 injured.
The president's remarks quickly turned to criticism of the status quo on gun violence in America. "We need more guns, they [gun rights supporters] argue. Fewer gun safety laws. Does anybody really believe that? ...  How can you with a straight face make the argument that more guns will make us safer?" Obama said. "We know the states with the fewest gun laws tend to have the fewest gun deaths."
He called out Congress specifically for preventing the collection of data on gun-death prevention, saying that he knows critics will accuse him of politicizing the tragedy. "It is relevant," he asserted. "This is a political choice that we make to allow this to happen every few months in America; we collectively are answerable to those families who lose their loved ones because of our inaction."
Obama, as he has before, called for action and a change in the nation's gun laws, making a plea to the American public.
"I'd ask the American people to think about how they can get our government to change these laws and to save lives, to let young people grow up, and that will require a change of politics on this issue. It will require that the American people individually, whether you are a Democrat or a Republican or an independent, when you decide to vote for somebody, making a determination as to whether this cause of continuing death to innocent people should be a relevant factor in your decision. If you think this is a problem, then you should expect your elected officials to reflect your views," the president said.
As Obama noted, his tenure has been regularly punctuated by mass shootings, after which he has delivered similar remarks. In a particularly memorable moment, after the 2012 shooting at Sandy Hook Elementary School in Connecticut, the president said: "We can't tolerate this anymore. These tragedies must end." As The Washington Post has reported, there hasn't been a single week in the president's second term without a mass shooting, as defined as four or more people shot.  
Umpqua Community College, which was put on lockdown after the shooting, announced Thursday evening that the school will be closed until Monday.
"We're trying to reunite students with families," Umpqua Community College interim president Rita Cavin told reporters a few minutes before the president's remarks. "That is high priority now. We have families waiting for the last bus of students to arrive and have grief counselors for those who have no children coming off the bus."
We want to hear what you think about this article. Submit a letter to the editor or write to letters@theatlantic.com.
Brian Resnick
is a former staff correspondent at
National Journal
and a former producer of
The Atlantic
's National channel.
Clare Foran
is a former associate editor at
The Atlantic
.