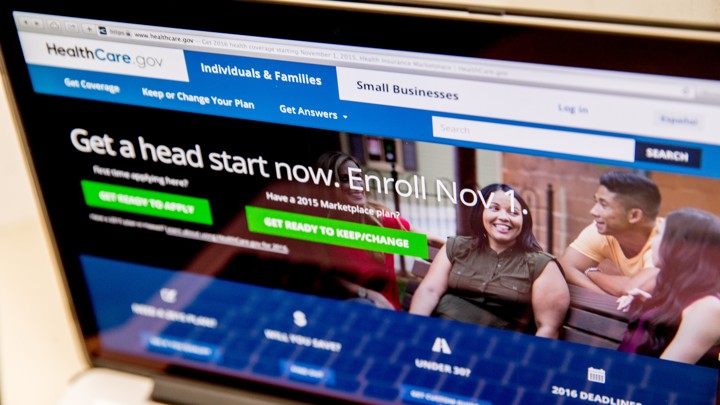 Health care premiums will increase by an average of 7.5 percent in the 37 states using Healthcare.gov, the Department of Health and Human Services announced Monday.
The hike falls short of nightmare double-digit-rise scenarios, but it is significantly higher than the 2 percent increase in premiums between 2014 and 2015. The announcement came only a few days before open enrollment for 2016 begins on Nov. 1.
The average rate increases are based off of second-lowest-cost silver plans, known as benchmark plans, used to calculate subsidies.
Rising premiums have been a source of partisan ammunition against the Affordable Care Act for months, with anecdotal double-digit increases giving rise to heated Republican commentary.
But the HHS analysis serves as a good reminder that premiums are determined locally, as the prices vary from one place to the next. Michigan, for example, will see only a 1.2 percent average rise in premiums, but in Oklahoma consumers will see their premiums spike by an average of 35.7 percent. The average rate increase for a benchmark plan in 30 of the largest markets is 6.3 percent.
The HHS analysis also found that about 80 percent of returning customers will be able to buy a plan with premiums costing less than $100 a month after tax credits are taken into account.
More than two-thirds of counties will have three or more issuers in their marketplaces in 2016. And HHS also found that consumers who shopped around saved money on their premiums last year. Almost 53 percent of consumers who reenrolled on a marketplace plan last year looked around, and half of those switched plans, according to HHS. Those who switched plans within the same tier saved nearly $400 on their annualized premiums after tax credits compared to those who stayed on their current plan.
"If consumers come back to the marketplace and shop, they may be able to find a plan that saves them money and meets their health needs," said Kevin Counihan, CEO of the Health Insurance Marketplaces. "Last year, over half of reenrolling consumers on HealthCare.gov shopped, and half of those who shopped selected a new plan; that sort of choice and competition was limited prior to the Affordable Care Act."
We want to hear what you think about this article. Submit a letter to the editor or write to letters@theatlantic.com.
Caitlin Owens is a health care reporter at National Journal. Her work has previously appeared in the Los Angeles Times, The News & Observer and The Charlotte Observer. She is a graduate of the University of North Carolina at Chapel Hill.