Poll: Last Statewide Democrat in Deep South Leads Tight Reelection Race
Mississippi Attorney General Jim Hood leads his Republican opponent by six points ahead of Tuesday's election.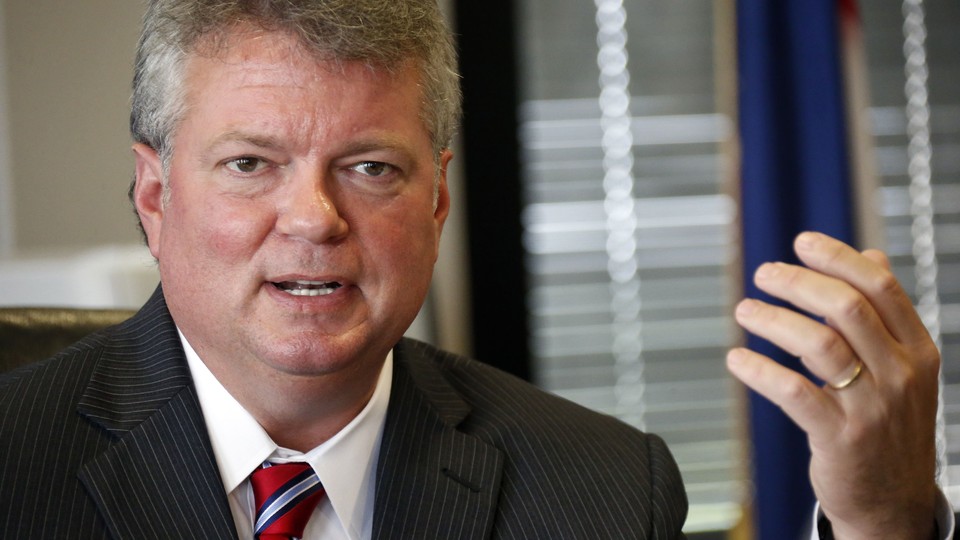 The last remaining Democrat elected to statewide office in the Deep South is up for reelection Tuesday, and it's no sure thing he'll hold on to that distinction.
Jim Hood, the Mississippi attorney general, leads Republican challenger Mike Hurst in a new poll from Mason-Dixon Polling & Research. But Hood's lead—50 percent to 44 percent—has shrunk since spring, when Mason-Dixon's previous poll found Hood with 55 percent support and a 15-point lead on Hurst.
Hood won his last race in 2011 with more than 60 percent support, but his declining fortunes speak to Democrats' ongoing struggles in the Deep South at the tail end of a huge change in the region's partisan leanings. The party's once-monolithic control of Southern politics has faded to just Hood over the past couple decades.
And while Hood was popular enough that Democrats wanted him to run for governor this year against Republican incumbent Phil Bryant, Hood declined, choosing to seek a fourth term as attorney general. He told National Journal in February that he had planned to retire but had "unfinished business" as the state's top prosecutor.
Mississippi Democrats' search for a gubernatorial candidate after Hood neatly illustrates their predicament. After a little-noticed, low-budget primary campaign (given the unlikelihood of knocking off Bryant), an unknown truck driver named Robert Gray won the Democratic nomination in August, beating state Democrats' favored candidate, attorney Vicki Slater. Gray spent nothing on his campaign and "didn't really do too much cam­paign­ing," he said in an interview.
In the general election, Bryant's campaign has spent more on payroll taxes than Gray's has spent in total, according to the Associated Press, ahead of an expected reelection landslide.
But all is not lost for Deep South Democrats, who are also pouring money into a competitive-looking Louisiana governor's race. John Bel Edwards, a state representative, advanced to a November runoff where, according to the available public polling, he has a chance to beat his Republican opponent, veteran (but scandal-plagued) Sen. David Vitter.
Mason-Dixon surveyed 625 registered Mississippi voters between Oct. 21-23 for its poll. The margin of error is plus or minus 4 percentage points.