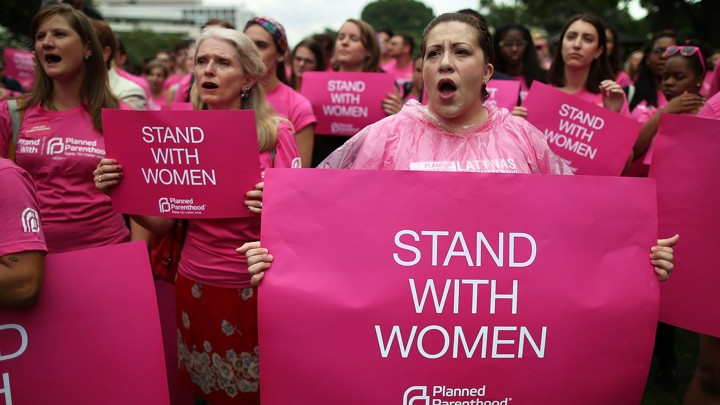 Republicans have many reasons for optimism about the 2016 presidential election, but the latest NBC/Wall Street Journal poll released this week shows again that social issues may be their biggest obstacle in recapturing the White House next year.
On every major cultural issue the survey tested, more Americans endorsed positions that the Democratic nominee is likely to support next year, while in almost every case most Republican primary voters embraced the minority view.
That suggests cultural affinity could remain the hole card for Democrats in an election in which the public's assessment of President Obama's performance remains equivocal, favorable ratings of Democratic front-runner Hillary Rodham Clinton have plummeted, and the public divides almost exactly in half in early soundings on which party it would prefer to hold the presidency in 2017.
The survey tested a series of cultural policy issues that have flared in the 2016 primary races, including ending birthright citizenship for the children of undocumented immigrants and eliminating funding for Planned Parenthood. More broadly, it also asked Americans to assess whether a series of longer-term trends, such as growing racial diversity and increased legal protections for gays, represented a step in the right direction, the wrong direction, or won't make any difference in life in the U.S.
On almost all of these questions, most adults took positions at odds with the dominant view among the 2016 GOP presidential candidates—and the preferences of most of those the survey identified as likely voters in the party's presidential nominating contests next year. As important, the survey found that these issues generally united the growing groups that powered both of President Obama's victories: the millennial generation, people of color, and college-educated whites, particularly women.
Cumulatively, the survey underscores the sense that Democrats now represent a "coalition of transformation" comfortable with the demographic and cultural changes upending American life while the GOP represents a "coalition of restoration" that largely revolves around the groups most unsettled by the changes.
For instance, by an overwhelming majority of 69 percent to 26 percent, likely GOP primary voters said they would end birthright citizenship for the children of undocumented immigrants, as Donald Trump, Sen. Ted Cruz, and other GOP presidential candidates have proposed. But a 53 percent to 42 percent majority of all Americans said they would preserve birthright citizenship.
The contrast was even more striking on the question of eliminating federal funding for Planned Parenthood, as House Republicans and the leading GOP presidential candidates have urged. Likely GOP primary voters backed the idea by 60 percent to 35 percent; but the public overall rejected the idea by virtually the same margin, 61 percent no, to 35 percent yes.
On the broad trends the survey measured, the culture gap persisted.
Asked about the prospect of further restrictions on abortion, 60 percent of likely GOP primary voters said it would represent a step in the right direction; just 23 percent called it a step in the wrong direction. But among the public overall, more adults called such restrictions a step in the wrong direction (45 percent) than the right one (36 percent). And while more Republican primary voters called legislation that protects the rights of gays and lesbians a step in the wrong direction (41 percent) than the right direction (36 percent), the verdict among the public overall was emphatically different: 59 percent right direction, just 23 percent wrong. 
The gap between GOP partisans and other Americans was also large on two other questions. While likely Republican primary voters split about evenly on whether increased political involvement of religious groups was a step in the right direction (36 percent) or wrong direction (35 percent), just 24 percent of the public overall viewed it as a positive development, with 54 percent calling it a step in the wrong direction.
Republicans were also much cooler when asked about the implications of "racial and ethnic minorities increasing as a percentage of the US population." Just 21 percent of likely GOP primary voters said that trend represented a positive change while 24 percent viewed it negatively (half said it would have no impact). The public overall was considerably more positive: 35 percent called it a step in the right direction, compared to just 14 percent who called the growing diversity a negative change.
On two other issues that have attracted considerable attention in the GOP race, opinion among Republicans didn't tilt as far right as in some other recent surveys. Likely GOP primary voters were only slightly more negative than the public overall about the impact of "an increase in the number of legal immigrants" and the implications of more international trade agreements. Still, it is a measure of the class realignment in American politics that likely GOP primary voters expressed a slightly more negative view about further trade agreements than likely Democratic primary voters.
The survey also underscored the extent to which shared cultural values underpin the heavily urbanized contemporary Democratic coalition, which relies primarily on votes from the millennial generation, racial minorities, and college-educated whites (particularly women).
For instance, two-thirds of those aged 18-34, three-fifths of nonwhites, and over 70 percent college-educated white women said they opposed cutting off funding for Planned Parenthood. Two-thirds of 18-34-year-olds and minorities, and just over three-fifths of college-educated white women also opposed ending birthright citizenship. Among those groups, the share who called increasing diversity a positive rather than a negative development for American society hit six-to-one among younger adults; nearly seven-to-one among African-Americans; almost four-to-one among Hispanics; and over three-to-one among college-educated white women.
More urban than rural residents consistently endorsed liberal positions across these questions, particularly on issues related to gay rights, growing diversity, and continuing birthright citizenship. One exception: Rural residents were not much more likely than urban ones to support cutting off funding for Planned Parenthood.
College-educated white women also consistently took more liberal positions than other whites on these questions, with 63 percent describing more legal immigration as a positive step, 64 percent supporting birthright citizenship, 70 percent viewing more political involvement by religious groups as a negative step, 71 percent opposing ending funding for Planned Parenthood, and fully 79 percent terming more gay rights a positive development.
Those women have been the fastest-growing segment of the white electorate in recent elections. In 2012, for the first time, they cast a larger share of the general-election vote than white men without a college education—a generally culturally conservative group that has emerged as a bedrock of Republican support.
More cracks in the Democratic coalition emerged on abortion restrictions and gay rights, with African Americans and Latinos less likely than young people or college-educated whites (especially women) to view the trends positively. But a solid plurality of both African Americans and Hispanics sided with the predominant Democratic position on abortion, as did a majority on gay rights.
For the sprawling Republican field, these results reinforce the challenge of appealing to a primary base largely alienated from the cultural and demographic trends making modern America, without alienating the majority of general-election voters largely comfortable with these changes. 
The NBC/Wall Street Journal survey, conducted by the Democratic polling firm of Hart Research Associates and the Republican firm Public Opinion Strategies, surveyed 1,000 adults by landline and cell phone Sept. 20-24. It has a margin of error of ±3.1 percentage points.
We want to hear what you think about this article. Submit a letter to the editor or write to letters@theatlantic.com.