A New Approach to Criminal-Justice Reform
As the Smarter Sentencing Act nears its vote, a new group of police chiefs and prosecutors hopes to influence the debate.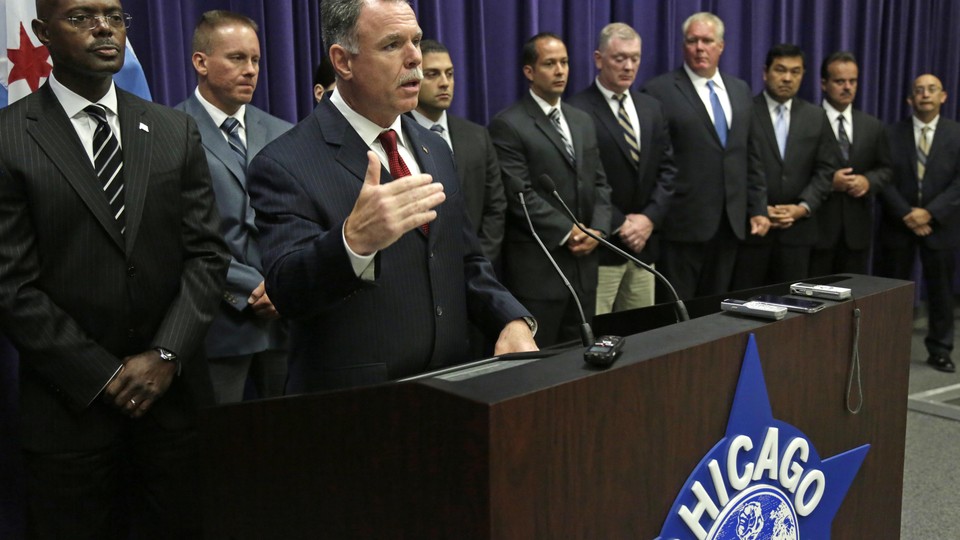 Criminal-justice reform is taking a significant step forward this week. On Wednesday, more than 130 police chiefs and prosecutors announced a new organization with the goal of curtailing mass incarceration. President Obama will host a discussion with its members and the Marshall Project on Thursday, while the Senate Judiciary Committee plans to vote on the Smarter Sentencing Act, which hopes to reform mandatory-minimum sentencing and the federal prison system.
The group, Law Enforcement Leaders to Reduce Crime and Incarceration, is a project by the Brennan Center for Justice, a nonpartisan policy institute that specializes in legal and criminal-justice issues. The new group's membership includes NYPD Commissioner Bill Bratton, Cook County District Attorney Anita Alvarez, New York Attorney General Eric Schneiderman, and Philadelphia police commissioner Charles Ramsey.
"We know firsthand that more incarceration does not keep our country safe," Garry McCarthy and Ronal Serpas, the group's co-chairs, wrote in a USA Today op-ed on Wednesday. "Our experience and research show that good crime control policy is not about locking up everyone. It's about locking up the right people."
The group's four main issues draw upon many of the themes that have animated criminal-justice reform. They note that "more than 50 percent of prison and jail inmates have a diagnosed mental illness, and 65 percent of prisoners meet medical criteria for substance abuse and addiction," citing successful efforts to rework the system in Miami's courts. They praise California's Proposition 47, which reduced a broad swath of nonviolent drug crimes from felonies to misdemeanors, as well as sentencing reforms in Georgia, Kentucky, and New York. And they cite the need for closer relationships between law-enforcement agencies and the communities they serve.
There are also notable omissions. While legislation binds many aspects of sentencing and determines the scope of criminalization, police chiefs and prosecutors are also empowered with significant discretion to make changes on their own. The group's policies do not mention civil-asset forfeiture or bail reform, for example, though those issues fall under police and prosecutorial authority in most jurisdictions.
The group's formation comes as the Senate Judiciary Committee prepares to vote on the Smarter Sentencing Act, a bipartisan bill hailed as a first step toward reducing federal prison populations and reforming mandatory-minimum sentencing. The proposed legislation is the product of lengthy negotiations between reform-oriented senators like Mike Lee of Utah and Cory Booker of New Jersey and more skeptical legislators like Senate Judiciary chairman Chuck Grassley of Iowa. Although the Act is less ambitious than some of its earlier incarnations, it nonetheless represents the first serious effort by Congress to systematically address criminal-justice reform at the federal level.
Obama is also slated to make criminal-justice reform a focus of his presidency as it enters its final year. "Ever since I was a senator, I've talked about how, in too many cases, our criminal-justice system is a pipeline from underfunded schools to overcrowded jails," he said in his weekly radio address on October 17 as he announced a nationwide tour to highlight specific issues.
His first stop in Charleston, West Virginia, focused on prescription-painkiller abuse and addiction treatment. On Thursday, he will take part in a conversation with Charlie Beck, the Los Angeles police chief, and John Walsh, the U.S. attorney for the District of Colorado, moderated by Bill Keller, the Marshall Project's editor in chief.