Paul Ryan's Uneasy Alliance With the House Freedom Caucus
He won the support of a majority of its members, but can the would-be-speaker get the no-compromise caucus to compromise?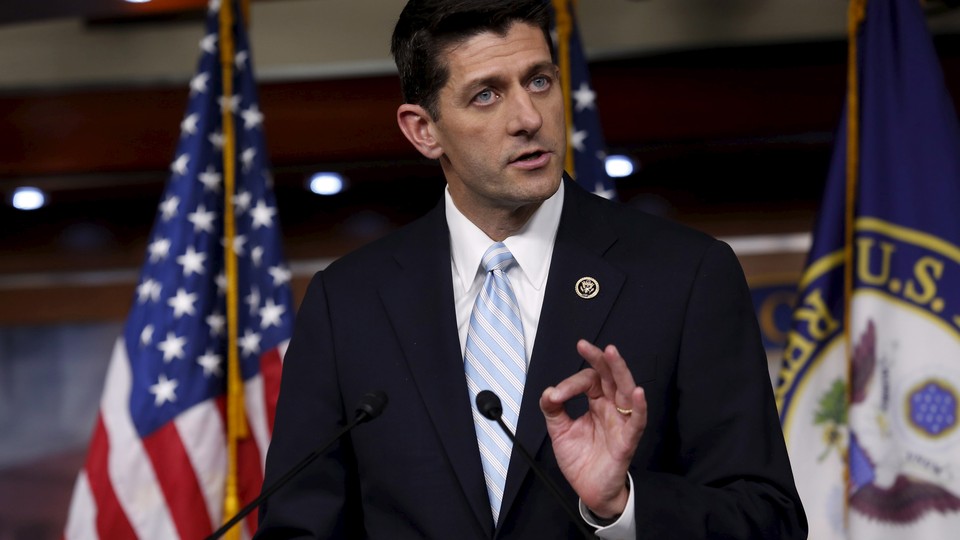 The swift conservative backlash to Paul Ryan's highly-conditional bid for House speaker is best understood this way: In order to accept the job, Ryan needed to win a compromise from the no-compromise caucus.
On Wednesday night, he took a big step toward achieving just that, when a strong majority of the hardline House Freedom Caucus backed his candidacy. Importantly, it was less than the formal endorsement Ryan wanted, which requires support from 80 percent of the group. But the Wisconsin lawmaker was not prepared to quibble over a few holdouts, and he now is poised to take the party's nomination when it votes in secret on October 28.
Yet what remains unresolved, and what will test whether this uneasy alliance is a durable one, is whether the Freedom Caucus conservatives will allow Ryan to lead the House under the unique terms he set. In exchange for accepting a position that most—but not all—Republicans begged him to take, Ryan sought a few key concessions: He wants near-unanimous support from the party; he wants to be able to spend time with his family rather than fund-raise every weekend; and he wants changes to the rules that would make it harder, if not impossible, for rank-and-file lawmakers to depose him on the House floor through a "motion to vacate the chair" if they don't get what they want.
"No matter who is speaker, they cannot be successful with this weapon pointed at them all the time," said Ryan spokesman Brendan Buck when describing Ryan's request to Republicans in a private meeting on Tuesday night.
The Freedom Caucus may have given Ryan its support for the speakership, but it has not endorsed this procedural change.
After all, it was that very weapon—a "sword of Damocles," as conservative Representative Mick Mulvaney once put it to me—which the hard-liners had threatened to use to oust John Boehner before he chose to resign last month. Giving it up in exchange for a Ryan speakership would be "a nonstarter," said Representative Tim Huelskamp, a third-term Kansas conservative. Huelskamp's assessment was identical to that of Representative Raul Labrador of Idaho, another member of group that forced Boehner out and blocked the ascension of Kevin McCarthy to replace him.
In essence, watering down the motion to vacate would give more power to the speaker and go against what the members of the Freedom Caucus have been demanding all along. They believe authority in the House should be decentralized, so that the leadership cannot simply jam legislation (e.g. bipartisan deals with Democrats) through the chamber without input from the rank-and-file. Getting rid of the procedural cudgel, Huelskamp said, is "simply undemocratic."
"Every institution in democratic society has a means to change the leader," he told me by phone on Wednesday. Conservative lawmakers, Huelskamp said, had researched the history of the "motion to vacate" and found that it dates to 1837 in the House and much farther back in the Senate. Thomas Jefferson literally wrote the rule on it. ("I like Paul Ryan a lot. I like Thomas Jefferson a lot better," Mulvaney told reporters.)
Seeking to dispel some of the Freedom Caucus fears, Buck clarified on Wednesday that Ryan was not seeking to "eliminate" the motion to vacate the chair. "It should exist. The process for how it can be used, however, should be changed. Open to different approaches" he tweeted.
Yet the conservative concerns with Ryan now go far beyond his designs on a procedural maneuver in the House. The man who was once hailed as a visionary leader for Republicans, whose proposals to partially privatize Medicare were seen as daring fiscal blueprints, has suddenly become just another establishment horse-trader in the eyes of the far right. Conservatives opposed the budget agreement Ryan struck with Senator Patty Murray, a progressive stalwart, in 2013, and they were suspicious of his loyalty to Boehner. Most egregious, however, was Ryan's work on immigration reform in 2013 and 2014, which earned him the dreaded label as a supporter of "amnesty."
On talk radio and Twitter, influential conservatives mocked Ryan's demands. "EMPEROR RYAN," blared Laura Ingraham, who criticized his support for immigration and trade and  belittled his insistence that he be allowed to spend time with his family.
Erick Erickson chimed in, too, saying that Ryan wanted conservatives "to sign their own death warrant." Historically, such overwrought comments from conservative commentators would have little bearing on internal House GOP politics, where relationships trump grassroots politics. But that kind of pressure campaign has proven effective with members of the Freedom Caucus, who pride themselves on taking their cues from constituents who get their news and opinions from people like Erickson and Ingraham.
By Wednesday afternoon, Huelskamp and his colleagues were picking up the message. "I don't know if I want someone in there who doesn't want the job," he told me, adding that being speaker was not a "40-hour a week" gig. Representative Matt Salmon told The Hill that Ryan's demands were like someone interviewing to be a maid, but refusing to clean windows or floors.
The Freedom Caucus's support has taken on outsized importance because as Ryan well knows, he could easily find himself in the same spot as Boehner and McCarthy if he crosses them. Democrats and even some moderate Republicans want Ryan to simply marginalize them by negotiating with centrists and cut them off completely. But that was never likely to happen. In his meeting with the conservatives Wednesday evening, Ryan apparently assuaged just enough of their concerns. According to Politico, he signaled he was open to their demands for changes to the committee structure and the legislative process, moves that they say would empower rank-and-file members at the expense of leadership. And Buck confirmed to me that Ryan had pledged not to pursue immigration reform while President Obama remains in office, a key policy concession.
But Ryan failed to win conservative support for everything he wanted, including the change he wants that would protect him from an internal coup. "While no consensus exists among members of the House Freedom Caucus regarding Chairman Ryan's preconditions for serving, we believe that these issues can be resolved within our conference in due time," the conservative said in a statement. Ryan might have clinched the speakership on Wednesday night. But to get the terms, and the job security, he wants, he still needs to get conservative hard-liners to do something they've so far been loathe to do: negotiate.