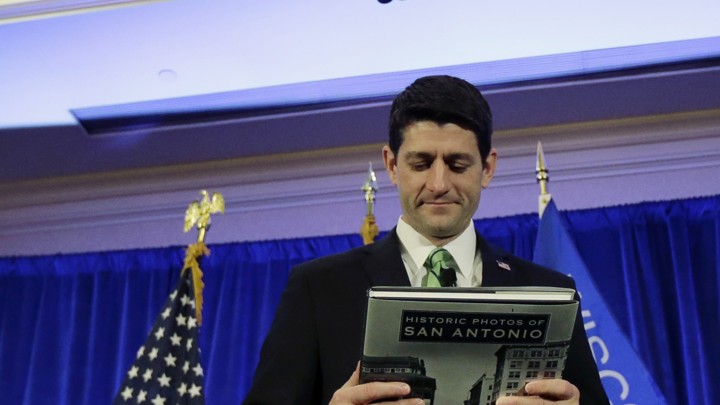 Paul Ryan rose in front of his conference and made a pledge Tuesday night. He would not push for comprehensive immigration reform this session if elected speaker.
Ryan's promise was hardly bold, nor was it surprising. A majority of the Republican Conference in the House has shown little appetite for tackling  sweeping changes to the country's immigration system. And, after President Obama enacted executive actions to protect "Dreamers" and their parents from deportation, the well of goodwill has pretty been "poisoned," as Boehner once declared. Ryan said he was open to increasing border security and internal enforcement, but he won't be tackling any more-moderate reforms in the 114th Congress.
In the near-term, the potential for Republican change on immigration is nonexistent. Out on the campaign trail, Republicans see that their base is head over heels for promises coming from GOP presidential frontrunner Donald Trump to build a border wall and deport illegal immigrants.  Now is not the time for immigration reform in the Republican-controlled Congress. Nor is a pathway to citizenship the path to victory for Paul Ryan.
Ryan's vow reveals just how much he is up against as he makes his case to the House Freedom Caucus. Every position Ryan has ever taken is under scrutiny, but his dynamic past on immigration reform has taken center stage as right wing radio hosts, commentators and lawmakers proclaim that it's a litmus test for Ryan's future as speaker.
"Suffice it to say that Luis Gutierrez has endorsed Paul Ryan because of Paul Ryan's open-borders and amnesty position," Rep. Mo Brooks, a member of the Freedom Caucus, said about the Democratic lawmaker's work with Ryan on immigration. "That is disconcerting with the vast majority of American voters."
Trump—the favorite of many conservative voters—blasted Ryan on Wednesday on ABC saying Ryan was "weak on immigration." And Breitbart "unearthed" a 2013 video this week of Ryan speaking out in support of immigration reform and promising that he and Gutierrez were "doing everything" they could to ensure that Congress took action.
Ryan has been clear. After running in 2012 alongside Mitt Romney, who declared that immigrants should "self-deport," Ryan has said he would support a path to citizenship for some of the 11 million immigrants living in the country illegally. He supported a comprehensive immigration bill in the House as far back as 2005. Yet, unlike Sen. Marco Rubio, who openly campaigned for a bipartisan immigration bill, Ryan's role has been more measured and stealthy. Democrats and Republicans say Ryan helped clear the way for members to try and negotiate a bipartisan House bill in 2013 and they note he was gauging interest. Still, they say he was not the face of the effort, nor was he the only prominent Republican or conservative involved.
Raul Labrador, for example, a member of the Freedom Caucus, had once been part of the group negotiating bipartisan immigration reform.
"Some Democrats and Republicans were meeting to try and knock something out; even Labrador was in that group for awhile," said Rep. Raul Grijalva, a Democrat from Arizona. "I think the contribution that Boehner and Ryan made was that they didn't impede it."
Grijalva says Ryan "wasn't writing the legislation."
Rep. Renee Ellmers, who has supported more-moderate immigration bills in the past, also said Ryan's role was hardly a starring one.
"I feel like maybe some people are reaching for a reason to doubt his capabilities," Ellmers says.
Rep. Mick Mulvaney, a member of the House Freedom Caucus who worked closely with Ryan in 2013 on immigration, says that Ryan's role has been overblown and mischaracterized.
"What I think is getting lost in a lot of the shuffle is we were only asking three questions. The question we took when we were accused of being for amnesty was to our members: 'Do you want to do immigration now, later, or ever?'" Mulvaney says. " That's it. We were not whipping a specific bill for or against. We were simply trying to gauge the atmosphere of the conference on taking up immigration going into an election cycle. So to me, the immigration thing is a red herring. "
Gutierrez says Ryan clearly understood the need to expand the Republican Party's base after his bid as vice president. Ryan spoke alongside Gutierrez at the City Club of Chicago in April 2013, just months before the Senate passed its immigration bill.
"Did Paul Ryan play a role in trying to bring about a consensus? He did,"  Gutierrez said. "He is for an immigration system that allows a pathway to citizenship for people."
But Ryan's assurances that he would not push for anything beyond maybe a border or internal-security bill in the upcoming months speaks to both the timing constraints of this legislative session as well as keen awareness that immigration is a liability for him. For members of the Freedom Caucus, a primary challenge from the Right—not frustration from minority voters back home—is of paramount concern.
"I have a whole list of issues, and his position on amnesty is one of them," says Rep. Walter Jones, a conservative from North Carolina.
Rep. Steve King, a conservative from Iowa, says he believes Ryan when he promises not to tackle comprehensive immigration reform this session of Congress, but he still is supporting Daniel Webster out of fear Ryan may try and pursue immigration reform down the road.
"I think it does come into play. It comes into play with the next president," King says. "If the next president is an open-borders president and you have an open-borders speaker, it would be about impossible to stop an amnesty agenda at this point."
We want to hear what you think about this article. Submit a letter to the editor or write to letters@theatlantic.com.
Lauren Fox
is a congressional reporter at
U.S. News.
Her work has appeared in
Salon
,
MSNBC,
and
Columbia Journalism Review
.