The Rise of Paul D. Ryan
Republicans overcome their divisions to nominate the representative from Wisconsin as Speaker of the House.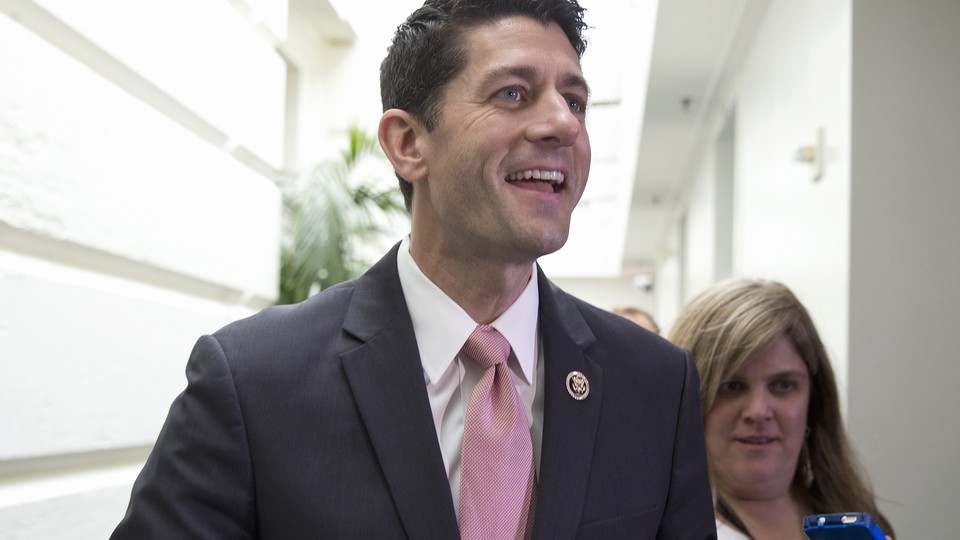 The Republican Party may have 15 presidential candidates and a deeply frustrated voter base, but as of Wednesday afternoon, it has a new de facto leader: Paul Ryan.
In a secret-ballot election, House GOP lawmakers formally nominated the 45-year-old Wisconsinite to serve as speaker, ending a month-long search to find a replacement for the departing John Boehner who could united the fractious party. Ryan received 200 votes versus 43 for Florida Republican Daniel Webster. The full House will hold a public floor vote on Thursday, after which Ryan is expected to become the youngest speaker since Reconstruction.
As speaker, Ryan would be the highest-ranking Republican in government and second in line to the presidency—a notch below the office he fell short of winning in 2012. But at least for the next several months, he will hold sway over a party that has been tossing out one leader after another for the last year and a half. First it was Eric Cantor, the House majority leader, who was ousted in 2014 primary. Boehner resigned under pressure from conservatives last month, and his would-be successor, Kevin McCarthy, abruptly withdrew his candidacy for speaker after House hard-liners endorsed a little-known Floridian, Webster.
Ryan has remained personally loyal to Boehner, but his brief statement following the GOP election had the hallmark of a challenger who had just turned out a long-serving incumbent. "This begins a new day in the House of Representatives," said Ryan, who was flanked by the rest of the Republican leadership team with the exception of Boehner. "John Boehner served with humility and distinction, and we owe him a debt of gratitude, but tomorrow we are turning the page."
"We are not going to have a House that looked like it looked the last few years," Ryan continued. "We are going to move forward. We are going to unify. Our party has lost its vision, and we are going to replace it with a vision."
Webster, a former speaker of the Florida House, extended his candidacy even after Republicans coalesced around Ryan. But by the time rank-and-file lawmakers entered the closed-door voting session on Wednesday, Ryan's election by the Republican caucus was a formality. The remaining drama for Thursday's floor vote is how many members of the uncompromising House Freedom Caucus will oppose him. (Boehner lost 25 votes when he won reelection in January, a modern record.)
Ryan entered the race reluctantly, having repeatedly professed a lack of interest in the speaker's gavel and his preference to remain as chairman of the tax-writing Ways and Means Committee. He changed his mind only under heavy pressure from party big-wigs, including Boehner, McCarthy, and Mitt Romney, who picked him as his running mate three years ago. Sensing leverage, Ryan declared his candidacy with a list of demands—that the party unify around him, that he have more time than previous speakers to spend with his family, and most controversially, that the House change its rules to make it harder for dissident lawmakers to depose him, as they had threatened to do to Boehner. Conservative hard-liners largely acceded to Ryan's first two conditions, but not the third. Only after a pair of private meetings did the Freedom Caucus decide to support him, virtually ensuring Ryan's election.
Although he launched his candidacy with trepidation, Ryan has since made a full-on effort to lock down support and fend off an uprising from outside conservative groups which have attacked his support for immigration reform and accused him of being too close to Boehner. Ryan backed off—for the moment—his demand for protective rules changes and told conservatives he wanted to change the rules that empower rank-and-file members, as they've requested. And he's sworn off any push to overhaul immigration laws while President Obama remains in office.
The vote on Wednesday suggested Ryan has more work to do in unifying a party that Boehner was rarely able to corral. Forty-five Republicans—nearly one-fifth of the House conference—voted against him, and he'll need more than a dozen of those opponents to support him on the floor in order to get the 218 votes he'll need to win. (McCarthy received a single Republican vote despite withdrawing his candidacy, and Representative Marsha Blackburn of Tennessee earned another.) In tone and substance, Ryan addressed his remarks after the election to the few dozen conservatives who had forced Boehner to resign, as opposed to the 200 or so whose support he retained.
Will he have any trouble on Thursday? Even Republicans who voted against Ryan in the party meeting suggested he should be fine. Representative Mick Mulvaney of South Carolina, a strong Boehner critic, predicted Ryan would win all but a dozen or so Republicans in the floor vote, giving him a safe cushion. "A lot of folks who voted for Webster will respect the will of the conference and vote for the conference nominee on the floor," Mulvaney said. "I think he gets 230 votes tomorrow."
In the days leading up to the vote, Ryan began to address some of the nuts-and-bolts concerns that rank-and-file conservatives had raised. He criticized the process that Boehner used to strike a two-year budget deal (it "stinks," Ryan said), even though he ultimately endorsed the agreement on Thursday. Before Republicans cast their ballots Wednesday, he assured them he would seek to avoid the kind of crisis-driven legislative moves that the House has turned to time and again. And he said he'd take a more confrontational approach with the Senate, which has been the same source of frustration for House lawmakers under Republican control as it was when Harry Reid ran the floor.
Finally, Ryan took care of one last thing before facing Republican lawmakers: He officially changed his name, asking the House clerk to list him as "Paul D. Ryan" on all congressional records.