Paul Ryan Trashes His Budget Gift
"This process stinks," the Wisconsin Republican said about the fiscal deal ahead of the speaker vote this week.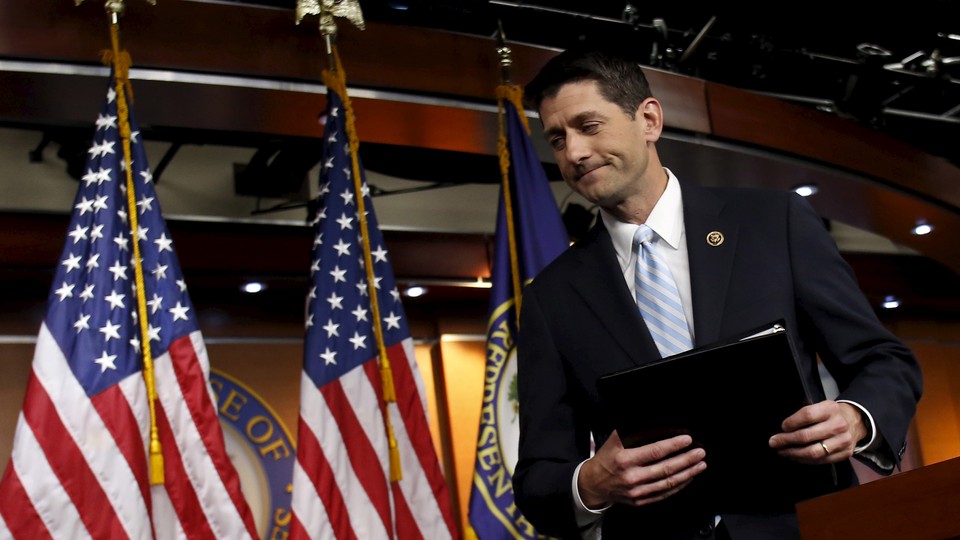 The budget deal that John Boehner struck in his final days as House speaker is certainly a political gift to Paul Ryan, but you'll have to forgive Ryan for showing a lack of appreciation.
"I think this process stinks," the speaker-in-waiting reportedly harrumphed as he walked into a meeting where Republicans were briefed about the 11th-hour agreement. "Under new management, we are not going to run the House this way."
Well played, congressman.
Ryan offered no opinion on the substance of the two-year pact, which increases federal spending by $80 billion and raises the debt ceiling, but his harsh assessment of how it came together was a necessary bit of political theater aimed at the group of conservatives who have been most wary of his ascension to the speakership. The members of the suddenly renowned House Freedom Caucus have spent months railing against just this type of deal—a bipartisan accord negotiated entirely in secret by party leaders and then presented, as if by fiat, to rank-and-file lawmakers for their immediate approval. Before agreeing to support Ryan last week, the hard-line caucus met with him to make sure he was open to the rules changes they were seeking that would make these types of top-down, last-minute agreements less likely.
Yet Ryan finds himself in an awkward position because he is the reason why Boehner wants to rush the budget deal. After all, Congress doesn't need to pass a spending bill until December, and the debt ceiling won't be breached for another week, which means Capitol Hill has a few more days before panic erupts. But Boehner has said since he announced his resignation last month that he wanted to "clean the barn up" before he goes. "I didn't want him to walk into a dirty barn full of you-know-what," the departing speaker explained again on Tuesday.
Passage of the budget deal offers Ryan a fresh start and removes a major headache that likely would have severely shortened whatever political honeymoon he will have as of Thursday, when the House is expected to formally elect him as speaker. But that doesn't mean he has to embrace it. Republicans won't officially nominate Ryan until Wednesday, and after seeing the swift backlash that forced Kevin McCarthy to abandon his bid earlier this month, he can't afford to risk angering conservatives before he has the gavel in hand.
Will Ryan actually oppose the deal when it comes up for a vote on Wednesday? That's unclear, but on substance he doesn't have much reason to. The structure of the agreement is remarkably similar to the two-year budget that Ryan himself negotiated with Democratic Senator Patty Murray two years ago. Both accords brought relief from sequestration spending caps for defense and domestic programs, paid for with a hodgepodge of cuts to other initiatives and relatively minor changes to entitlements. "Frankly, if you look at this, it isn't a whole lot different than what he and Senator Murray put together two years ago," Boehner said, in a statement that would hinder Ryan if it wasn't so obvious. He added that he was "in total agreement" with Ryan's criticism of the process, but he said that "when you look at the alternative"—a clean debt-ceiling increase or a damaging default—"it starts to look a whole lot better." Nonetheless, the departing speaker said he was unconcerned by the prospect that his agreement would draw opposition from his successor. "It's irrelevant," Boehner said. "It's going to pass with a bipartisan majority, and I'll be really happy."
Conservatives quickly denounced the deal and began pressuring Ryan to oppose it. Senator Ted Cruz deemed it "complete and utter surrender," while a few House members called on Ryan to state his position on it before Republicans vote on his candidacy Wednesday.
Ryan has tried to appeal to conservatives in other ways over the last few days. He backed down, at least for the moment, on his demand that Republicans modify a procedural tool allowing dissidents to oust a speaker in a floor vote. He assured hard-liners that he would not pursue "comprehensive immigration reform" while Obama remains in office. And on Tuesday, he spoke out against a move by a coalition of Democrats and moderate Republicans to reauthorize the Export-Import Bank by going around the leadership.
After the reluctant candidate bowed to pressure from party leaders to get in the speaker's race, Ryan looks like a shoo-in to win on Thursday. But he's playing it safe just in case.