Paul Ryan Makes His Move for Speaker
It comes with a big caveat: He must have total support from Republicans.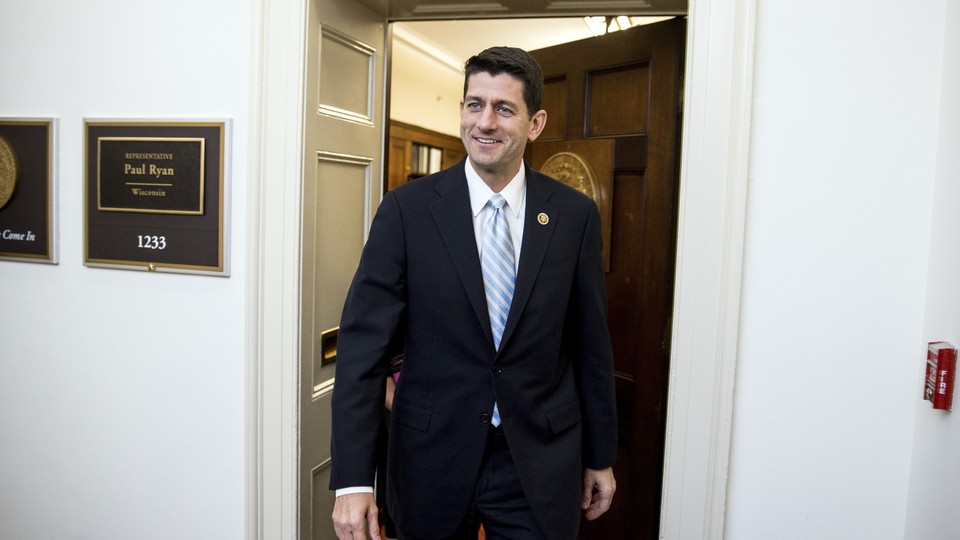 Paul Ryan will bow to the growing Republican calls that he run for House speaker—but only on one big condition.
The 2012 GOP vice presidential nominee on Tuesday night told House Republicans in a private meeting that he would agree to serve only if he has near-unanimous support from the party. It's an important condition given the rebellious nature of the GOP conference, in which a few dozen of its most conservative members have demanded significant concessions in exchange for their support.
"I'll leave it up to my colleagues to decide if I am that unifying person," Ryan told reporters after the meeting.
Ryan, 45, has previously insisted he had little interest in serving as speaker and that he preferred to stay in his current job atop the House Ways and Means Committee. But after the resignation of John Boehner and the sudden withdrawal of Majority Leader Kevin McCarthy, Republican leaders and rank-and-file lawmakers from across the country have virtually begged him to change his mind. Boehner was among them, and he made his case for Ryan's leadership in an appearance on Fox News just before the party meeting in the Capitol. He even drew support from Democrats, including Senate Minority Leader Harry Reid, who reasoned that a Republican with Ryan's clout and willingness to deal would be the best they could hope for in the speaker's chair.
Ryan spent a week at home in Wisconsin before returning to Washington to lay out his conditions to his colleagues.
"This is not a job I've ever wanted, I've ever sought," Ryan said. "I came to the conclusion that this is a dire moment."
"My greatest worry," he said, "is the consequence of not stepping up. Of some day having my own kids ask me, when the stakes were so high, 'Why didn't you do all you could? Why didn't you stand and fight for my future when you had the chance?' None of us wants to hear that question."
Inside the meeting, Ryan told Republicans that if they "agree with his requests and share his vision, and if he is a unity candidate—with the endorsement of all the conference's major caucuses—then he will serve as speaker. He will be all in," Brendan Buck, Ryan's spokesman, said in a statement. "But if he is not a unifying figure for the conference, then he will not run and will be happy to continue serving as chairman of the Ways and Means Committee."
Immediately after his announcement, at least two of the many Republicans who had been eyeing a run for speaker—Jason Chaffetz of Utah and Lynn Westmoreland of Georgia—withdrew their bids. But the most important decision now belongs to the House Freedom Caucus, the group of nearly 40 conservative hard-liners who forced Boehner out and whose endorsement of little-known Daniel Webster of Florida prompted McCarthy to bow out. In addition to asking for unity from the party, Ryan is also seeking a rules change that would prevent a group of lawmakers from ousting him in a floor vote. Before Boehner resigned, conservatives had threatened to try to remove him with a "motion to vacate the chair," which hadn't been used in decades.
Ryan did say he was willing to consider some of the rules changes that members of the Freedom Caucus want, but not as a condition for his election. Buck, his spokesman, said Ryan wants to know by Friday if he has the party's full support. The formal election for speaker is scheduled for October 29, though Republicans would have to vote for their nominee before then.