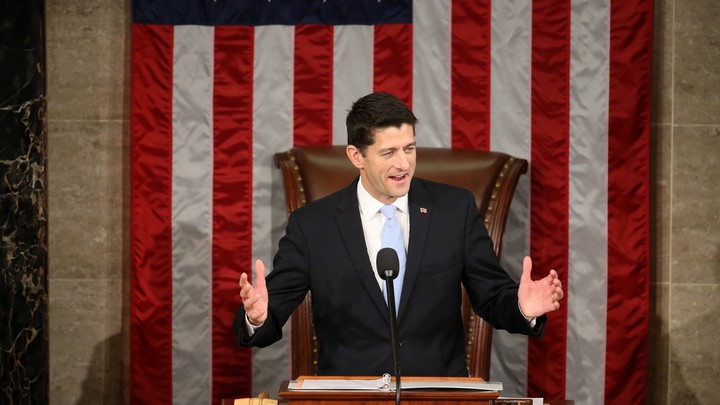 The House elected Rep. Paul Ryan as speaker on Thursday, capping weeks of uncertainty about who will lead the chamber and the Republican Party and ending the tumultuous rule of Speaker John Boehner.
In his speech accepting the position, Ryan conceded that the House has been crippled. But he called for a positive path forward, asking that his colleagues view his election as a new day and calling on the chamber to take on the tough issues of the day: Growing the economy, strengthening the military, lifting people out of poverty and paying down the national debt.
"I never thought I'd be speaker, but early in my life I wanted to serve this House. I thought this place was exhilarating because here you can make a difference," Ryan said in his acceptance speech. "But let's be frank. The House is broken. Were not solving problems, we are adding to them. But I'm not interested in laying blame. We're not settling scores. We are wiping the slate clean."
Ryan praised Boehner, but amid the Republican infighting and Boehner's sudden resignation announcement weeks ago, pledged to run the House differently. He said he wants to allow contributions from more members, reinvigorate the committee process and end the practice of bringing up massive, must-pass bills at the last minute.
"A neglected minority will gum up the works. A respected minority will work in good faith. Instead of trying to stop the majority, they might try to become the majority," he said.
Still, the vote was not unanimous, foreshadowing the difficulty Ryan will have in putting to rest the tumult that has marked Boehner's speakership. Nine members, mostly members of the conservative House Freedom Caucus, voted for Ryan's intraparty opponent, Rep. Daniel Webster. Those members, Reps. Dave Brat, Curt Clawson, Louie Gohmert, Paul Gosar, Walter Jones, Thomas Massie, Bill Posey, Randy Weber and Ted Yoho, have been skeptical that Ryan will change the way the House does business.
Majority Leader Kevin McCarthy, who dropped out of the speakership race two weeks ago as it became clear many more members would vote against him, said Ryan offers a fresh face and policy bonafides to the conference. He said the conference would have been far more fractured had he not dropped out of the race.
"Had I not made that same decision, we would have had a very divided floor. We still would have been divided as a conference," McCarthy said. "He is the right person at the right time not only to unite the conference, but to change the direction of America."
Ahead of the vote, Webster urged his followers not to nominate him and instead to unify behind Ryan, members said. Before the vote on the House floor, he had separate conversations with several conservative members, including Reps. Steve King, Steve Pearce and Yoho. King and Pearce voted for Ryan, while Yoho backed Webster. Webster himself did not vote.
Still, Ryan picked up a vast majority of the Freedom Caucus, including its chairman Jim Jordan and most of its board members. Rep. John Fleming said he voted for Webster at Wednesday's closed door election because he had committed to do so. But he voted for Ryan on the House floor because he believes he can be a new kind of leader.
"He doesn't come out of the direct leadership line. … Paul Ryan comes from a policy standpoint. He climbed through the ranks primarily on his competency, longevity and seniority, and seems to understand when we talk about the empowerment of individual members and the committees," Fleming said. "We're going to give him the benefit of the doubt. Obviously we're going to hold him to his work and hold him accountable, as we should."
In his speech, Ryan addressed detractors and said he will try to work in good faith with both Democrats and Republicans.
"The cynics will scoff, they'll say it's not possible," Ryan said. "You better believe we will try. We will not duck the tough issues, we will take them head on."
Minority Leader Nancy Pelosi suffered three intraparty defections of her own. Reps. Jim Cooper, Kyrsten Sinema and Gwen Graham all voted for non-candidates. Rep. Dan Lipinski, who cast his Speaker vote earlier this year for Rep. Peter DeFazio, did not vote initially but called out his support for Pelosi when given a second chance to weigh in.
Pelosi herself was gracious in her speech accepting her re-election as minority leader. Echoing Ryan's language in the run up to the vote, Pelosi called for the parties to work together.
"Today in this House, a page is turned, a new chapter has begun," she said.
But amidst Ryan's calls to come together, the Democratic Congressional Campaign Committee took to Twitter for a #RyanRealityCheck, bashing his budget proposals and concessions to the Freedom Caucus. While it didn't damper the bipartisan vibes in the House chamber, it was a sign of the challenges Ryan will face leading a divided caucus against a party desperate to end his tenure as Speaker on the next election cycle.
A longtime Congressional staffer who was elected to the House in 1998 at the age of 28, Ryan rose to become chairman of the Budget and then Ways and Means committees. He was the Republicans' vice presidential nominee against President Barack Obama in 2012.
When Boehner announced his resignation and his presumed successor, McCarthy, dropped out of the race, Ryan reluctantly rose to the call of his colleagues and announced a bid for the gavel. He secured the endorsements of most of the House GOP's caucuses, although the Freedom Caucus declined to officially endorse him.
At 45 years old, he is the youngest speaker since 1869.
This article has been updated.
We want to hear what you think about this article. Submit a letter to the editor or write to letters@theatlantic.com.
Daniel Newhauser is a staff correspondent for National Journal, where he primarily covers the House of Representatives. He was formerly a House leadership reporter for Roll Call, where he started as an intern in 2010 and quickly earned a slot as a beat reporter.
A native of San Antonio, Texas, Newhauser traveled further West to study journalism at Arizona State University's Walter Cronkite School of Journalism and Mass Communication and write for newspapers including the East Valley Tribune and the Green Valley News & Sun.
Alex Brown
is a Congressional correspondent at
National Journal.