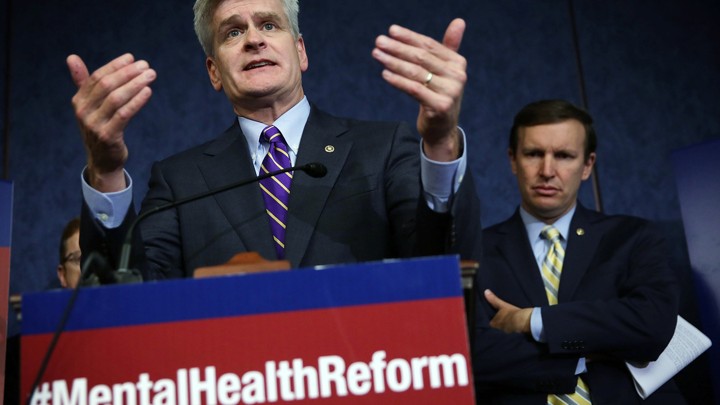 Sen. Chris Murphy choked up and appeared to be on the verge of tears Thursday morning, as he stood on the steps of the U.S. Capitol and talked about sending his 7-year-old son off to first grade earlier that morning.
"I left ... my 7-year-old this morning as he headed to first grade—as he headed to first grade," Murphy said, pausing to contain his emotion. "Seven-year-olds populating his classroom [are] not unlike those that walked into a quiet school in Newtown, Connecticut. Kids in Oregon aren't safe, kids in small-town Connecticut aren't safe, then my son isn't safe."
Less than an hour later, Sen. Kirsten Gillibrand began shouting on the Senate floor about the specter of gun violence in America and Congress's lack of action thus far. Gillibrand yelled so loudly into her microphone that she could be heard through the heavy wooden doors leading into the Senate chamber.
The recent mass shooting at a community college in Oregon, coming on the heels of dozens of similar incidents already this year, has ignited more interest in combating gun violence on Capitol Hill than any other shooting since, perhaps, the massacre that claimed 26 lives at an elementary school in Newtown nearly three years ago.
But don't expect anything to happen anytime soon.
Senate Democrats organized a party-wide press event on Thursday in response to the mass killings, releasing what they believe to be three "common-sense" new gun regulations that would help to reduce the scourge of gun-related deaths nationwide. They then took to the Senate floor, delivering impassioned floor speeches on gun violence for hours afterward. But those proposals, which focus on strengthening background checks, don't seem to be headed anywhere with the Republican Party, which sets the floor schedule in both chambers. And even Sen. Chuck Schumer, who is leading the Democrats' effort, acknowledged that it will take months of pressure from the American public to get that legislation to go anywhere.
Republicans, meanwhile, are pushing months-old mental-health legislation that, while popular with both parties, doesn't appear to be headed for the House or Senate floor anytime soon. One proposal, authored by Senate Majority Whip John Cornyn, has become a rallying cry for the party that will satisfy pro-gun GOP voters, but its support from the National Rifle Association has some Democrats balking.
Caught in the middle are Sens. Joe Manchin and Pat Toomey, the Democrat and Republican who coauthored gun-control legislation in the wake of the Newtown shooting only to see it fail on the Senate floor by a five-vote margin. The two say that they are talking about reviving that legislation as a potential way of bridging the divide between the two parties, but both are quick to admit that they haven't seen any movement among their colleagues on the issue in the two-and-a-half years since the bill was struck down.
Manchin was visibly frustrated with the partisan political maneuvering surrounding him on Thursday, telling reporters, "Everything here is politicized. Everything in Washington is politicized. I'm trying to bring some common sense and reasonability. I want bipartisan. I've had bipartisan. I will always work bipartisan."
Manchin said he was broadly supportive of his fellow Democrats' push for background checks that would include sales online and at gun shows—one of the ideas they've borrowed from his legislation with Toomey—but that even he is less sure about the scope of the party's other proposals: to expand background checks for all gun sales and to criminalize gun trafficking and straw purchases for guns.
Democrats' emotional cries did not include specific pleas for action on mental-health legislation that has already been introduced, has received a large amount of bipartisan support in the House, and is steadily gaining cosponsors from both parties in the Senate. The House bill is championed by Republican Rep. Tim Murphy and is cosponsored by Democratic Rep. Eddie Bernice Johnson, and a similar bill in the upper chamber is being cosponsored by Chris Murphy and Republican Sen. Bill Cassidy.
Cornyn's proposal to reform mental-health care also aims to treat the mentally ill, but unlike the other two bills, it edits the background-check system to be more effective in keeping guns out of the hands of the mentally ill.
"Some of our Democratic colleagues have said that they're going to introduce some gun-control legislation that we all know has been tried before and cannot pass this chamber," Cornyn said amid a flurry of Democratic speeches on the Senate floor on Thursday. "What we need … is a broad consensus to try to get something done that can bring people together, and I believe my legislation can do that by addressing the root cause of some of these horrific events."
But Cornyn's bill still has zero cosponsors, and some Democrats hope it stays that way.
"We're not reluctant [to support the Cornyn bill], but he wants to make it a substitute for doing something on guns," Schumer, the No. 3 Democrat in the Senate, said in an interview. "We want to do something on mental health in addition to something on guns."
The Democratic reluctance to jump on board with mental-health legislation is extremely frustrating for Manchin, who plans to support the Cornyn bill and decried the pace at which mental-health reform—a potential bipartisan response to gun violence—is moving through a gridlocked Congress. He said he's in discussion with Cornyn and his staff regarding the bill.
"Nothing's moving quickly here. Do you see anything moving quickly here?" Manchin told reporters after the press conference when asked about the pace of the mental-health legislation, adding that he's frustrated "seeing nothing happen.
"How in the world can we expect as Democrats to have Republicans supporting common-sense procedures that we're asking for when a Republican puts a common-sense procedure, and us as Democrats not support it?" Manchin said. "I'm going to support whatever makes sense and does not take the rights away, the Second Amendment rights, of any law-abiding gun owner."
Chris Murphy, who has talked with Cassidy and Cornyn about the possibility of uniting their legislation to address mental-health issues, was exasperated by the majority's focus on the issue as the best solution to the recent uptick in mass shootings. "The reality is that America has a gun-violence rate that is 20 times that of other first-world countries not because we have more mentally ill, not because we spend less on mental illness," he said.
And he expressed worry about the effect of focusing solely on the mental-health system in response to these recent tragedies. "When you put the entire response to these mass slaughters on the backs of the mental-health system, you're being unfair to the problem, but you're also just further stigmatizing those with mental illness," Murphy added. "The reality is that those who are mentally ill are much more likely to be the victims of gun violence, rather than the perpetrators."
But, Murphy said, he wouldn't look a gift horse in the mouth in terms of potential Republican support for his legislation. "We shouldn't forsake the opportunity to get something done for the mentally ill," he said. "But I want to make sure that it's not window dressing."
Cassidy, for his part, is more confident, noting that several members have approached him with interest in signing onto their mental-health bill. "How could you not have a response to the latest tragedy without addressing mental health, right?" Cassidy said.
The question is, when will any response come?
Numerous rank-and-file Senate Democrats said they hadn't looked at the Cornyn bill or didn't know what's in it. Meanwhile, Cassidy said that his bill has about six Republicans and seven Democrats signed on as cosponsors at this point. And several Democrats said that they wouldn't take any Republican mental-health proposal seriously until after the majority party had agreed to bipartisan budget talks—arguing that broad-based sequestration cuts will harm funding for mental-health research. But it could be weeks or months before any agreement on that front is reached.
White House press secretary Josh Earnest told reporters Wednesday he doesn't take Republicans' efforts seriously either, particularly because of their unwillingness to support the Affordable Care Act or the law's expansion of Medicaid. The ACA contains provisions directly related to mental-health care.
"I know there are a number of Republicans, probably in an effort to avoid a discussion of obvious solutions, have raised other concerns about access to mental-health care in this country. … I'm a little skeptical of Republican claims that they're actually interested in the solution when they're unwilling to support the most obvious solutions to that problem," Earnest said.
And while Democrats are taking an all-or-nothing approach to the legislation they'd like to see passed, Republicans who actually get to decide what legislation will see the light of day seem to have higher-ranking items on their priority list for now.
If Cornyn's bill goes through committee, its fate will lie in the hands of Judiciary Committee Chairman Chuck Grassley. But Grassley said Wednesday he doesn't know when movement on the bill will occur: "I want to see how it ranks on the priorities of everything I've got to get done."
He's also worried about antigun amendments that will be unpopular with the majority party and weigh down any mental-health bill.
"The one thing you always have to consider when you bring up things like that, and now with this recent killing in Oregon, you always got to worry about a whole bunch of antigun amendments are going to come on," he said. "And we aren't going to move things where we're going to have a lot of antigun conversation come up."
The Senate Health, Education, Labor, and Pensions Committee passed a bill last week that tackles minor mental-health reform. Next in line on the subject is the Cassidy-Murphy bill, which is far more comprehensive than last week's bill in reforming the nation's mental-health care system. Chairman Lamar Alexander has said there will be a hearing on mental health in general in late October.
In the House, the similar comprehensive reform bill championed by Rep. Tim Murphy has 138 cosponsors. The Energy and Commerce Committee has repeatedly expressed its interest in working on the legislation this fall, but no markup has been announced. The committee's majority staff director, Gary Andres, said a markup could come "in the next several weeks."
"I measure the delays to my mental-health bill in terms of lives lost," Rep. Murphy said in an interview.
Update: This story has been updated with additional information from Murphy's office.
---
Rebecca Nelson contributed to this article
We want to hear what you think about this article. Submit a letter to the editor or write to letters@theatlantic.com.
Caitlin Owens is a health care reporter at National Journal. Her work has previously appeared in the Los Angeles Times, The News & Observer and The Charlotte Observer. She is a graduate of the University of North Carolina at Chapel Hill.