Oregon, Syria, Budget Wars, and Pope Francis: Obama Ends Busy Week With All-Encompassing News Conference
"I've been boring them to death," Obama apologized to the children in the audience.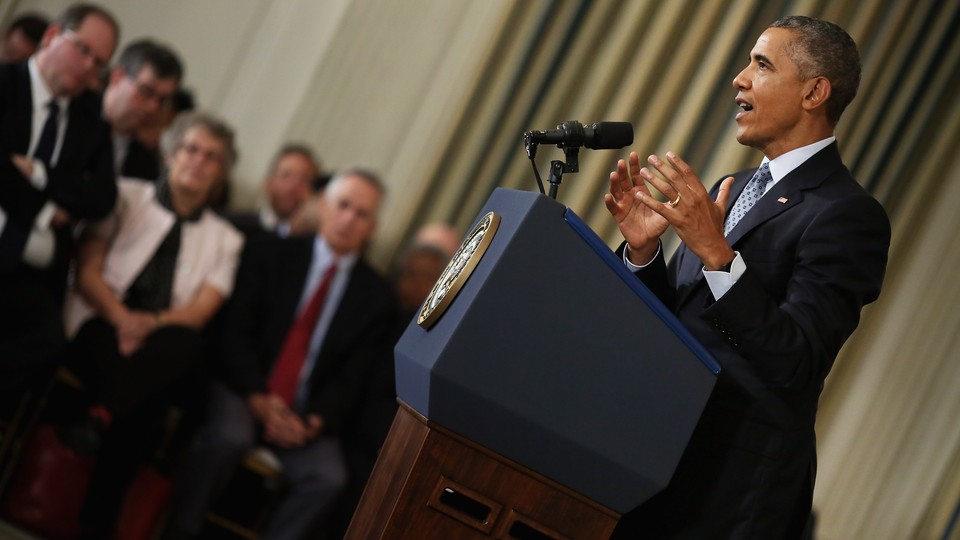 These are busy times for President Obama. At a Friday news conference at the White House—assembled to announce the resignation of Education Secretary Arne Duncan—Obama took questions from reporters and addressed the pressing foreign and domestic issues of the week. Here's a rundown.
On the Oregon Community College Shooting
Tragedy struck Oregon on Thursday when a gunman identified as 26-year-old Chris Harper Mercer opened fire at Umpqua Community College, reportedly killing at least nine people. The shooter was killed in a standoff with police.
Obama was asked to respond to Jeb Bush's Friday comments over whether the government can act in the wake of a mass shooting. (Bush was dismissive of government intervention in the wake of a tragedy, telling reporters that "stuff happens.")
"I don't think I have to react to that one," Obama said.
The president was also asked what he might try to accomplish in his last 15 months in office on the gun issue. He reiterated his comments from Thursday. "The main thing I am going to do is talk about this on a regular basis," Obama said. "I will politicize it because our inaction is a political decision that we are making."
Obama issued a call to action for those who would like to see stricter gun regulations in America. "The people who are troubled by this have to be as intense and as organized and as adamant about this issue as folks on the other side ... [who] think that any gun-safety measures are somehow an assault on freedom or communistic or a plot by me to, you know, take over."
President Obama delivered deeply disappointed remarks in the wake of the deadly shooting Thursday evening, referring to continued deaths from gun violence as "a political choice that we make."
Obama Demands an End to the Budget Wars
The president also made some news in challenging Congress to come to a long-term budget solution in December.
"I will not sign another short-sighted spending bill like the one Congress sent me this week," Obama said, referring to the last-minute spending bill that, if it had not passed, would have precipitated a government shutdown. He called on Congress to end the sequester cuts they established in March 2013 during a budget showdown. These cuts, the president said, "have been keeping our country from growing faster. It's time to undo them." Which will be tricky, seeing as how Republicans command both chambers of Congress and have consistently opposed the president's directives on budget-related matters.
"I'm sure the speaker's race complicates these negotiations," Obama added later, in response to a reporter's question.
On Whether Joe Biden Should Run for President
"I love Joe Biden, and he's got his own decisions to make," Obama said. "I'll leave it at that. And in the meantime, he's doing a great job as vice president."
On the Pope's Humor
"Well, I can't share all his jokes," the president said. "They were all clean."
On the Pope's Politics
"I think it's really useful that he makes us uncomfortable in his gentle way," Obama said. "That he's constantly prodding people's consciousness and asking everybody all across the political spectrum, 'What more you can do to be kind and to be helpful and to love and to sacrifice and to serve?'"
Obama's Advice for the Next Speaker of the House
"I'm hoping that the next speaker understands that the problem Speaker [John] Boehner had or Mitch McConnell had in not dismantling Obamacare or not eliminating the Department of Education, or not deporting every immigrant in this country" came about because such sweeping actions aren't realistic in a divided government, Obama said. "Just like I can't do everything I want in passing an immigration bill or passing a gun-safety bill."
On Russia's Entrance into Syria
Obama criticized Russian President Vladimir Putin's decision to begin airstrikes inside of Syria, calling it one made "not out of strength, but out of weakness."
Obama reflected on his meeting with Putin at the U.N. General Assembly earlier this week. During that meeting, Obama said, he told his Russian counterpart that he would be "prepared to work with him if he is willing to broker with his partners, Mr. [Bashar al-] Assad and Iran, a political transition.
"We can bring the rest of the world community to a brokered solution, but that a military solution alone—an attempt by Russia and Iran to prop up Assad and try to pacify the population—is just going to get them stuck in a quagmire. And it won't work."
The president suggested that the international community agreed. "I didn't see, after he made that speech in the United Nations, suddenly the 60-nation coalition that we have start lining up behind him," Obama told reporters. "Iran and Assad make up Mr. Putin's coalition at the moment. The rest of the world makes up ours."
Obama was asked how far he'd go to prevent Russia's actions against opposition forces, and if he's being outsmarted by Putin. He used the opportunity to defend his and the United States's leadership, overall, in international affairs. "Russia's not stronger as a consequence of what they have been doing," he said. "They get attention."
The president reaffirmed the United States's commitment to fight ISIS and to work with the international community to end both the Syrian conflict and the ensuing refugee crisis.
"This is not some, you know, superpower chessboard contest. And anybody who frames it in that way isn't paying very close attention to what's been happening on the chessboard."