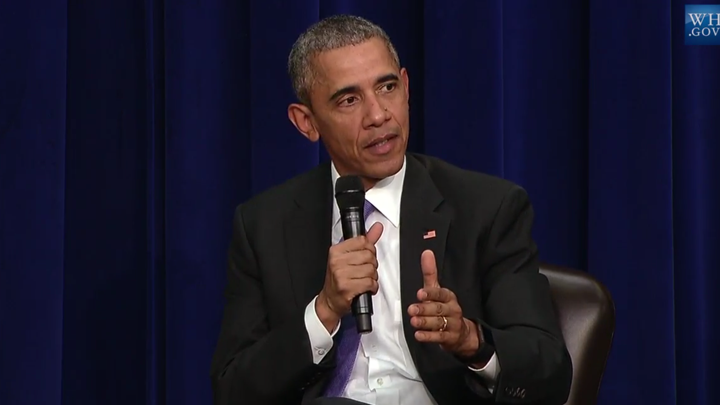 In a frank conversation about justice reform on Thursday at the White House, President Obama evaluated the effectiveness of the criminal-justice system, discussed the role of police and communities, and spoke of his own experiences of driving while black.
The discussion was led by Marshall Project Editor-in-Chief Bill Keller and included Los Angeles Police Chief Charlie Beck, a member of the newly-formed Law Enforcement Leaders to Reduce Crime and Incarceration; and John Walsh, U.S. attorney for the District of Colorado. Attorney General Loretta Lynch was in the audience, along with multiple police chiefs and other law enforcement executives from around the country.
Keller opened the discussion by citing a widely circulated fact: The U.S. represents 5 percent of the world's population but has 25 percent of the world's prison population. He also reminded the audience that the U.S. incarceration rate is multiple that in places like China (four times) and Germany (nine times). Lastly, he reiterated that African Americans and Latinos are overrepresented in prisons when compared to their total population.
"What's the goal?"
To get the discussion going, Keller asked each panelist to consider what the goal of criminal-justice reform should be. President Obama started off by stating that, "We're at a unique moment. … People are asking hard questions about our criminal-justice system." He then outlined three "principles" that his administration and the attorney general's office are pursuing:
"There's a recognition that our criminal-justice system should treat people fairly, regardless of wealth, race, station; that there has to be a consistency in the application of the law. I think that's an area where people agree."
Obama cited the differences in sentencing for users and dealers of crack cocaine versus powder cocaine as an area that his administration "had to reform" but which still merits further consideration.
"In any criminal-justice system, we want to make sure that the punishment fits the crime. And if we know that someone engaged in nonviolent drug crime, they should be punished, [but] their sentence should not be longer than a murderer or a rapist."
Obama said there must be "a recognition that incarceration is just one tool in how we think about reducing crime and violence and making our communities safe. And if that's the only tool we think we have, if we think we only have a hammer, then everything becomes a nail."
To draw out the point, Obama spoke of missed opportunities to make communities safer through effective drug-treatment facilities, emphasizing prevention among high school and younger kids, establishing rehab programs, and other non-criminalizing options. The president highlighted the importance of asking:
Key Takeaways
—Nearly 2.5 million Americans are in prison today.
—The prison population has increased fourfold since 1980.
—Crime is at its lowest rate in decades.
—2014 was the first time the prison population and crime rates went down in the same year.
—600,000 people are released from state and federal prisons every year.
"Where are we spending our money?"
"We're spending $80 billion on incarceration a year," Obama said, and he expanded on the need to focus on evidence-based approaches to fighting recidivism, initiatives to foster police-community relations, and funding that allows police to focus on truly dangerous offenders. In a nod to tensions that have arisen in the last two years due to increased charges of police brutality, he said, "There's been a healthy debate around police-community relations in light of some of the episodes."
Towards the end of the discussion, after the other two panelists had a chance to weigh in on some of the challenges faced by police and those responsible for administering justice, Obama became emphatic about one of the most-discussed topics today. 
#BlackLivesMatter
"I want to drive home one point, because this is one of those instances where politics intrudes," he said.
"The problem of racial justice or injustice in this country has been a running theme in this country for a long time. And we have to own it," he said.
"Black Lives Matter is a social-media movement that has tried to gel around Ferguson, the Eric Garner case, and very quickly it was posited as in opposition to the police. Sometimes, like any of these loose organizations, some people pop off and say dumb things," he added before coming to the defense of the unifying idea that has mobilized activists around the country.
"Let me just suggest this: I think everybody understands that all lives matter; everybody wants their kids to be safe when they're walking to school. … Organizers used the phrase 'black lives matter' because there's a specific problem happening in the African-American community that is not happening in other communities," the president continued.
"We, as a society, particularly given our history, have to take this seriously. … The African-American community is not just making this up. It's not just something being politicized. It's real. This is happening."
Following his comments, Obama thanked Keller and fellow panelists as well as the audience.
Watch the complete discussion here.
This article is part of our Next America: Criminal Justice project, which is supported by a grant from the John D. and Catherine T. MacArthur Foundation.
We want to hear what you think about this article. Submit a letter to the editor or write to letters@theatlantic.com.