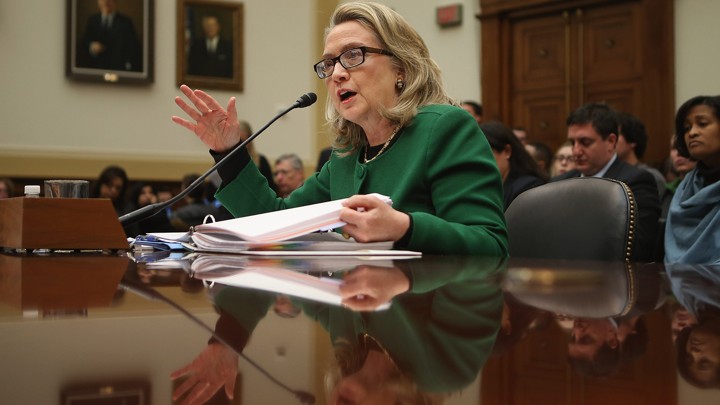 A Republican congressman says House Majority Leader Kevin McCarthy was telling the truth when he made the instantly famous suggestion that the House Select Committee on Benghazi is engineered to damage Hillary Clinton.
"Kevin McCarthy basically blew himself up with that comment over the Benghazi Committee. Sometimes the biggest sin you can commit in D.C. is to tell the truth," said Richard Hanna, a New York Republican, in a radio interview Wednesday.
"This may not be politically correct, but I think that there was a big part of this investigation that was designed to go after people and an individual, Hillary Clinton, and I think there is also a lot of it that is important, that we needed to get to the bottom of this," Hanna told the upstate station WIBX Wednesday morning.
The comments arrive just a week before Clinton is slated to testify before the panel on October 22 in what promises to be one of the presidential campaign's highest-profile events yet.
The Clinton campaign and its allies seized on the comments, which were highlighted by the left-leaning website ThinkProgress last night.
"House Republicans aren't even shy anymore about admitting that the Benghazi Committee is a partisan farce. ... Hillary Clinton will still attend next week's hearing, but at this point, Trey Gowdy's inquiry has zero credibility left," said campaign spokesman Brian Fallon, referring to the committee's chairman.
McCarthy threw the GOP-led Benghazi panel on the defensive two weeks ago when he credited the committee with damaging Clinton's poll numbers, remarks that gave heavy ammunition to Democrats who say the committee is a partisan weapon against her.
"Every­body thought Hil­lary Clin­ton was un­beat­able right? But we put to­geth­er a Benghazi spe­cial com­mit­tee. A se­lect com­mit­tee. What are her num­bers today?" Mc­Carthy said on Fox News in late September.
The comment, which McCarthy repeatedly walked back, was among the factors that damaged his bid to become House Speaker. He later withdrew from the race. Gowdy and other Republicans say the panel's work is not political and that the probe has examined multiple agencies and uncovered significant new information about the 2012 Benghazi attacks.
Key Republicans, from Gowdy up the leadership chain, have forcefully denied that the panel's motives are political.
"This investigation has never been about former Secretary of State Clinton and never will be," Speaker John Boehner said in a statement earlier this month, adding: "The American people deserve the truth about what happened in Benghazi. That's always been our focus, and that's going to remain our focus."
Rep. Mike Pompeo, a GOP member of the Benghazi panel, pushed back Thursday against the idea that the committee is designed to attack Clinton.
Speaking on MSNBC, he called the claim "just absurd" and "false on its face." Pompeo said the panel has broken new ground in its probe of the 2012 attack that killed four Americans including Ambassador Christopher Stevens, noting interviews with dozens of people that have not spoken to the other committees that investigated previously.
"We have an important mission to solve the riddle of how this preventable incident led to the death of four Americans and no one, to this day, has been held accountable for that," Pompeo said.
As for Hanna, a moderate three-term Republican, it's not the first time he has given an assist to the other party. In 2012, he suggested that women should donate money to Democrats.
In his comments about the Benghazi panel Wednesday, Hanna acknowledged that his view is from the outside, because he's not on the committee. But he added: "I have certainly watched the hearings and read some of the transcript. After what Kevin McCarthy said, it's difficult to accept that at least a part of it was not [political]. And I think that's the way Washington works, but you'd like to expect more from a committee that has spent millions of dollars and tons of time."
This story has been updated.
We want to hear what you think about this article. Submit a letter to the editor or write to letters@theatlantic.com.
Ben Geman
is an energy and environment correspondent at
National Journal