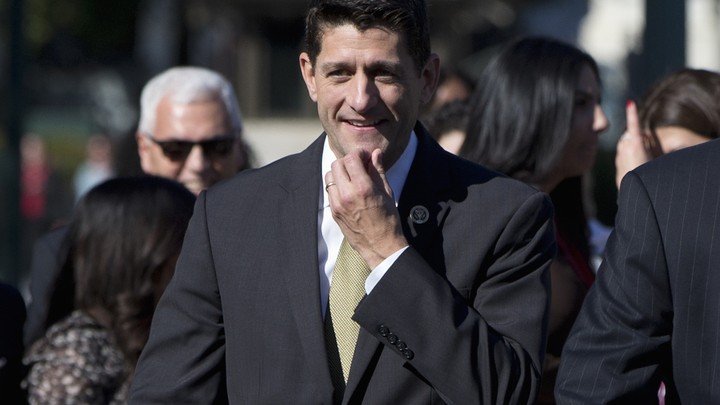 House Democrats have found a new boogeyman. Actually, he's not so new.
As Democrats send wistful goodbyes to outgoing House Speaker John Boehner, they're offering a less-warm welcome to the man slated to replace him. On immigration, the budget, and the federal workforce, GOP leader-to-be Paul Ryan is quickly becoming a chief Democratic villain in Washington.
Even before he takes the gavel—or gets elected by the House—Democrats' messaging on Ryan has quickly shifted. Once the "adult in the room" who represented the House's best chance at order, Ryan is now the budget-slashing fiend he was during his vice presidential campaign.
Of course, given conservatives' mistrust of anyone who reaches across the aisle, the Democratic attacks likely aren't keeping Ryan up at night.
"I'm hoping that [Ryan] will have his eye on responsibility, as in my view Speaker Boehner always did," House Minority Whip Steny Hoyer said last week. "I hope ... that he will pursue that. But his budgets do not give me a great deal of confidence that will be the case."
Others have been less subdued in their knocks on Ryan. "We know that the Ryan budget is very hostile toward federal employees," Rep. Chris Van Hollen told The Washington Post. Van Hollen is the ranking member on the Budget Committee formerly chaired by Ryan, and he's running for Senate in Maryland, a state with a large number of federal workers. "It would dramatically cut their effective pay. The Ryan budgets have always looked to federal employees as a piggy bank to be used to reduce the deficit rather than as an important resource to provide services to the American people."
Even Ryan's much-praised demand to not give up time with his family has some Democrats calling him a hypocrite for not supporting paid family leave. "Family leave is important for millions of Americans. Not just the Speaker of the House," said a video put out by the Democratic National Committee. Democratic women in the House have noted that Ryan's request may have been received less favorably were he not a man.
And Ryan's efforts to placate Republicans on immigration, by pledging not to deal with the issue during the remainder of President Obama's tenure, have Democrats on the attack as well. "Today we learned that Paul Ryan, who we expect will become the next House speaker, has vowed to not even bring up immigration reform until a new U.S. president takes office," House Democratic Caucus Chair Xavier Becerra said in a statement. "American families must take stock of who has their back in Congress and who's jeopardizing their well-being by setting an artificial timeline for fixing our broken immigration system."
The attacks on Ryan aren't new. While Budget Committee chairman and during his run for vice president, Democrats often criticized his policies as harmful for seniors and the poor. The "Ryan budget" became synonymous with a consequences-be-damned approach to slashing government at the expense of people.
But as the House fell into disarray, in the aftermath of a government shutdown, Ryan earned plaudits for helping negotiate a bipartisan budget deal with Sen. Patty Murray in 2013. He also backed immigration reform earlier that year.
And as the dysfunction worsened in the House, eventually leading to Boehner's resignation, Democrats saw in Ryan someone who could end the uncertainty and, given the alternatives, would be less likely to shut down the government and spurn compromise.
"We'd love to see Re­pub­lic­ans get their act to­geth­er and de­cide who they want to be their lead­er, be­cause that per­son will be­come the speak­er, and we need someone to run the House," Be­cerra said earlier this month. "[Ry­an has] proven him­self in so many dif­fer­ent ways. There is no doubt that he has the abil­ity to get some things done, oth­er­wise I don't think Re­pub­lic­ans would be con­sid­er­ing him. We wish him well in that re­gard."
Now that he's the GOP's heir apparent, however, Democrats are likely breathing a sigh of relief—and going back on the attack. Late Tuesday afternoon, House Minority Leader Nancy Pelosi's office sent out a Huffington Post story blasting Ryan for criticizing a budget he helped craft.
We want to hear what you think about this article. Submit a letter to the editor or write to letters@theatlantic.com.
Alex Brown
is a Congressional correspondent at
National Journal.