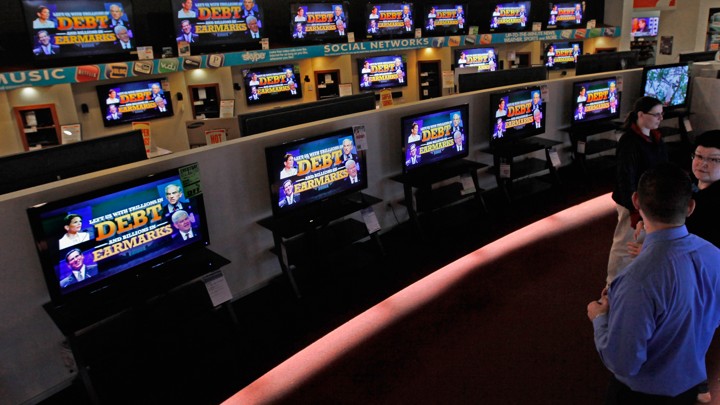 After complaints from some of its campaign customers, the biggest TV station in New Hampshire is changing the way it records political ad sales.
WMUR, an ABC affiliate based in Manchester, will do booming business this fall and winter as candidates for president and the super PACs supporting them spend millions of dollars on TV ads. But as the station took orders from political customers bent on getting their messages to voters, WMUR drew scrutiny for omitting certain information as it posted those contracts online, which federal rules require.
As reported by National Journal, WMUR stopped posting the rates it was quoting to political advertisers, an unusual move that hid key pricing information that campaigns typically use when negotiating their own ad rates. It also put the station in a legal gray area, since the Federal Communications Commission has never looked into an issue like this before. Media buyers and other industry observers said they had never seen a TV station omit its ad rates in posted contracts.
"They're try­ing to pro­tect their in­vent­ory be­cause they know they're go­ing to have a huge in­flux of or­ders," Betsy Vonderheid, the media director for the GOP consulting firm SRCP Media, said at the time.
WMUR, which insisted that it did nothing wrong, says it will publish its rates again when it posts contracts—but with the understanding that those prices may change as New Hampshire's February primary approaches and demand for limited airtime skyrockets.
"Campaign and PAC buyers are WMUR customers and at least some of them clearly would prefer that WMUR post planning rates as well as the final, mutually negotiated rate," Tom Campo, a spokesman for the station's parent company, said in a statement. "Going forward, WMUR will post planning rates but of necessity will accompany those with a disclaimer reminding buyers that those rates are subject to fluctuations based on the class of time actually purchased and final price actually established and agreed to by both parties."
The move comes just as presidential advertising in New Hampshire and other early states starts to get heavy after scattered spending over the summer. According to spending figures from NBC News, campaigns and super PACs are spending more than $4 million on TV advertising just this week, with the biggest chunk of that coming from Right to Rise, the pro-Jeb Bush super PAC.
We want to hear what you think about this article. Submit a letter to the editor or write to letters@theatlantic.com.
Scott Bland
is the editor of
National Journal
's House Race Hotline.