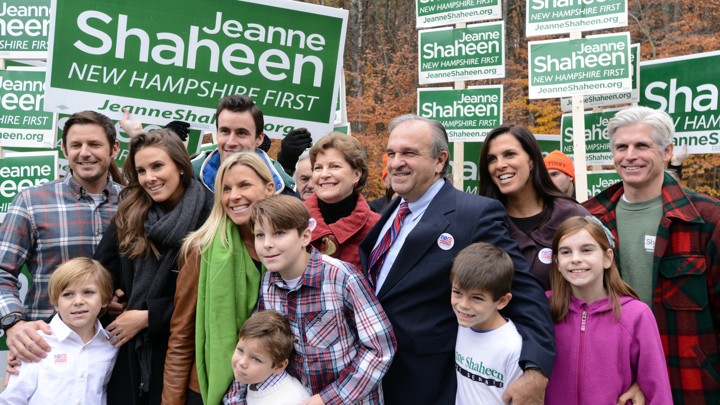 New Hampshire Gov. Maggie Hassan's decision to run for Senate next year leaves an open governor's race in 2016 that's already attracting attention and big names. And for New Hampshire Democrats, two interested candidates could create their most contested primary in years—with one of the state's biggest political names on the line.
Democrat Colin Van Ostern, an ambitious member of the state's five-member executive council, is expected to enter the race Thursday, according to multiple media reports. But Van Ostern could face primary competition from Portsmouth City Councilor Stefany Shaheen, the daughter of Sen. Jeanne Shaheen, who has said she'll make a decision "in the coming weeks."
Van Ostern has been viewed as a natural contender for higher office for years, but were Shaheen to run, she would be able to leverage the national political network and fundraising base built by her family, a huge asset in a race that's liable to get overshadowed by the Senate campaign, not to mention the presidential election.
Stefany Shaheen has spent decades involved in her mother's campaigns, most recently as a campaign surrogate during the 2014 cycle. Shaheen has also been busy promoting a book about her daughter's struggle with Type I diabetes. Since the book launched in August, her family's story has been featured on ABC News's Good Morning America and in People magazine, underscoring the media attention that Shaheen can win for a cause—or maybe a campaign—through her family ties.
On the GOP side, political scion Chris Sununu, another executive councilor and the son of another former governor, is already running. And a handful of other Democrats are said to be considering runs, including state Sen. Andrew Hosmer and businessman Mark Connolly, who could have the ability to self-fund part of a campaign.
Van Ostern said Shaheen's decision would have no bearing on his own. "I'll make an announcement in the coming days, based on how I can best help build a brighter future for the people of New Hampshire, and what's right for my family. Those are the only factors I'm focused on," Van Ostern said in a statement after Hassan announced her Senate run.
But, as New Hampshire Public Radio's Josh Rogers pointed out, a primary pitting Van Ostern and Shaheen could test Democratic loyalties. In fact, many New Hampshire Democrats were reluctant to talk on the record about the mere possibility of having to pick sides between a well-respected up-and-comer and the daughter of the state's most senior elected Democrat, citing close relationships with both and generally displaying discomfort.
"Stefany Shaheen, Colin Van Ostern, and Mark Connolly are all very attractive potential candidates for governor, and primary voters will have an interesting time deciding who to support," said Judy Reardon, a former legal counsel to Jeanne Shaheen.
Others said differences between them could come down to style versus substance.
"In terms of some … groups, I would imagine that they would not be very happy about having to try to decide between the two of them," according to one New Hampshire Democrat. "It would be a very tough primary, given that they're both very well liked by the Democratic base and the more establishment types."
Already, some signs of future Democratic fault lines have emerged. Rep. Ann McLane Kuster is a Van Ostern fan. The executive councilor managed Kuster's 2010 campaign, and in September, Kuster predicted to WMUR-TV, "At this time next year, he'll have six weeks to go in the gov­ernor's race." The Progressive Change Campaign Committee is also pro-Van Ostern, and it sent out an email earlier this year comparing him to Elizabeth Warren and encouraging him to run in an open race.
Meanwhile, EMILY's List, the Democratic women's group, is said to be encouraging Shaheen to run, but she might not necessarily win the backing of another major abortion-rights group; the local Planned Parenthood chapter has a strong relationship with Van Ostern.
Contested gubernatorial primaries aren't unusual for either party in New Hampshire. Former state Democratic Party chair Kathy Sullivan predicted that would be the case earlier this year if Hassan ran for Senate. Republican candidate Sununu has already declared his intention to run, but others are giving the GOP primary a fresh look since Hassan's Senate move.
Despite some of their famous names, none of the candidates are particularly well-known, though Sununu has the highest name identification, according to a University of New Hampshire poll out Tuesday. Even though Van Ostern holds the same office as Sununu, Shaheen was better-known in the poll—though two-thirds of respondents still said they didn't know enough about her to give an opinion.
This story has been updated with information about Van Ostern's gubernatorial announcement.
We want to hear what you think about this article. Submit a letter to the editor or write to letters@theatlantic.com.