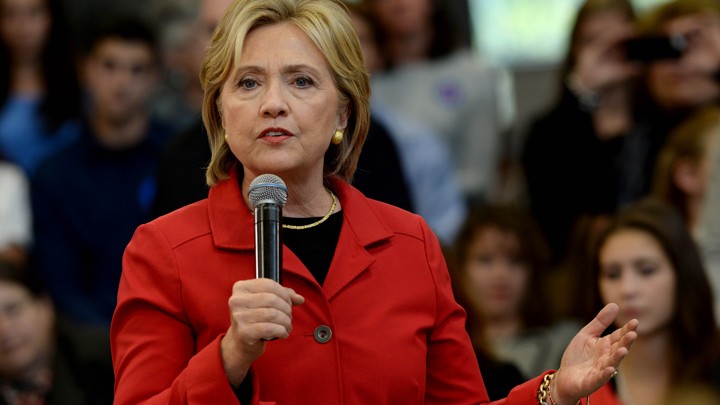 Hillary Clinton doesn't want voters to forget that a top Capitol Hill Republican last week credited the House Select Committee on Benghazi with hurting her presidential campaign.
Clinton's campaign is launching a new national cable TV ad that highlights the recent comments by House Majority Leader Kevin McCarthy—remarks that Democrats call proof that the GOP-led panel is designed as a political weapon against her.
"The Republicans finally admit it," states the narrator of the ad that will begin airing Tuesday. It then shows the remarks last week by McCarthy, who is seeking to become the next speaker of the House.
"Every­body thought Hil­lary Clin­ton was un­beat­able, right? But we put to­geth­er a Benghazi spe­cial com­mit­tee," Mc­Carthy said on Fox News late Tues­day night. "What are her num­bers today?"
The ad's narrator then states: "The Republicans have spent millions attacking Hillary because she's fighting for everything they oppose. From affordable health care to equal pay, she'll never stop fighting for you, and the Republicans know it."
The ad, according to The Washington Post, will begin airing Tuesday on CNN and MSNBC. Clinton's campaign did not respond to questions, and the size of the buy is not clear.
McCarthy pushed back Tuesday morning in a new emailed statement from his office.
"The mission of the Select Committee on Benghazi is to find the truth -- Period," said McCarthy spokesman Matt Sparks. "The integrity of Chairman Gowdy, the Committee and the work they've accomplished is beyond reproach. The serious questions Secretary Clinton faces are due entirely to her own decision to put classified information at risk and endanger our national security."
The ad is the latest sign that Democrats see an opening to politically undercut the Benghazi probe, which has focused heavily on her private email system, ahead of Clinton's high-profile testimony before the panel on Oct. 22.
McCarthy's has sought to walk back the comments, which have also complicated his race to replace the outgoing John Boehner as House speaker.
The remarks, which were badly out of step with long-standing GOP claims that the committee is not political, irked Republicans including Rep. Jason Chaffetz, who is mounting an uphill candidacy against McCarthy for the speaker's gavel.
While the email scandal has been damaging to Clinton's campaign, she and other Democrats see McCarthy's comment as a way to play offense.
A number of Capitol Hill Democrats have called for the Benghazi panel to be disbanded. Clinton attacked the panel in remarks on NBC's Today show earlier Monday.
"This com­mit­tee was set up, as they have ad­mit­ted, for the pur­pose of mak­ing a par­tis­an polit­ic­al is­sue out of the deaths of four Amer­ic­ans," she said.
This article has been updated.
We want to hear what you think about this article. Submit a letter to the editor or write to letters@theatlantic.com.
Ben Geman
is an energy and environment correspondent at
National Journal