New App by Daily Show Cocreator Aims at Politicians
Calling them out for "hypocrisy," Hinder spotlights leaders for their views and actions.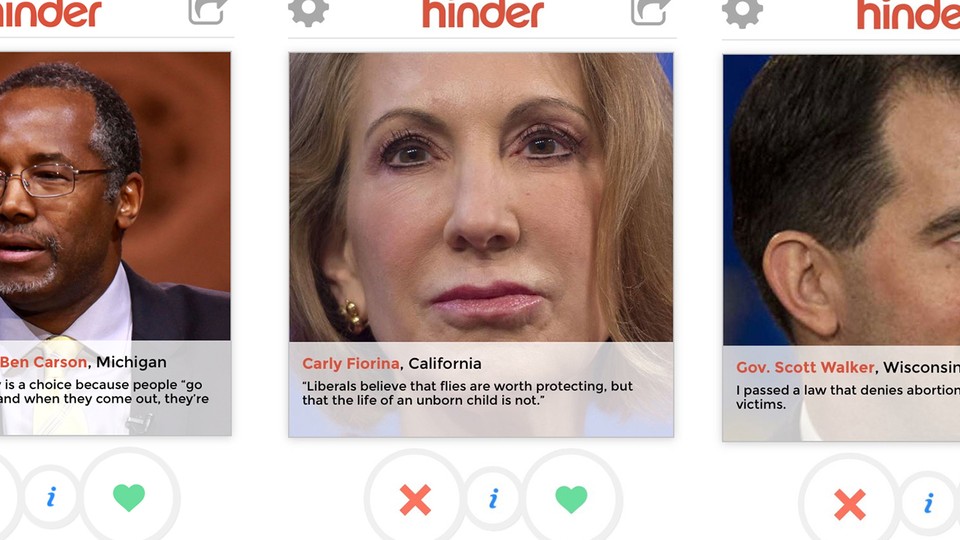 This weekend, you may want to ignore that guy or gal who messages three times in a row on a social app and instead, download Hinder, the app that aims to educate voters about politicians who have expressed antiwoman and anti-reproductive rights sentiments.
Hinder is structured just like the popular dating app Tinder, except that each profile swipe reveals a different politician and a real thing that they did or said.
Hinder is the brainchild of political satirist and Daily Show cocreator Lizz Winstead and her team at Lady Parts Justice, an organization intent on "exposing creeps hell-bent on destroying access to birth control and abortion."
One of the coolest parts of the app, according to Winstead, is that you can break it down by state.
When I used it for the first time, Hinder reminded me that presidential candidate Ben Carson, a native of my home state of Michigan, once said that he knew homosexuality was a choice because people "go into prison straight—and when they come out, they're gay."
"These people are not fringe," says Winstead, who hopes that the app lets people realize, "they actually hold a level of influence."
Since its launch last month, at least 2,000 people have download the app. Hinder launched with nearly 100 bios, and Winstead and her team are in the process of editing hundreds more to be added soon.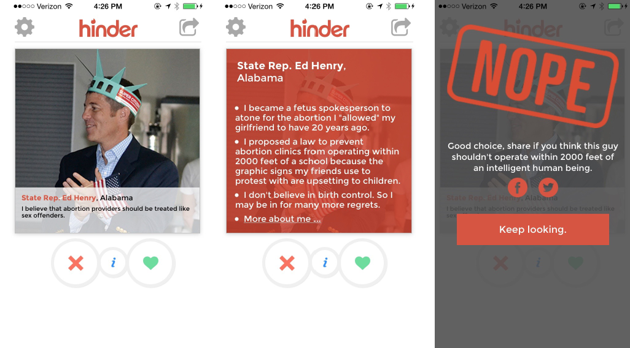 Their goal is for this kind of information to reach young female voters ahead of an election year where abortion access and Planned Parenthood are already big topics of debate. And Winstead hopes, too, that the app can be a gateway of sorts, for women to get further involved in the fight for reproductive rights by other means.
Another particular brand of humor in the app involves pointing out people like Olivia Gans Turner, the D.C.-based director of Americans Victims of Abortion who had an abortion herself before she created the organization.
"I think that with humor, you can point out that hypocrisy," says Winstead. "Ain't nobody got time for a lecture, so why not give people info in a way that's palatable and gets your ire up and gets you laughing."