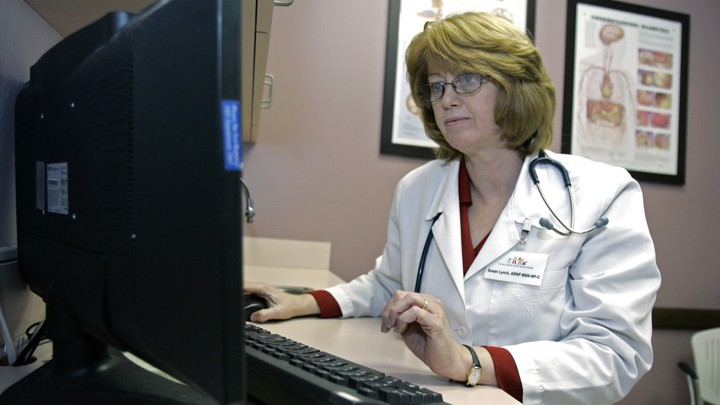 Christine Bechtel dropped off a copy of the Federal Register at her doctor's office. The consumer advocate was in the midst of a prolonged battle to obtain electronic copies of her health records from a primary care practice whose employees seemed befuddled when told they had to provide them.
So Bechtel showed them the rules, and by the end of the roughly two-week ordeal, she had two files of health data, albeit in a rather outdated medium: a CD-ROM.
Bechtel detailed her difficulties in getting her own patient data at a June Senate Health, Education, Labor, and Pensions Committee hearing, her anecdote serving as a snapshot of the problems plaguing electronic health records that the panel hopes to fix in a medical-innovation bill likely to be introduced this year.
Earlier this month, the committee polished off its sixth and final hearing on health information technology. It's the first time that the panel has examined health IT in depth since 2009, when the HITECH Act meant to encourage its adoption became law as part of the stimulus package and funnelled billions into health IT, Chairman Lamar Alexander said at the inaugural hearing. The hours of hearings shed light on electronic health-record systems that can't always exchange information between vendors, sometimes engage in information blocking, and don't consistently give patients easy access to their own health data.
In late April, Alexander and the panel's top Democrat, Patty Murray, announced full-committee working groups for staff, homing in on ways to improve electronic health records. Since then, the groups have held discussions with health providers, information-technology developers, and other experts in the health IT field—a way of learning what's really happening on the ground.
Since the hearings have come to a close, the working groups are setting priorities of items to be included in the bill, and through the panel's six hearings, they already have insight into members' thoughts on ways to advance electronic health records.
Alexander's statements and public remarks have noted that the committee has "been working with the administration diligently for months to develop seven areas of agreement for legislation to actually achieve interoperability." They are: Decreasing what he called "unnecessary physician documentation," letting patients have easy access to their records, having electronic health records be more accessible to the whole health-care team, halting information blocking, improving standards, bettering records' security and privacy, and making sure that a certification of a records system means what it says it does.
"We've really become very interested in electronic health care records, which are essential to precision medicine, which is the president's proposal, and to the shared goal of Congress and the president to change the way we pay doctors from fee-for-service to the quality of the service they deliver," the Tennessee Republican said in an interview. "And in both cases, having good, functioning electronic health care records helps the doctor do a better job of serving patients. And that program got off track."
At the last hearing, Murray said standards need to be developed so that doctors and hospitals can understand data even if it comes from a different electronic record system and from a different hospital. A "network of networks" needs to be created so that health providers can share information, she said, equating this with a Verizon cell-phone user being able to call a friend with a Sprint plan.   
And there are more top goals for the Washington state Democrat: Developing robust security, facilitating easy ways for providers to shop and compare electronic records systems, and helping patients have access to their health data.
"If you can easily look up and download your bank statement, you should be able to do the same with your medical history," Murray said at the final health IT hearing on Oct. 1. "But for far too many patients, these experiences are very different. … I think we can and must do better."
There's a bipartisan bill that addresses a portion of these concerns that HELP Committee members Bill Cassidy and Sheldon Whitehouse introduced in early October, and according to a HELP GOP aide, Alexander expects that many of their proposals could be incorporated into the committee's upcoming medical innovation bill. The Trust IT Act of 2015 aims to establish a health IT rating system so that customers can compare products, prohibit health IT vendors from information blocking, mandate products meet security and interoperability requirements, and more.
In addition, Alexander has criticized the administration's speed in rolling out a third stage of rules that provide financial incentives for the "meaningful use" of electronic health records. A September report by the congressional watchdog, the Government Accountability Office—a report that Alexander and some of the other Senate committee chairs requested—detailed trends culled from discussions with representatives from 18 nonfederal organizations working on the ability of electronic health-record systems to exchange information, known as interoperability. Representatives from 10 of these initiatives stated that the "meaningful use" program's requirements "divert resources and attention from other efforts to enable interoperability."
Alexander opposes rolling out the last set of rules at the timetable the administration has set. Yet it's unclear whether any changes would be wrapped into a larger medical-innovation package or a separate piece of legislation (and it could also be overturned through the Congressional Review Act).
In the meantime, the committee is focusing on improving health information technology—an attempt at creating a major medical-innovation bill both parties can support, just like the chairman and ranking member have done in the past.
We want to hear what you think about this article. Submit a letter to the editor or write to letters@theatlantic.com.
Rachal Roubein is a staff correspondent for National Journal covering Congress