Nashville's Plan to Close the Digital Divide
Local leaders want the benefits of new fiber Internet service to extend as far as possible.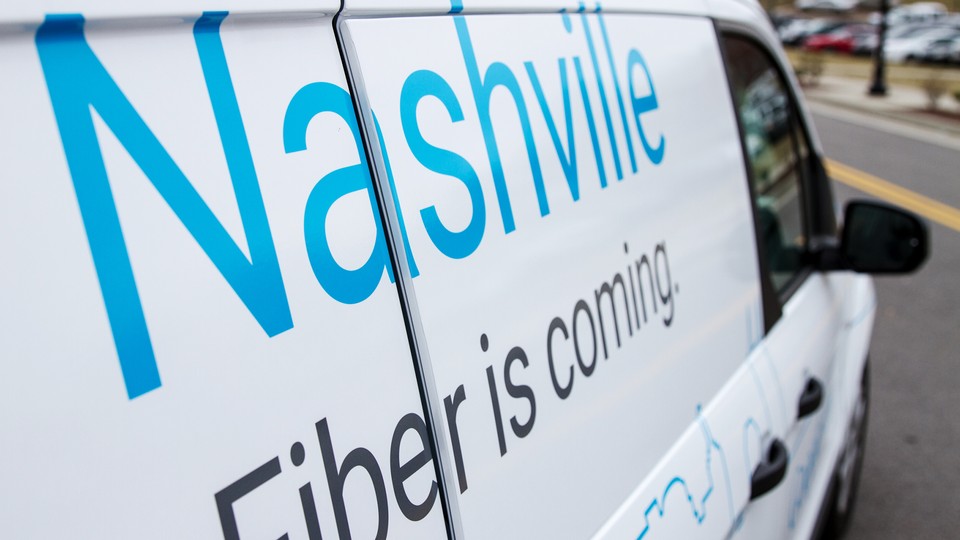 This article is from the archive of our partner

In a 1973 revision of his book Profiles of the Future, Arthur C. Clarke, the British science-fiction writer, established the third of his famous three laws: Any sufficiently advanced technology is indistinguishable from magic.
Clarke's law is a way of understanding the modern phenomenon known as the digital divide—the gap between those with access to the tools of the digital age and those without it. Access to an endless library of GIFs may not seem like the stuff of wizards, but the ability to look up directions, apply to college, or find a lawyer with a few keystrokes would have been inconceivable not long ago and sharply divides those who possess it from those who don't.
In Nashville, booming economic times have given rise to questions about who is being left behind by the digital revolution. According to the nonprofit Connected Nation, more than 54,000 households in Nashville lack Internet access. In 2012, Metro Nashville Public Schools found that 44 percent of local students were without Internet access at home.
The divide stretches across the nation; roughly half of low-income families in the United States can't access the Internet in their homes. A 2013 survey by the Pew Research Center found that 15 percent of Americans do not use the Internet at all, and another 9 percent don't use it at home. Some respondents said it wasn't relevant to their lives, others that it was difficult to use; others pointed to the expense of a computer and an Internet connection or simply the fact that these things weren't physically available to them. People over 65 account for almost half of America's non-Internet users.
In January, Google Fiber—the super-high-speed Internet service offered by the tech giant in select cities—announced it was expanding to four new metro areas. Nashville was one of them, along with Atlanta, Raleigh-Durham, and Charlotte. For Nashvillians, who had beat out competition from other cities, it was exciting, but it raised the prospect of a very unequal windfall.
Last month, at a press conference in the downtown branch of the Nashville Public Library, local officials announced the launch of a Digital Inclusion Fund, which will be overseen by the Community Foundation of Middle Tennessee. In his final budget as mayor earlier this year, Karl Dean—who was recently succeeded by Megan Barry, the first woman mayor in Nashville's history—quietly committed $100,000 to the fund. That amount was matched by Google, Comcast, and the local James Stephen Turner Family Foundation, giving the fund $400,000 from which to make grants to organizations committed to broadening digital access.
As part of the effort, Vanderbilt University Medical Center and Dell have partnered to give 3,800 computers to Nashville students from lower-income families.
"The cost of digital exclusion is enormous," Community Foundation President Ellen Lehman told the crowd at the launch. "Without access, full participation in nearly every aspect of American society is compromised."
The Nashville fund follows a similar model in Kansas City, which launched in 2013. Erica Swanson, Google Fiber's head of community impact, says one big difference in Nashville is the way the local government and the Community Foundation stepped up to launch the fund. There are other respects in which Nashville intends to depart from the earlier model. Two years after Google Fiber launched in Kansas City with a stated aim of closing the digital divide, only 10 percent of residents in six low-income neighborhoods had signed up for the service, The Wall Street Journal reported. Google Fiber's Andrew Bentley told the Nashville Scene in May that one of the lessons of Kansas City was the importance of working closely with organizations already doing this work on the ground.
Swanson says another lesson taken from previous efforts is the need to address head-on the barriers to access revealed in Pew's research.
"We think about them as three legs to a stool," Swanson says. "And so we need to find solutions that address that issue of affordable access, that address the issue of affordable devices, and that address the issues of digital literacy and relevance."
One way Google hopes to do that in Nashville is through an initiative that preceded the fund and will work in concert with it—a Digital Inclusion Fellowship, managed by the Nonprofit Technology Network (NTEN) and funded by Google Fiber. Two fellows have been hired, one at the Nashville Public Library and the other at the Martha O'Bryan Center, an anti-poverty nonprofit based in the Cayce Place public-housing development in one of Nashville's most economically depressed neighborhoods.
At Martha O'Bryan, work on a digital-literacy curriculum to incorporate in the center's adult-education program is already under way, as is the creation of a digital-literacy lab with existing computers and some donated by Google Fiber. Additional strategies will depend on what local organizations propose, get funded, and implement.
Whether Nashville will have more success closing the digital divide than other cities remains to be seen. If it does, it will be putting a powerful lever—not magic after all—into the hands of disadvantaged people.
"Making Internet access available and attainable for our community's citizens is a fundamental tool in the fight to break the cycle of poverty," Lehman said at the launch of the fund. "Together, hardware plus connectivity is the great equalizer of our time."
This article is from the archive of our partner CityLab.