Moderate Republicans' Threat: Paul Ryan for Speaker—or We Quit
Confusion over who the next speaker could be is throwing a wrench into Republicans' plans to protect the party's less conservative members, many of whom represent battleground districts.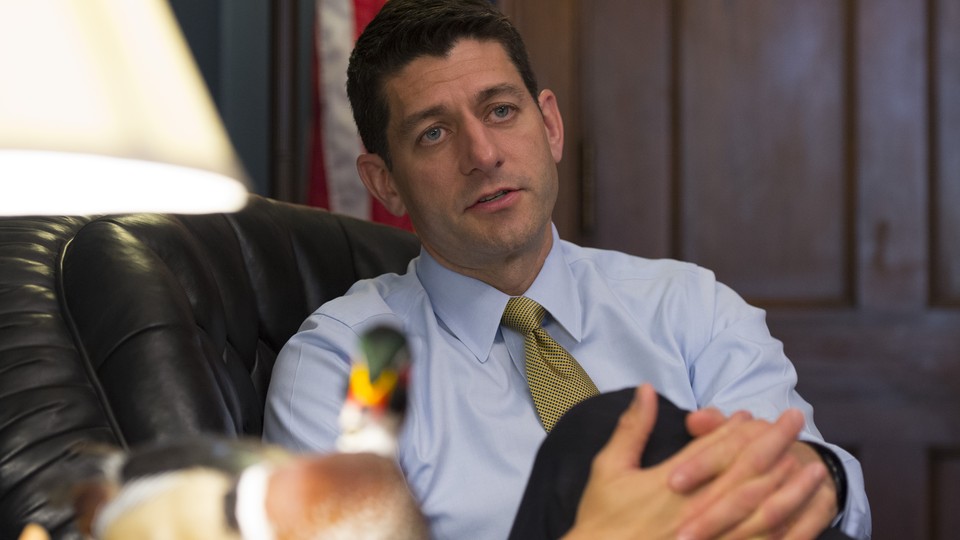 Some Republicans are so desperate for Paul Ryan to step up as the next speaker of the House that they've started talking about retiring if he doesn't, according to a group that works on behalf of the House GOP's more moderate members.
After Ryan, those members have no second choice or even a second tier of potential speakers, said Sarah Chamberlain, chief operating and financial officer for the Republican Main Street Partnership, a group that backs "mainstream" Republicans and plans to spend millions helping them protect their House seats in 2016.
"Depending on how this shakes out, you may see some Main Street members retire," Chamberlain said in an interview. "… They're hoping for a Ryan-type candidate. But if it's not and it becomes a huge mess, why be sitting here?"
Pennsylvania Republican Rep. Charlie Dent said he's currently not talking about retirement, but he said that between the speaker's race, the presidential campaign, and the numerous battles that House Republicans face, he may reconsider. If the House has another fight over Planned Parenthood and nears a shutdown on Dec. 11, little more than two months after House conservatives derailed Kevin McCarthy's bid for the speakership, Dent said he could change his mind.
"I'm preparing as if I'm running for reelection right now. But we'll see what happens. The next two months are going to be pretty intense," Dent said.
Dent and New York Republican Rep. Peter King—who said he personally "would never consider it because you can't give in"—also confirmed that other members have talked about retiring, depending on the outcome of the speaker's race.
"A lot has been put on hold in both ways—people deciding to run again, or not run again," King said.
So far, Ryan has said he is not running for speaker, but members are trying to change his mind. If Ryan continues to decline and there's even more uncertainty about party leadership, it could be a drag on Republican fundraising, Chamberlain said.
"If Ryan says next week that he'll do it, I don't think there'll be a dip at all," she said. "… If it's not Ryan, probably there will be a small dip, until we figure out who will come out as the head of the party."
That's especially important to Republican groups like Main Street, which was started by former Rep. Steve LaTourette of Ohio and defends centrist Republicans from primary- and general-election challenges. With a historically large majority, Republicans find themselves defending a high number of moderates who represent districts that favor Democrats, such as Rep. John Katko of New York and Rep. Robert Dold of Illinois.
To help defend that majority, the Republican Main Street Partnership and the Defending Main Street super PAC will spend $10 million to $12 million this cycle, Chamberlain said. But before the groups can defend Republican-held swing districts, they have to defend Republicans against tea-party-aligned primary challengers. The top targets: Rep. Renee Ellmers of North Carolina and Rep. David Joyce of Ohio.
Ellmers, who has three primary challengers, has become such a target that she's already been at the center of a minor ad war. Main Street's nonprofit group, Main Street Advocacy, and the leadership-aligned American Action Network ran radio and TV ads, respectively, thanking Ellmers for voting to fund the Homeland Security Department earlier this year. The Club for Growth, meanwhile, ran TV ads against her for voting to renew the Export-Import Bank.
Ellmers also found herself in the national news this month when McCarthy dropped out of the speaker's race and national media outlets, following conservative news site GotNews.com, reported on rumors of an affair between the two. Both lawmakers denied the affair, and Chamberlain said she's confident there's nothing to it.
Still, there's plenty of ammunition for Ellmers's opponents: Chatham County GOP Chairman Jim Duncan, former state GOP spokeswoman Kay Daly, and 2014 challenger Frank Roche, whom Ellmers beat by 17 percentage points. Roche announced his candidacy soon after Ellmers led the Republican charge against an antiabortion bill that would ban late-term abortions for rape victims unless they reported the rape to law enforcement. Chamberlain said she expects that vote to be the biggest sticking point in Ellmers's reelection bid, but said Ellmers is "the most pro-life" of any Main Street member.
"Clearly she knows she's vulnerable in that area and they're going to have to do something to protect her on that," said Sean Moser, a spokesman for Duncan's campaign.
Joyce, meanwhile, faces the same challenger he beat by 10 percentage points in 2014: former state Rep. Matt Lynch. Lynch got into the race late last cycle—filing his statement of candidacy in February 2014—but is more well-prepared this time, said spokeswoman Karen Quay.
Quay also said Joyce's support from unions will be a campaign topic—and Main Street's support won't help him there. The Republican Main Street Partnership PAC has gotten $63,750 from unions this so year, nearly 10 percent of its total fundraising haul. The group has also brought in much more from labor-aligned trade associations and nonprofits.
"[T]hose donations are not surprising," said Doug Sachtleben, spokesman for the Club for Growth, in an email. The Club has not made an endorsement yet in either race. "What establishment Republicans and labor unions have in common is the desire for bigger government."
Main Street is happy to have the support of the unions that back moderate Republicans, Chamberlain said, saying attacks over their ties are misguided.
"It's the firefighters. It's air traffic controllers. It's airline pilots. … We do not take money from the SEIU and some of those unions" that heavily favor Democrats, she said. "You're going to see more union money in there this cycle. And as a Republican, I think we should be welcoming (that)."
Main Street may have a third high-profile primary brewing in New York, where Rep. Richard Hanna is likely to face another repeat challenger, state Assemblywoman Claudia Tenney, Chamberlain said. Hanna beat Tenney by 7 percentage points in 2014 but hasn't endeared himself to party members lately: Last week, Hanna said in a radio interview that Kevin McCarthy's gaffe on the House Select Committee on Benghazi was more than just a slip of the tongue.
"There was a big part of this investigation that was designed to go after people and an individual, Hillary Clinton," he said.
Hanna represents a moderate district in upstate New York and has equally centrist politics: His support for same-sex marriage was a major topic in his 2014 primary, and Chamberlain said his abortion-rights stances will probably be the subject of attacks.
"I don't use the word 'moderate,' but if you were to use the word 'moderate,' Richard Hanna is the poster child for 'moderate,'" she said.