Moderate Democrats Confident Clinton Would Govern From the Middle
Leaders of centrist think tank Third Way say they hope she won't make the same mistake Mitt Romney did.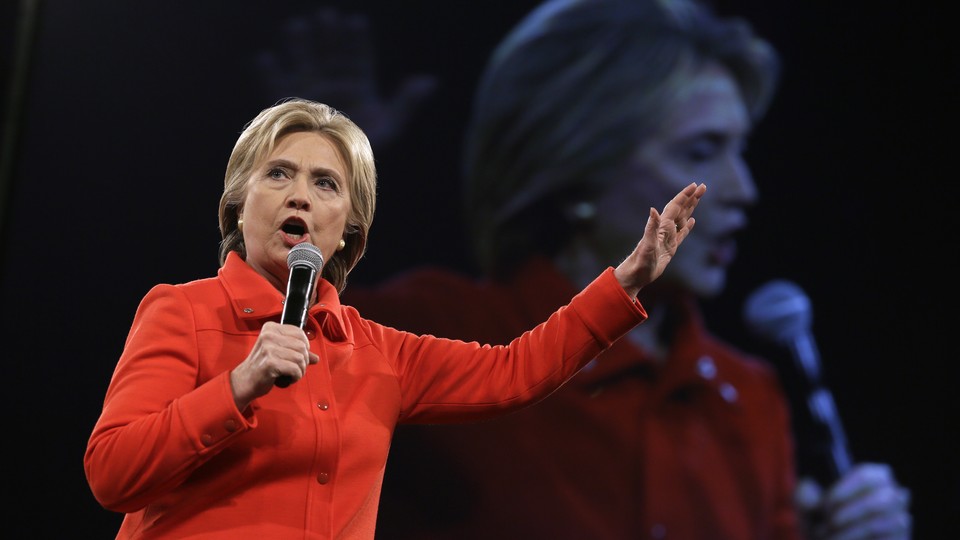 On the campaign trail, Hillary Clinton's tone has become more populist, but moderate Democrats are confident she would govern as a centrist.
At an event on Wednesday at Third Way, the centrist organization's president, Jon Cowan, was flanked by Delaware Gov. Jack Markell and Democratic leaders from the Clinton era to announce an alternative economic plan in response to the populist approach pushed by Sen. Bernie Sanders, Clinton's main opponent in the Democratic presidential primaries.
"The evidence is in: Populism has simply tanked with the middle class," Cowan said in his opening remarks. In particular, he criticized recent proposals such as raising the minimum wage to $15 an hour, imposing a single-payer health care plan, and "giving more Social Security benefits to well-off seniors."
Many of these are ideas that Sanders has championed. Third Way's email about the event targeted the senator from Vermont, saying that "many of the ideas offered by Bernie Sanders and the like would be ruinous for the economy without helping the middle class," and speakers at the event said populism would hurt Democrats' chances to win elections on both the national and state level.
Cowan noted that many candidates find it very difficult to run toward the base of the party and then pivot back to the center in the general election.
"If you cross that invisible line and go too far left or too far right, you end up where Mitt Romney ended up," Cowan said in response to a question from National Journal. "We'll leave it up to [Clinton] to decide what label she'd like to stick to herself, whether it's a moderate, whether it's a progressive who gets things done—sounds like a moderate to me."
The clearest and most recent example of Clinton moving leftward has been her position on the Trans-Pacific Partnership. She previously characterized the trade deal as the "gold standard" in free, transparent, and fair trade before she ultimately came out against it.
"Nobody ever lost an election because they've gone against trade," said William Daley, former Commerce secretary under Bill Clinton and Barack Obama's former chief of staff, at the event. He noted that Third Way supports the TPP.
But Cowan pointed out that while he and the organization backed the TPP, Clinton's newfound opposition to the 12-nation agreement was not crossing a line. He said that in 2008, both Obama and Clinton opposed trade agreements.
"If she called for a $15 trillion single-payer system, if she called for a $15 minimum wage, those are the kinds of things where you would be crossing the line," Cowan said.
Daley said Clinton would govern as a moderate.
"If she wants to pass anything, yeah, definitely, because, I think she is a doer," Daley told National Journal. "You can't govern as president just by 'Eat it.'"
Elaine Kamarck, one of the cofounders of the New Democrats and a senior fellow of governance studies at the Brookings Institution, said she thinks Clinton is very much a Third-Way-type politician.
"She's very cognizant of not letting your politics cut off what's going to be a governing agenda," Kamarck said. "And so that's what she's about, and she's very concerned about government."
Cowan said that in recent election cycles, Democrats have tried running on populist themes, arguing that the deck is stacked against the middle class and the political system is "rigged"—a theme repeated by progressive favorite Elizabeth Warren, who many on the Left wanted to run for president.
In late 2013, Third Way clashed with Warren and other populist progressives, writing an op-ed calling plans to expand Social Security "exhibit A of populist political and economic fantasy."
While Clinton is the front-runner for the Democratic nomination, it's not clear how she would campaign as the nominee or how she would govern as president. Third Way Democrats hope she puts the populist rhetoric she has adopted of late to the side and governs, if elected, from the middle. Progressives want the opposite—to see her populist positions manifest themselves in a governing agenda.