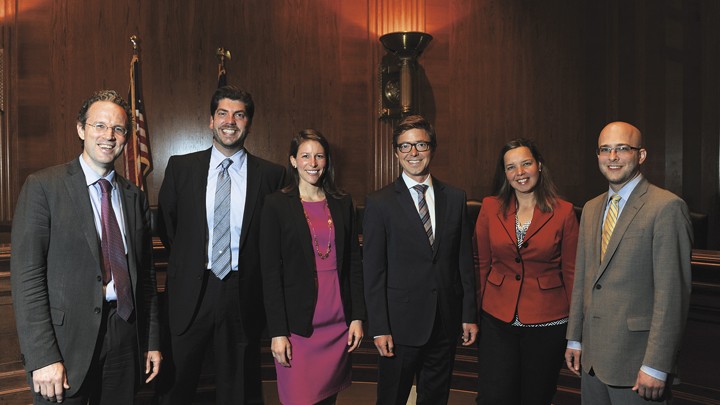 Evan Schatz
Minority Staff Director
Schatz is the behind-the-scenes leader of the staff for a senator who's known for her negotiating chops. And throughout his tenure with Sen. Patty Murray, he's managed those efforts, notably the bipartisan negotiations that led to the Murray-Ryan budget deal.
For more than a decade, Schatz has been a member of Murray's staff, holding a variety of titles, from legislative assistant to legislative director, deputy chief of staff to Budget Committee staff director, and to his current post as the Health, Education, Labor, and Pensions Committee minority staff director.
For almost five years before joining Murray's staff, this Western Washington University alumnus, who graduated with a degree in political science, worked on the Hill for another Washington state member, Rep. Rick Larsen.
As the committee's Democratic staff director, he's tasked with working with Murray as she tries to find a consensus on higher education, medical innovation, mental health, early-childhood education, and fixes to the K-12 education system.
"While many issues the Committee faces are inherently partisan, I hope that Chairman [Lamar] Alexander and Ranking Member Murray can continue to balance fighting hard on partisan issues while still forging between themselves and others pragmatic solutions around areas where bipartisanship is possible," Schatz wrote in an email.
Before Schatz came to D.C., he worked as an innkeeper in Maine for more than a year, managing a 14-room bed-and-breakfast and catering company.
Nick Bath
Health Policy Director
Bath is a HELP Committee lifer.
That's in terms of his time on Capitol Hill, which began in 2006. He graduated from Williams College with a bachelor's in English and, after trying to become a classical pianist—a career path that didn't pan out for him—he went to Harvard Law School. Before coming to Capitol Hill, Bath worked as a lawyer at a New York firm as well as for several campaigns.
In 2006, Bath came to the HELP Committee and began working with Chairman Edward Kennedy, then with Chairman Tom Harkin, and now with Murray. Bath played a role in the passage of President Obama's signature health care law, serving as a staffer for Sen. Sheldon Whitehouse during the panel's markup of the bill.
As the minority's health policy director, he's charged with supporting Murray's priorities on a litany of issues, from the Affordable Care Act to the Food and Drug Administration, from mental health to public health, and much more.
"We're rolling up our sleeves and working hard on the bipartisan medical innovation initiative Sen. Murray and Sen. Alexander launched earlier this year—through working groups that include all committee members," Bath wrote in an email. He added that other bipartisan priorities include mental health and health IT, and that he's "hopeful we can make progress on each."
Letty Mederos
Labor Policy Director
Mederos grew up in Cuba, but has fallen in love with the American West. She has a hope: for all the bills she's worked on to be signed into law by the next president (a Democrat) and to then retire in Montana with her horse in tow.
But to be clear, the labor policy director has plenty of aspirations for this congressional session, too: "Wouldn't it be great if the Republican Majority moved a bill to raise the minimum wage to $12 by 2020 this Congress? I do hope for that," Mederos wrote in an email. "But perhaps my biggest hope is that bipartisanship on the Committee can extend to policies that support workers and their economic security—instead of getting bogged down in partisan politics."
Mederos went to Florida International University for a bachelor's in history and received a master's in history from Rutgers.
She's worked on labor issues for most of her career on Capitol Hill, which began in 1998. For nearly 10 years, Mederos worked for Rep. Rosa DeLauro on social policy, labor, health and human services, and education appropriations. Before coming to the HELP Committee, Mederos served as the House Education and the Workforce Committee's labor director under the panel's former top Democrat, Rep. George Miller.
After Miller retired at the end of last session, Murray's office was a next step that just made sense, and the Washington senator, as Mederos puts it, is "championing the same issues I care deeply about such as raising the minimum wage, equal pay, and paid sick days." Mederos is helping advance these priorities and more.
Sarah Bolton
Education Policy Director
In July, the Senate got behind one sweeping bill: a No Child Left Behind rewrite. And the kicker? The vote was 81 to 17.
But what isn't seen is the countless hours the majority and minority committee's education staff spent hammering out a piece of legislation that could pass the HELP Committee unanimously. Helping lead the Democratic staff was Bolton, its education policy director, who crafts legislation and analyzes all levels of education policy for Murray.
Bolton, an Appalachian State University alumna who graduated with a degree in English, went on to receive a master's in higher education and student affairs from the University of South Carolina. During her last semester of graduate school in 2007, she interned in the office of Rep. James Clyburn, then the House majority whip. Later that year, she began her professional career on the Hill as Budget Committee staff assistant; in 2009 she moved to Murray's personal office, and then moved to the Budget Committee under Murray's chairmanship, where, she writes, she "saw firsthand the passion and commitment [Murray] has for education and children's issues."
The education policy director's main hope isn't a surprising one: She hopes that the full Congress can pass legislation replacing No Child Left Behind.
"Senator Murray and I have heard from so many students, parents, teachers and administrators in Washington state and around the country—and they deserve for Congress to buckle down and get this long-overdue bill passed this year," Bolton wrote.
And in what spare time she has, she's training for her fourth marathon.
John Righter
Deputy Staff Director
When Murray was named Budget Committee chairwoman for the 113th Congress, Righter said his decision to stay with the panel was easy.
That's because, in Righter's words, he'd "seen up close how Sen. Murray approaches issues, manages the legislative process, and solves problems." And when Murray became ranking member of the HELP Committee this year, Righter moved along with her.
As the deputy staff director, he coordinates, facilitates, and oversees the committee's daily policy and administrative operations. His hope for the committee is that it continues with what it started—writing legislation in a bipartisan fashion.
"Even in the current, highly-charged political environment, I am hopeful the committee will continue working in a productive, bipartisan manner, as it did with the Every Child Achieves Act, to make progress on many of the key issues facing families, workers, and communities," Righter wrote in an email.
The Senate side of the Capitol has been Righter's workplace for almost 15 years, and before that, he worked from 1995 to 2001 as a budget analyst in the Congressional Budget Office. He graduated from Texas A&M University with a bachelor's in political science and went on to Austin, where he received a master's of public affairs from the University of Texas.
He and his wife, Jess, have a 2-year-old daughter, Cameryn, who Righter calls "endlessly fun and rewarding." And in his spare time, he plays the bass guitar and is a big music fan. The genre? "The heavier and crazier the style, the better."
Eli Zupnick
Communications Director
Murray isn't the lawmaker who Americans will see making the Sunday show rounds. She's not the one striving to get her name in every story in every paper.
Her communications strategy goes like this: "She wants communications and press to be used to help drive policies," Zupnick wrote in an email, "and outcomes that she cares about and that actually help people and move the country in the right direction—and that's what she expects us on her communications team to work toward every day."
And Zupnick is the one in charge, having served as communications director since May 2014. He oversees communications in Murray's personal office, Democratic leadership office, and on the HELP Committee minority side.
"Our work on the communications team is driven by Senator Murray's passion for bringing the voices, priorities, and values of families who don't always get heard into the policymaking and legislative process," Zupnick wrote.
Zupnick is a Queens College alumnus with a bachelor's in political science and philosophy. In 2009, he began working with Murray, first as her deputy press secretary and then, starting in 2011, as press secretary, focusing on press in Washington state and acting as press lead for Murray on the Joint Select Committee on Deficit Reduction.
When Murray took over the Budget Committee chairmanship for the 113th Congress, Zupnick followed her there, working on her communications on several high-profile issues: the Senate Democratic Budget rollout and passage, the October 2013 government shutdown, and the Murray-Ryan budget deal.
Prior to coming to the Senate, he worked on campaigns, including President Obama's 2008 bid, and took breaks from the upper chamber to work on Murray's reelection race, Sen. Chris Murphy's election, and former Rep. Bruce Braley's Senate campaign.
We want to hear what you think about this article. Submit a letter to the editor or write to letters@theatlantic.com.
Rachal Roubein is a staff correspondent for National Journal covering Congress