Meet the Senate HELP Committee's Majority Staff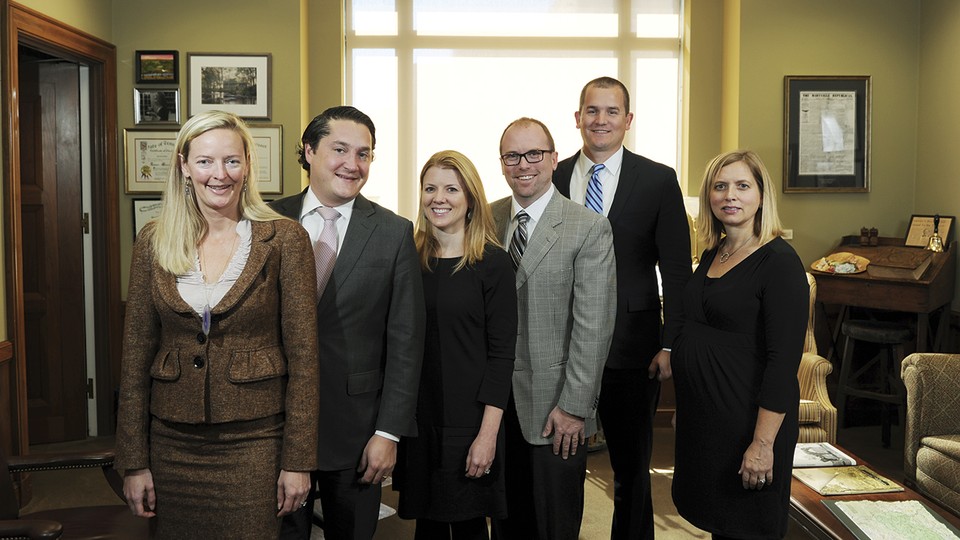 David Cleary
Majority Staff Director
Although the less artistically inclined might describe Cleary as a translator of sorts, breaking complex policy ideas down into understandable language, Help Chairman Sen. Lamar Alexander refers to Cleary as the conductor of his orchestra. "My job is to keep the tempo of the staff moving in an upbeat manner, playing in harmony, and on key," Cleary says.
Cleary manages the staff in both the committee and Alexander's personal office, providing guidance to the policy teams as they develop legislation, talking points, fact sheets, and other tools for the senator to use. He's there, he says, "to help the chairman get results. He's not here to make a bunch of pretty speeches."
Education has been a red thread in much of Cleary's work. He came to the Hill after starting his career at the Education Department, beginning in John Boehner's office, who was then chairman of the House Education and the Workforce Committee. He's been with Alexander for almost 10 years.
Cleary hopes that the committee continues to be productive in its work on No Child Left Behind, reauthorizing a higher-education bill and reforming the FDA and NIH.
When asked about his fears, on the other hand, the list is short. "Fears are for other people," Cleary says. "If you put in solid work, work for a smart, decisive, creative, and just plain decent man like Lamar, there's nothing to fear. We have fun every day doing pretty neat jobs."
Lindsey Seidman
Deputy Staff Director
Seidman began working for Alexander the Monday after she graduated from Vanderbilt University, employed as a staff assistant on the former governor's Senate campaign in 2002. He's the only boss she's had. Since graduation, she's moved up the office chain of command from an assistant scheduler to her current position. "I meant to be here two years but, well, still here," she said. "It was really fun and I kept getting promoted."
Seidman's day-to-day job involves a lot of coordination and planning, both among committee staff and with the minority staff as well. She works with the staff director and policy leads to set the chairman's goals and agenda, with the minority staff to schedule committee business, and in her spare time she works on special projects and policy, mainly in the pensions and retirement arena.
This year, she'd like to see the committee's revised No Child Left Behind Law signed into law and move forward medical innovation legislation. As an SEC football fan, she'd also like to beat her husband and the other men in her fantasy-football league for the second year in a row, although "so far, things are not looking that direction, but I'm still in the mix."
She sees the committee's work on the education bill earlier this year as a major accomplishment. After the bill passed on the floor, both the majority and minority teams went out to drinks together. "We don't always agree, but at the end of the day, we're very professional and friendly," she said.
Mary-Sumpter Lapinski
Health Policy Director
Lapinski has been Lamar Alexander's lead staffer on health for eight years. While she technically works for the HELP Committee now, she still advises the senator on a variety of health issues, including private and public health insurance, public health, medical-product regulation, health information technology, and global health.
Although this is Lapinksi's longest stint on Capitol Hill, it's not her first—and it's not even her first time working on the HELP committee. She worked on the Public Health Subcommittee under Sen. Bill Frist, and prior to that in the office of Rep. Van Hilleary. She has also worked off the Hill as a manager for Bristol-Myers Squibb, a pharmaceutical company, and as a government affairs director at Jeffrey J. Kimbell & Associates, a federal affairs and political strategy firm specializing in health care. "I have managed to be in the right place at the right time and recognized good opportunities when they come along," she says.
She has a Bachelor of Arts in English and French from Vanderbilt University. Her propensity for French perhaps stems from a family challenge: Her grandmother once promised she'd take Lapinski to France with her if she learned the language, so she did.
Peter Oppenheim
Education Policy Director and Counsel
So far, this has been a busy Congress for Oppenheim: As the HELP Committee's education-policy director and counsel, he's been swamped with the committee's major bipartisan effort to fix No Child Left Behind for the first time in seven years.
Oppenheim has been Alexander's lead education staffer since 2011. His job description includes overseeing the committee's education team and advising the chairman on education and workforce development policy issues. His focus on education is broad and includes early-childhood education, elementary and secondary education, higher education, and career and technical education.
He says he got to where he is "through a combination of good luck, being in the right place at the right time, and seizing good opportunities." Prior to working for Alexander, Oppenheim held multiple positions at the Carmen Group, a federal lobbying, government relations, and business consulting firm.
His Hill days date back to while he was in high school, when he interned for Rep. Connie Morella. Since then, he's earned a Bachelor of Arts from Colby College, a law degree from American University, and a certificate in French culinary techniques from L'Academie de Cuisine.
Jim Jeffries
Communications Director
Jeffries has outlived standard Capitol Hill turnover rates because he has always believed in his work, but his work on the HELP Committee has taken on particular personal significance since the birth of his three sons, the eldest of which is in kindergarten.
"I would really like to see the bill to fix No Child Left Behind signed into law this year. It's important for the country, and it's one of Alexander's top priorities, so of course I want to see him and his committee succeed here—but I'm also a father of three young boys, so I guess good policy has become a little more personal," Jeffries said.
When Jeffries interviewed for a job as Alexander's press secretary nearly seven years ago, he was given a job description that has not changed much since then. The senator said he knew what he believed in and how to say it; he needed his press staff to make sure constituents and others know about those priorities and what he's doing about them. Jeffries started working on the Hill as an intern with his hometown congressman, and although he never thought he would stay for longer than a year, that internship turned into a full-time job and then jobs in other congressional offices before he ended up with Alexander. He says he's stuck around not only because he's doing communications for a cause he cares about, but he also "just can't help but really enjoy the debate" and political discussion.
Jeffries is from San Leandro, California, and has a Bachelor of Arts in political science from Brigham Young University.
Kyle Fortson
Labor Policy Director
Fortson has worked for the HELP Committee for 10 years and under three chairmen. Though eight of these years were spent in the minority, she also worked in the committee under Chairmen Judd Gregg and Mike Enzi, when Republicans were in the majority.
Fortson began working on Capitol Hill right after she graduated from law school, beginning on the House side at the Judiciary Committee and moving to the Senate in 2001. As the committee's labor-policy director, Fortson oversees labor, employment, and workplace-safety issues on the committee. Day-to-day, she works on National Labor Relations Board issues, employment rules, and regulations that the Labor Department is proposing. "We spend a lot of time doing oversight," she says.
Although Fortson did not attend the University of Alabama, being from Tuscaloosa, she roots for the team. She did attend the University of Colorado for undergraduate and then went to George Washington University Law School. Since moving to D.C., she has become involved with dog rescue, helping dogs that were left in rural shelters find homes. She has a rescue poodle-mix of her own.