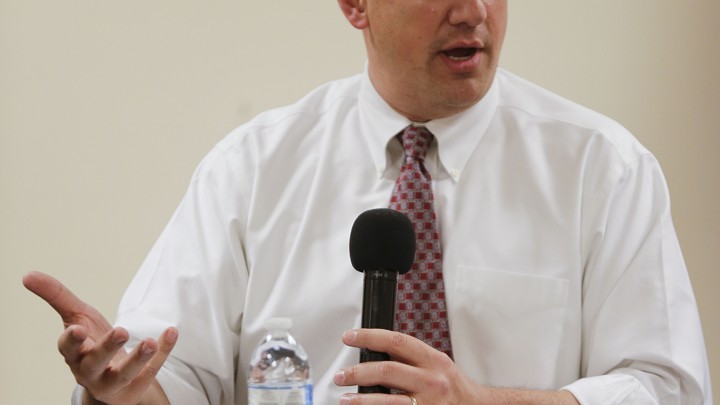 Amid a crackdown from state regulators and under the microscope in Washington, the fantasy-sports industry is adding a high-profile lawyer to its roster to try to show it can be trusted to police itself.
The trade group representing fantasy sports announced Wednesday that it will create an independent self-regulating agency. The Fantasy Sports Control Agency will be headed by Seth Harris, a former deputy Labor Department secretary under President Obama who led the department on an acting basis for a year.
The independent agency, housed under the Fantasy Sports Trade Association, is meant to develop standards to deter illegal and unethical behavior in the fantasy-sports industry and set up auditing and enforcement procedures. That's a way to head off scrutiny from federal and state officials following some high-profile scandals.
But it's also a sign that fantasy sports is no longer just a part-time distraction for sports nerds—it's now a massive industry that has to play the Washington game.
"There's a wide recognition that the industry has grown up and really changed," Harris told National Journal. "There are now billions of dollars in revenue, tens of millions of players online, and business partners that are major sports leagues and high-profile media companies. There's a recognition by investors and by the companies that the industry needs to start taking responsibility."
Harris said the new agency would impose some order on the industry, such as cracking down on allegations of insider trading and ensuring that players are of legal age and not abusing the system.
Its creation also comes at a perilous time for the fantasy industry. Sites such as DraftKings and FanDuel, where users pay to participate in a cash prize contest on a daily or weekly basis rather than over the course of a season, are suddenly booming and attracting the eye of the government. Democrats on the House Energy and Commerce Committee, including ranking member Frank Pallone of New Jersey, have called for a hearing on the sites, charging that they're akin to gambling and should be subject to more regulation.
Earlier this month, Nevada barred daily fantasy, saying that it was gambling and required a license to operate in the state. The Massachusetts Gaming Commission is set to consider the issue as well this week, joining other states, such as Illinois, that are reviewing the industry. The Justice Department and the New York attorney general have also opened up an investigation into the sites after it was revealed that a DraftKings employee with access to the site's data had won $350,000 on the competing site FanDuel (the site claims the employee did not have access to the information while playing on FanDuel).
In response, the industry has started staffing up in Washington. Fan­Duel has hired the lob­by­ing firm Step­toe & John­son to rep­res­ent them, and DraftK­ings is re­tain­ing the law firm Green­berg Traurig LLP. DraftKings has also hired Martha Coakley, the former Massachusetts attorney general and gubernatorial candidate, as an adviser.
Pallone said that it was already clear the fantasy-sports industry is "unable to self-regulate."
"Now, the idea that a so-called 'independent authority' in its infancy would compel this multi-billion dollar industry to self-police is not only unrealistic, it falls far short of the oversight needed to ensure that daily fantasy sites are fair and transparent," Pallone said.
So is an industry-backed, self-policing system just a way to get the government off its case?
"I view elected officials and regulators as stakeholders," Harris said. "I hope they'll participate to establish a really robust system."
"I've been in government," he added. "The government has very starkly limited resources; nobody has all the resources they need to get the job done. If the industry can successfully prevent and preempt this kind of conduct, the hope is that the government can invest its limited resources into other matters."
Harris said the body would set standards to prevent "unethical or illegal or irresponsible conduct," while also creating a system to certify companies that comply. The body would apply standards to both daily fantasy sites and traditional fantasy-sports outlets that run for full seasons.
The FSTA said it will also retain an accounting firm to monitor and audit the board.
Harris comes backed with credentials that lend some legitimacy to the industry's response. He served as deputy Labor secretary from 2009-2014, taking over the department in 2013 after the resignation of Secretary Hilda Solis. After leaving the Obama administration in 2014, Harris took a position with the Cornell University School of Industrial and Labor Relations. He also served as a counsel at Dentons, a firm that has represented the Fantasy Sports Trade Association.
For all of his Washington credentials, there is one item on Harris' resume that he thinks makes him "truly independent"—he's never played the games he's going to be regulating.
"I'm a sports fan, mostly basketball, but I've never played a fantasy-sports game," he said. "I've talked to people and I can see why people enjoy it, especially in my kids' generation. It's exciting. But no, I've never been involved."
We want to hear what you think about this article. Submit a letter to the editor or write to letters@theatlantic.com.
Jason Plautz
is a Colorado-based reporter covering energy and environment policy.