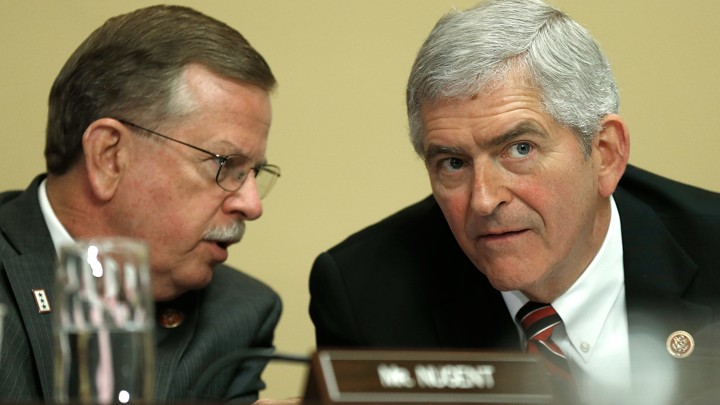 House Majority Leader Kevin McCarthy's path to the speakership was made more complicated Wednesday when a band of tight-knit conservatives pledged to support one of his rivals, setting up an unpredictable month that could end in a speaker stalemate.
McCarthy is likely to win the support of a broad majority of the GOP conference when they cast their secret ballots behind closed doors at noon Thursday. But whether he can wrangle 218 votes three weeks later on the House floor, as required by the Constitution, remains to be seen.
The House Freedom Caucus, a splinter group of conservatives, endorsed Rep. Daniel Webster and his platform of bottom-up procedural reform. The decision was a sign that McCarthy cannot seem to escape the pall surrounding Speaker John Boehner, who represents centralized power, abuse of the process, and retaliatory tactics to many of these members.
"It's more 'why Webster?' than 'why not McCarthy?'" Rep. Steve King said. "We get along better and we work well together, but I'm looking for more of a bottom-up [approach], and the pattern here that's been established by John Boehner is top-down."
The Freedom Caucus has pledged to vote as a bloc Thursday, and although members are not bound to that pledge on Oct. 29, many have shown a willingness to publicly buck their party's chosen nominee in the past. The caucus's endorsement is expected to net Webster some 30 votes, and he has also been endorsed by non-Freedom Caucus members such as Reps. Thomas Massie and Walter Jones.
"Our group has every intention of voting together tomorrow and on the House floor," Freedom Caucus Chairman Jim Jordan said Wednesday. "It's a constitutional office. It's a decision made on the floor of the House by the House of Representatives. All the other offices are just regular conference votes. This is unique."
In a statement released after its decision, the Freedom Caucus said its "constituents will simply not accept a continuation of the status quo," and that "under the present circumstances and without significant changes to conference leadership and process, Rep. Daniel Webster would be best equipped to earn back the trust of the American people."
Meanwhile, McCarthy will lose more votes to the third candidate, Rep. Jason Chaffetz. It is unclear, however, whether those members would carry their dissent onto the House floor, which the Freedom Caucus may do. Chaffetz has said he does not think McCarthy can win 218 votes and has presented himself as a middle-of-the-road candidate who can unite conservatives and centrists, but he has failed to attract many of either.
Late Wednesday, walking door to door around the Capitol complex to gather support, Webster said in an interview that he wants to decentralize the "pyramid of power," as he said he did when he was speaker of the Florida statehouse.
"We're going to push down the pyramid of power, spread out the base, so every member—every member—has an opportunity to be successful," he said. "You can't let the process itself destroy 80 percent of the bills."
He said he wants to end the brinkmanship that has characterized the legislative fights of the last several years and left the House with a series of stopgap spending bills. And though he recognizes that an omnibus spending bill will likely need to be passed by the end of the year, and that the debt ceiling will have to be dealt with, he said he wants to allow the committees to write and pass the bills instead of having leadership foist them on the rank and file.
Still, there are signs that McCarthy could turn his fate around by the end of the month. It is possible the Freedom Caucus unity will not hold. Caucus member Rep. Ken Buck, for instance, said he will back McCarthy because he is a good listener, and as a leader helped Republicans win the majority in 2010.
"When we talk about what leaders should do better, we also have to talk about what followers should do better. And I have been asking myself, 'How can I be someone who is more supportive of what Republicans are trying to accomplish?'" Buck said. "In my view, that means supporting the obvious nominee and doing my best to … at least have conservatives have a voice, so that he understands where we're coming from."
McCarthy has said he will pull together an advisory committee of diverse voices, including representatives of the Freedom Caucus and the centrist Tuesday Group. He also said he would stick up for members who come under political attack by outside groups for their dissidence, pleasing some members of the right wing.
Members have said they see the intervening time between Thursday and Oct. 29 as an audition period of sorts, and how McCarthy navigates negotiations on the debt and spending will heavily inform how they vote on the House floor one day before Boehner has said he will resign.
McCarthy could also peel away some support from the group if he acquiesces to demands for rules changes that members said would open up the legislative process. Conservatives have been circulating a list of internal changes that they would like to see implemented, including making all leadership elections a public voice vote and codifying and reforming how they constitute the Steering Committee, a secretive group that doles out committee chairmanships.
Rep. Luke Messer, a member of GOP leadership, helped lead a meeting of more than 100 GOP members Wednesday afternoon to discuss rules changes, and he himself has been discussing a change that would allow members to bypass a committee and bring a bill to the floor if they have the support of half of the conference—in essence, a party-wide discharge petition.
"I do believe this rules process is an important part of bringing our team together," Messer said. "The path to 218 is less about the specific individual who wins our nomination to be speaker and more about finding the recipe to come together as a team, and these rules changes are part of that."
Still, if no member can win 218 votes on the House floor, Boehner will have to remain in place until a successor can break the deadlock. Rep. Richard Nugent, who supported Webster over Boehner last year, said he is undecided but that a deadlock would be the worst outcome.
"I think it's terrible for us to do that. A public display like that is not good for Republicans," Nugent said Wednesday. "I'd rather that be decided tomorrow, but we'll see what happens tomorrow."
We want to hear what you think about this article. Submit a letter to the editor or write to letters@theatlantic.com.
Daniel Newhauser is a staff correspondent for National Journal, where he primarily covers the House of Representatives. He was formerly a House leadership reporter for Roll Call, where he started as an intern in 2010 and quickly earned a slot as a beat reporter.
A native of San Antonio, Texas, Newhauser traveled further West to study journalism at Arizona State University's Walter Cronkite School of Journalism and Mass Communication and write for newspapers including the East Valley Tribune and the Green Valley News & Sun.